The world of advertising is ever-changing and constantly evolving. No wonder that the trends you knew five years ago can barely come in handy today. Any promotion strategy depends drastically on changes in society, technology, consumer psychology, and other factors.
You can succeed in this unsteady world of digital marketing and create effective ads only if you keep up with urgent matters. We are here to help you find new productive means of learning digital advertising through podcasts.


3 Benefits of Podcasts
In recent years, online podcasts have become a significant vehicle for sharpening the saw. In fact, more than half of Americans have listened to at least one podcast.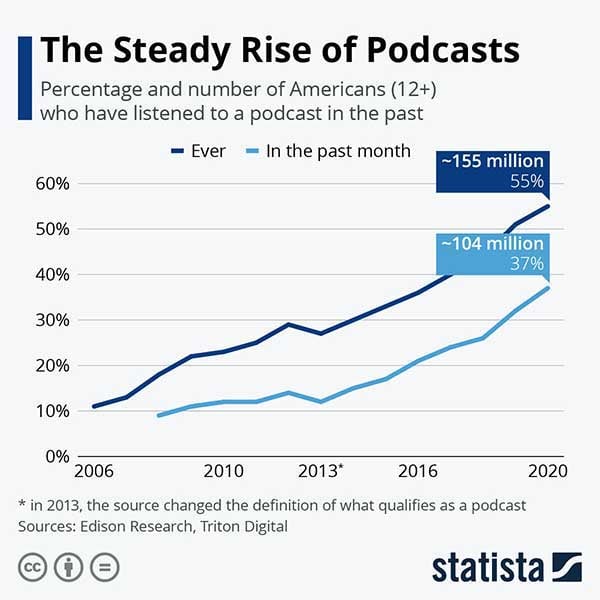 Here are several reasons podcasts are growing so fast:
Podcasts are accessible. As a free and convenient way to consume information, podcasts have become life-saving for folks during the worldwide quarantine. If you want to study a new topic or improve your current skills, you can do that anywhere you are.
Second, they are easy to fit into your daily routine. If you have a task that does not require much attention, you can listen to a podcast while performing it.
Third, there is a huge variety of topics that podcasts cover. While tv, radio, and streaming music services are primarily for entertainment, podcasts offer a great medium for professional and personal education from the best minds in the industry. You can get information nearly on anything you want to discover or implement in your life.
Finally, video podcasts are becoming more popular. Although most people still listen to audio-only podcasts, video is on the rise. This is due in part to platforms like YouTube and Instagram, which make it easy to watch video content. And as more people consume video content on their phones, it stands to reason that video podcasts will continue to grow in popularity.
With so many podcasts to choose from, it is easy to get lost and confused. For those who use ads actively in their business, we have compiled the 11 most informative and helpful podcasts on digital advertising.


11 Best Podcasts for Digital Advertising Professionals
These podcasts are proven popular with digital advertising professionals and may help you step up your marketing game. Hopefully, you can choose the one you like the most and feed the piggy bank of advertising insights!

Interest in starting a podcast for your publication? Check out this article on "How to Start a Podcast".
Combine these podcasts with blog posts, digital events, and courses to become a pro in your field.
About the author: Marie Barnes is a journalist, freelance writer, and editor. She has worked with major publications and traffic-driving sites such as Adsy. Marie enjoys challenging freelance projects. Her love for traveling motivates her to explore the world.