Whether you're a digital publisher using Admiral to grow visitor relationships and revenue already, or are considering Admiral to help you prepare for revenue impacts to your business from COVID-19, we want you to know that Admiral's team and platform will be here for you and ready to help.


Business Continuity of Admiral's Team to Support You
Admiral has operated with a remote-friendly culture since founding. In fact, one of our founders and a third of our employees already work remotely. As such, we've already built the tools and processes to operate seamlessly while remote. If a time comes when it's prudent to go remote companywide, we have plans to do so without impact to our business or yours.
Customer Love isn't just one of our teams, it's a commitment that drives everything we do. As such, we expect to continue showing you and your site visitors the love that has defined Admiral from the start.
UPDATE: As of Monday March 16, 2020, Admiral has gone remote company-wide with no change to company hours, platform performance or Customer Love availability. We look forward to helping our customers maintain Business Continuity and Revenue Continuity through this crisis and beyond.


Business Continuity of Admiral's Products to Support You
Admiral's Visitor Relationship Management (VRM) platform currently manages billions of relationship and revenue events across thousands of publishers worldwide. We couldn't do it without great partners like Google, Amazon, Slack, Hubspot, Zoom and others, and we're in communication with each of them to make sure their commitment to continuity matches ours.
Impacts from COVID-19 are likely to get worse before they get better, and we're committed to staying in sync with health and governmental recommendations; while also keeping in close contact with our business partners. Any material changes that will affect Admiral's ability to grow your visitor relationships and revenue will be communicated via updates to this post.


Revenue Continuity, Admiral and You
We've already heard from many of our customers that are preparing their own Business Continuity plans. We hope this update is helpful as you make sure your vendors, including Admiral, are ready for a turbulent 2020.
We've also been approached by digital publishers who don't already use Admiral but are looking for ways to maintain and grow revenue as ad rates grow uncertain in 2020. Some of this reminds me of the January scramble that happened each year at the large media publisher we operated prior to Admiral.
Knowing CPMs would fall after the Q4 holiday feeding frenzy, our revenue skunkworks team would gather in a conference room, throwing all revenue ideas on the table -- looking for every possible way to maintain Revenue Continuity through the inevitable January CPM drop.
With COVID-19 fears shrinking marketing budgets and growing keyword block lists, it's not just about January this time -- digital publishers could see lower year-over-year CPMs for every month of 2020. It's still early in the pandemic, but The Online Ad Revenue Index already shows January-to-March CPM recovery isn't nearly as robust as 2018 and 2019, and we're just getting started.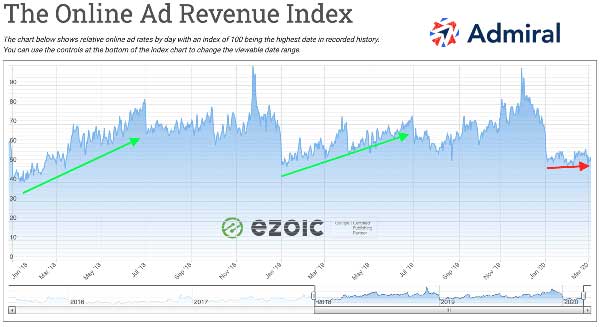 What will happen to CPMs for the rest of 2020 as the pandemic grows and ripple effects cancel or shorten digital marketing campaigns? What will happen to the ad revenue putting food on the table for your employees? Have you done everything you can to unlock every bit of revenue possible to weather this storm?
There simply is no Business Continuity planning without Revenue Continuity planning. Therefore, if you own an ad-supported website or own responsibility for revenue of an ad-supported website, now is the time for your own Revenue Continuity skunkworks team. Admiral welcomes being part of that team, unlocking new subscription revenue, new adblock revenue and more -- our Customer Love team can have you live, generating new revenue in less than 24hrs, by installing a single tag.
Sequoia Capital said it well in their recent Black Swan 2020 letter to company leaders:
"nobody ever regrets making fast and decisive adjustments to changing circumstances. In downturns, revenue and cash levels always fall faster than expenses. In some ways, business mirrors biology. As Darwin surmised, those who survive "are not the strongest or the most intelligent, but the most adaptable to change."
If we can help you adapt, unlocking new revenue quickly, our Customer Love team is here to help.
Stay safe out there and stay tuned for updates...