What if you could easily turn on workflow automation to make the right offer, at the right time, to each and every website visitor? The "easy button" for engaging web visitors across the relationship journey is here.
Whether it's a CTA to sign up for an email newsletter or an ask to shell out cash for a paid subscription, optimizing conversion rates can be a challenge for digital publishers. The vast majority only go so far as taking a scattershot approach when it comes to engaging their users with these requests. Common tactics include running house ads, exit intent pop-ups, or simply promoting the ask on every page. Oftentimes there's very little that's done towards applying any measure of smart, data driven decision making to ensure a positive outcome.
Visitor Relationship Management (VRM) aims to rectify this by offering publishers the means to communicate with users in effort to build 1st party relationships, increase activation, and diversify revenue across a variety of touchpoints. With the recent launch of Progressive Engage, publishers can easily automate the process across offers and visitors. The best part? Publishers no longer have to decide which offers to focus on as Progressive Engage will automatically check off a host of KPIs via a smart sequence of CTAs you can set up with just a few clicks.
How It Works:
Admiral's Engage units are highly configurable modals that can be designed to house various CTAs to predetermined segments of a publisher's audience.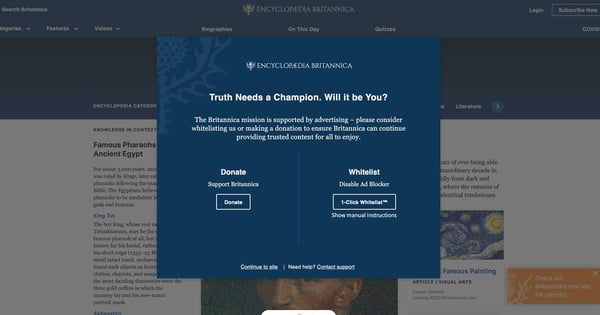 Whether it's asking an adblock user to whitelist a site, or engaging a newsletter subscriber with a paid subscription offer, Engages allow publishers to effectively communicate their asks to target visitors.
Enter Progressive Engage:
With the launch of Progressive Engage, publishers can create a "smart workflow" of multiple offers that are selectively served to a single user over the course of their interaction with the site or their "visitor journey". The idea behind this is that a specific user would be more qualified to respond positively to a specific CTA based on certain behavioral criteria. For example, if you were to ask someone to marry you after the first date, you're probably going to not like the answer. However if you strengthen your relationship with positive milestones along the way, your chances of hearing "yes" grow exponentially.
Just the same, if a publisher asks a first time visitor with no brand affinity to pay for an annual subscription, the conversion rate would float in and around 0%. However if the visitor is a heavy user of the site, follows the publisher on social media, is a newsletter subscriber, and has agreed to disable their adblocker to support the site, the probability of them signing up for a paid subscription is much higher. Progressive Engage was built to allow publishers to A) enable these relationship milestones, and B) present them in a way to optimize conversions, automatically.
Getting Started:
Admiral customers can create their Progressive Engage workflows by clicking on the "New Engage" button under the Engage Tab in the Admiral Dashboard. The steps are extremely simple, just a few clicks, and a publisher can have visitor engagement automated across each visitor, all offers, based on their relationship level. And Admiral's Customer Love team will be happy to recommend or help with set it up.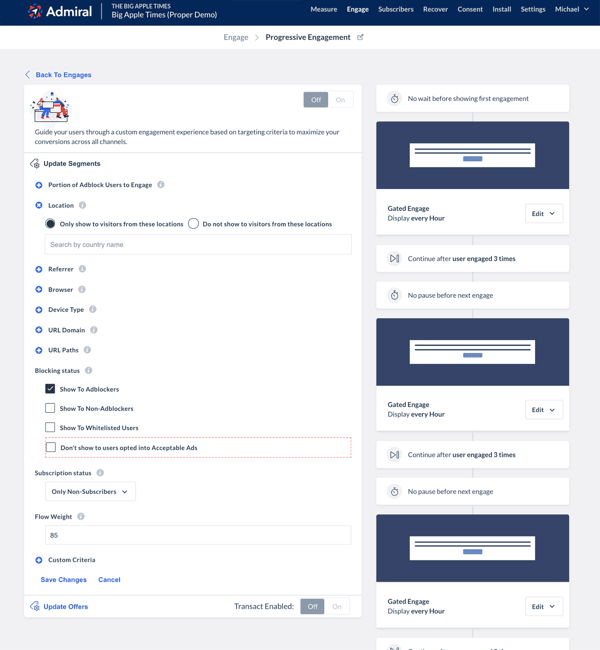 1. Add and build as many Engages as you'd like using the workflow builder in the right hand rail,
2. Set up the targeting and offers for each using the selections on the left hand rail.
You can adjust the frequency and rules of each Engage to determine when they're served within the workflow.
The end result is an easy to manage multi-touch visitor "ad campaign" that engages users throughout the visitor journey, built to automatically deliver conversions across a multitude of KPIs including: adblock recovery, privacy consent management, email acquisitions, social growth, and paid subscriptions. You don't have to limit yourself to one single goal for all visitors, like email, adblock recovery or subscription...you can do it all, driving the most valuable conversion for each visitor, each day, progressing along each unique visitor journey.
If you'd like to try the Progressive Engage feature or would like a detailed walkthrough, please contact Scott Holznagel from Admiral's Customer Love Team at: Scott@GetAdmiral.com