News and magazine publishers have been building mobile apps since the early days of smartphones and the App Stores, but is this still a winning idea in 2022?
There's a number of reasons why we think publishers should consider building a mobile app version of their site or publication, and they all tend to revolve around reader experience and opportunities for monetization.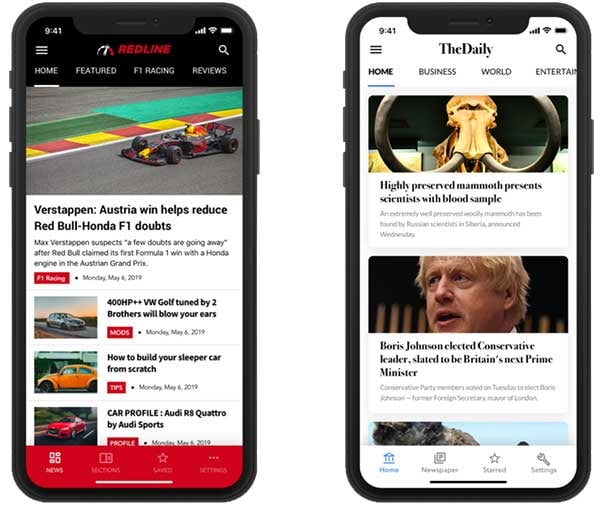 1) Readers expect a dedicated mobile experience
Think about how your readers get to your site. It's either an email, a social post, or simply by habit checking your site for new stuff.
Yet, think of your own behavior. How often do you visit a website on a mobile device by typing its URL in Safari or Chrome? It's awkward, and far from ideal.
While you may still get a core group of dedicated users who are happy to type in the URL, you'll have just as many who don't want to go through the messy process of clicking and typing in a mobile web address bar.
And if you're successful in getting readers to your mobile site, they're often faced with a site that's not fully optimized for mobile users.
With an average load time of 15 seconds, mobile sites are in danger of turning users away even before they get to the content.
Mobile readers want to get to the good stuff particularly fast, and they're not going to hang around for much longer than a few seconds.
They also want navigation and interfaces designed specifically for mobile, as opposed to being awkwardly ported from a desktop site.
Things like infinite scroll, faster load speed and dedicated mobile navigation, combined with fewer distractions (such as browser tabs) make consuming content on apps a much smoother and more enjoyable experience.


2) Apps drive return traffic and retention
Once users get to your site, it's an uphill battle to get them to come back. You might convince a small number to join your email list, or else you're faced with the same user acquisition dance that brought them to your site in the first place.
A very small minority will be the kind of loyal reader that remembers your publication and is willing to open their browser, type the URL and visit the site on their own accord.
A native application, however, offers more tools to help you retain and connect with readers.
You have push notifications, and an app icon that remains in the headspace of the user every time they open their phone.
Simple Flying's news mobile app shows how push notifications can drive return traffic.
Then there's much less friction for the user to come back to your publication. Just one click and they're in.
Combine that with faster load times and an overall better user experience as previously discussed, and it's simply a much better option for building a following of users who come back again and again.


3) Mobile ad revenue is catching up with desktop
At one time, ad revenue for mobile sites was a fraction of what it was for desktop. As such, it simply didn't make sense for publishers to invest in the user experience for their mobile readers, since these weren't the readers that delivered the most revenue.
Today, that's basically flipped. Mobile ad revenue accounts for around 2.5 times that of desktop, at $100B vs $40B.
Mobile has become the primary way for most people to shop, discover new products and make purchases, as well as being the place where they consume the majority of their content.
As a result, mobile users are now the most lucrative for publishers. Those publishers who hone their focus on mobile user experience are likely to see continued revenue growth, while those who ignore mobile will find themselves going in the other direction.


4) No ad-blockers in mobile apps
Publishers lose out on huge amounts of revenue as the result of ad-blockers.
30.1% of the US population uses ad-blockers, rising to 39% in the UK. The latter number represents a loss of about £2.9 billion in revenue - and that's the UK alone.
It's not just desktop where ad-blockers are commonly used, either. Mobile ad-blockers are growing at a staggering rate, with over 380 million mobile devices using an ad-blocker.
With most publishers making the bulk of their revenue through ads, ad-blockers can severely compromise your earning potential.
To combat this, publishers may choose to utilize Admiral's anti-adblock solution on their site to recover adblocked revenue, or incorporate other Admiral modules to drive revenue streams, such as paid subscriptions or donations.


However, mobile apps are free from the reach of ad-blockers, allowing you to show ads and collect ad revenue unabated and unblocked. In fact, Admiral's platform can drive app downloads quickly, by engaging your desktop and mobile web visitors at the right time to download your app.
The potential for what you can do with ads in mobile apps is also much higher than a regular mobile site.
You can display banner ads, full-screen ads, offer walls and native, mobile-specific ads that fit seamlessly within your content, and don't negatively impact the user experience.
You can also combine ads with a paywall or subscriptions to generate even more revenue on top of, not replacing, ad monetization.


5) Apps help you build a strong brand
If you want to build a brand that sticks in the mind of your reader, building your own app is a great way to do it.
An app gives your business an air of professionalism and authority. You're no longer just another website. Your business appears to be its own media channel.
As you grow, your brand can also benefit from the added social proof from your app store listing, if you appear on "top rated" or "most popular" lists, as well as by picking up positive reviews.
Then we also come back to the improved experience within your app. With more control, and by being able to tailor the experience specially for mobile users, you can build the kind of UX that fosters brand loyalty, and gets readers to come back to you as a trusted source of content.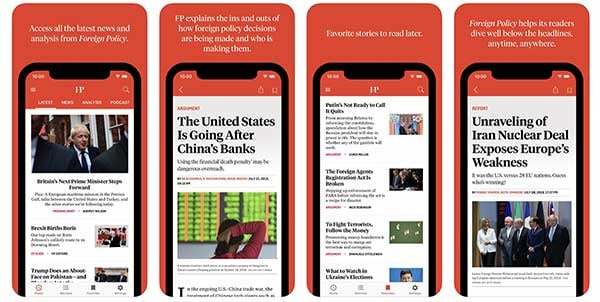 The Foreign Policy magazine app does a great job of furthering their clear and consistent brand image.


6) Apps are a channel you own and control
One of the most powerful things about having your own app is that it's completely in your own control.
Organic reach on Facebook is dropping every year. It's nearly impossible to maintain consistent traffic today without paying for it, the cost of which just continues to rise.
The decline of organic traffic, and consistent changes to the online advertising ecosystem, such as the recent iOS privacy changes, go to show how dangerous it is to build your business on top of rented traffic.
While you do need some help from channels such as Google, Facebook or other social networks to acquire readers in the first place, the long-term stability of your business is much less reliant on third-party platforms.
Retention, as we discussed earlier, is much easier with app users than with a mobile site getting the majority of its traffic from Google or social media. Along with more brand recognition creating a higher base of loyal readers, you have tools like push notifications to get eyeballs on your content.
The direct relationship you build with your audience by publishing on a mobile app gives you a strong foundation, and one that isn't at risk of disappearing completely on the whim of an algorithm change.


Wrapping up
Today, more than ever, publishers and news sites should make it a priority to build a native application.
Mobile users are more sophisticated, requiring a better and more comfortable UX, and user retention is getting harder with the pay-to-play nature of social media channels. Apps give you a solution to both of these issues.
Add in the greater revenue potential, by leveraging Admiral to drive adblockers to download you app, and catering to mobile audiences who are spending more every year, and it's simply a no-brainer. Publishers who don't have their own app, or plan to build one, are missing an opportunity to build a dedicated channel designed for loyalty and retention. Ultimately, your mobile app is where your loyal readers are.
---
Want to drive more app downloads?
To learn more about how Admiral's Visitor Relationship Management (VRM) platform helped Nascar drive thousands of app downloads with very little dev lift, or how we help pubs grow email subscriptions and social followers, manage paywalls and paid subscription offers, or recover adblock revenue, request a demo below: