The COVID-19 lockdown brought many unexpected challenges, including significant impact to ad revenues for most publishers.
But despite the hurdles, many digital newspapers have seen strong growth in digital subscription campaigns and news paywall conversions.
The consumer adoption of digital newspaper subscription models has accelerated during the past two months of economic volatility. News and media publishers are experiencing record digital traffic numbers and as much as 3X increases in paid subscription growth rates.

A new campaign can be launched quickly with the right news paywall and subscription software, taking advantage of unprecedented consumer demand for content.
Newspaper paywalls are the most common, but digital publishers across many topics and niches are finding success with paywalls and subscription management solutions.
Growth in Paid Subscriptions for News and Media Publishers
Deep BI reports 90% Traffic Growth to news sites between Jan and March of 2020. Research by MPP Global reports 16.9% digital subscription growth across media companies in North America during March 2020.
A number of media publishers have seen news paywalls drive digital subscription growth rate due to COVID-19 traffic, even if the pandemic articles themselves are not blocked by paywalls.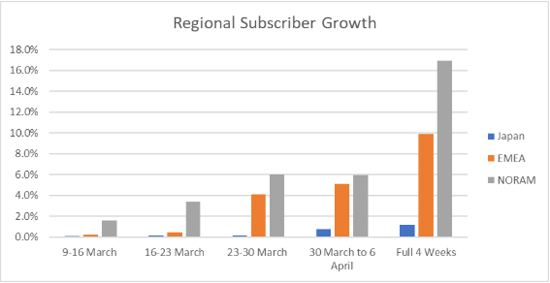 A recent publisher survey from Reuters Institute emphasizes that paid content subscriptions are now the number one concern of publishers, over ad revenues.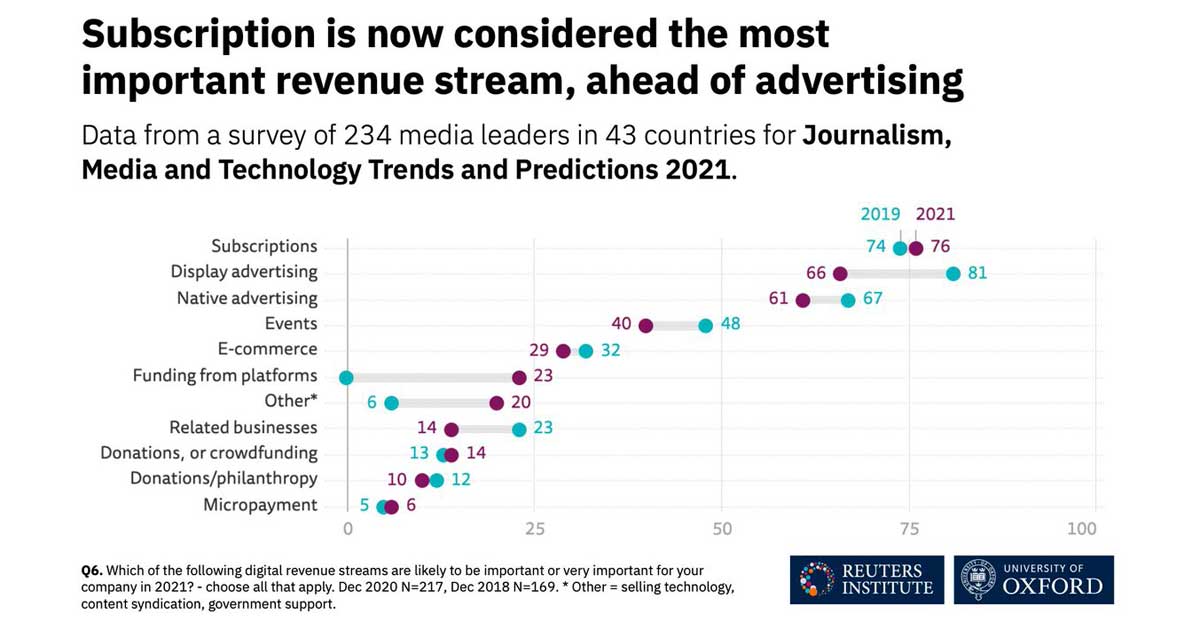 The Guardian: Record Traffic and 39% Increase in Paid Content Subscriptions
The UK's Guardian saw an 86.5% increase in visits in March vs February 2020. They report a record 114 million unique visitors for the month, with two-thirds seeking Coronavirus information. Their coronavirus explainer article was their most read ever.

Paid subscription growth has been outstanding, with 23% increase overall vs the previous 12 months. The Guardian app and tablet versions grew to 265,000 in March 2020, a 39% increase vs March 2019 (191,000).
Mediaite
Mediaite, a news aggregation publisher and media watchdog, has seen immediate results launching a new paid subscriber campaigns and a simultaneous Adblock recovery campaign. The initiative, strategy, and implementation was completed in less than a month, leveraging the performance-based Admiral platform.
In the first thirty days, 90% of all subscribers opted to pre-pay for an annual content subscription, which coupled with immediate recovered adblock revenue provided a timely influx of new revenue.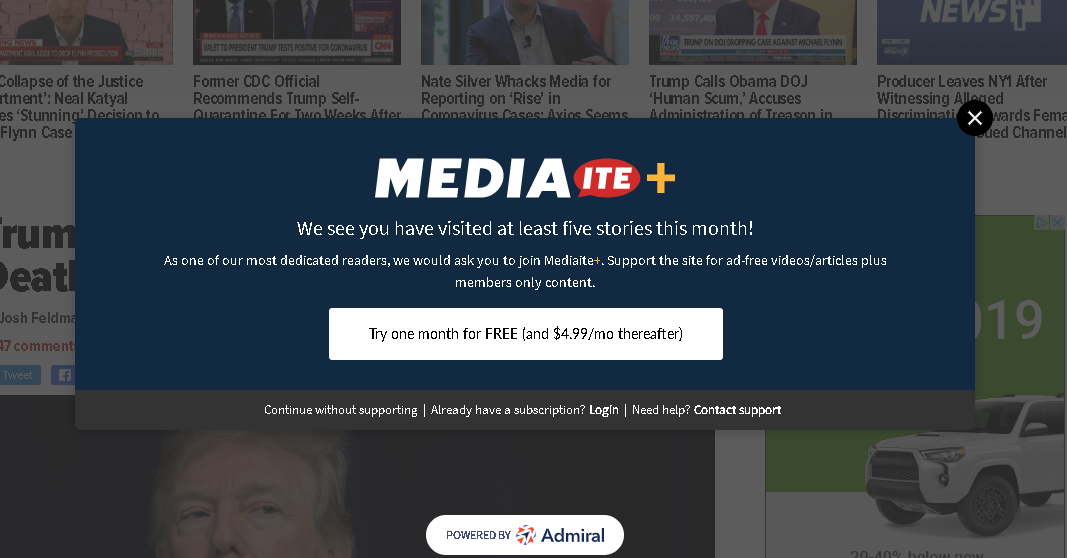 CNBC Digital Triples Paid Subscriptions
CNBC Digital reached one billion page views in March 2020 for the first time in a single month, and tripled subscriptions to their premium service over the previous year.
CNBC Pro subscriptions grew 198% since January 2020. CNBC Digital has live blogs dedicated to updates on COVID-19 and the market, both in high demand by readers.
"Every month, we've grown [unique visitors] year-over-year for the past four years. This just happens to take it to another level. " - CNBC
"All those pieces came together for this moment," said CNBC's senior vice president-executive editor Jay Yarow. "Every month, we've grown [unique visitors] year-over-year for the past four years. This just happens to take it to another level."
The Chicago Tribune Grows Subscriptions 293% March over February 2020
The Tribune's CMO Mark Campbell reports they had an increase of 54% more unique visitors in the last month of Q1. At the same time, 21% more visitors hit their news paywall, combining for a paywall conversion rate increase of 109%. The Tribune has seen 6 weeks of record digital newspaper subscriptions in the past two months.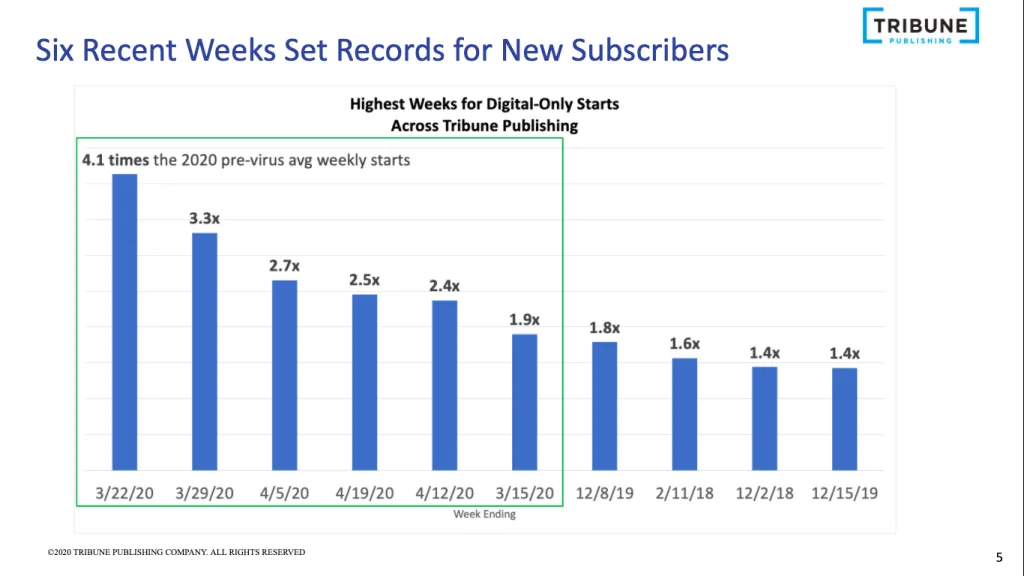 The Tribune allowed traffic to their coronavirus content to bypass their metered paywall for free, but the visits still count towards the visitors' metered paywall limit.
Once the limit is reached a user would encounter the news paywall for any non-coronavirus content. This is a strategy the Tribune has used during other public emergencies, such as a major hurricane coverage.
Tribune CMO Mark Campbell encourages publishers to use this time to experiment, develop strategies that can inform future decisions.
The Tribune is currently testing changes in paywall article limits, changes to paywall reset timeframes, price increases and suspension of discounts to first-time content subscribers.


The Wider Trend in Perspective
Subscription services in several industries have seen growth recently. A recent study reported in ZDnet found that 22.5% of publishers have seen an increase in subscription growth rate during the past two months, particularly news and media sites.
"With news changing day-by-day, there is an increase in demand for up-to-date information, resulting in sign-ups for digital news subscriptions," Tien Tzuo, Zuora CEO.
"There is more urgency than ever before to rediscover their customers, shift to subscriptions, and discover the power of the recurring revenue model."


Netflix, et al.
This trend is not isolated to news sites. Subscription services in general are also experiencing growth, underlying consumer adoption and familiarity with the model. From video game subscription services to e-Learning to streaming movies and TV, publishers across industries are seeing similar gains.
According to the LA Times, 15.8 million people around the world signed up for Netflix in March 2020, doubling Wall Street projections. Some countries like Greece saw Netflix subscriptions rise by almost 50% over their 2019 subscribers..


Get More Digital Subscribers Now
Publishers can have a metered paywall and paid subscription system in 24 hours with Admiral's one-tag implementation and intuitive campaign tools.
Admiral's Customer Love team has expertise in setting up a publisher subscription solutions quickly and providing advice on best practices every step of the way.


Here's a recent Admiral webinar on 5 key steps for subscription success:
Get the full power of VRM:
Admiral's robust Visitor Relationship Management platform can run campaigns to grow email subscribers, social media followers, or donations for citizen-funded journalism. In addition, the VRM journey builder can also grow app downloads, manage GDPR consent, and unlock adblock visitors to your full ad stack.
Choose a time for a demo: