Publishers have so many options when looking to increase their revenue. They can focus on display ad revenue, attract sponsors, paid memberships and so much more.
In this blog post, we're sharing insights from the team at MonetizeMore to take a look at some of the most popular website monetization methods of 2022 and how they're likely to impact the digital publishing industry. So buckle up, because things are about to get interesting!


What is Website Monetization?
If you're a publisher, you know that monetization is key to your success. But what is website monetization, and how can you go about it?
Bringing a website's content into actual earnings, or monetization refers to the process of making money from it. For publishers to get monetized and see real profits, they need to get real traffic coming into their sites. Online traffic and website monetization go hand in hand.
Publishers can't simply make any money without viewers coming in to visit their sites. Once you get traffic, it's important to understand your target audience and what they are looking for.
This will motivate them to create content their niche audience will come back to.
Your website will be much easier to monetize if it follows a specific niche. Ultimately, an effective monetization strategy that will generate long-term revenue is the main goal.
Once you have a clear understanding of your audience and a significant amount of traffic you can begin developing an effective strategy for monetizing your website.
Let's take a closer look at the most effective website monetization strategies that can help you monetize your site content in no time:
Display advertising
Display Advertising comes in the programmatic advertising category. In order to monetize your website with display ads, you must provide ad space on certain pages of your website. The usual display ad spaces are the top, bottom, or side of the web page.
This method is commonly used by publishers who regularly deliver quality content to their users, and it is still the most lucrative digital advertising method with good ROI when it comes to CPMs.
The benefits include a seemingly endless supply of options, the ability to fit multiple ad units on most web pages, and the fact that they come in a variety of sizes and ad layout options.

Native advertising
Native advertising which also comes in the programmatic ad category complements the surrounding content, creating a more seamless and engaging experience for users. Publishers use native ads for monetizing their websites with personalized blendable ad content that doesn't annoy their readers and won't degrade the user experience.
Sponsored posts also come in this category in the form of reviews/ recommendations or features. In this case, publishers work with PR companies to strategize and publish promotional content inside their blog posts or reviews to capture attention and gain their user base.
Video advertising
When it comes to video advertising, there's no question that it's one of the most powerful site monetization tools at your disposal. After all, what could be more engaging than watching a moving image on-screen? And with viewers increasingly migrating online to watch videos, it's no wonder that advertisers are turning to this medium in droves Publishers who monetize their websites primarily through advertising will find video ads to be an ideal monetization method especially in 2022.
If your content is generating high engagement, using video ads will be extremely beneficial for your website. Sites like The Guardian make use of video ads on their site to maximize their ad revenue.
Search monetization
Search Monetization can be incorporated by adding a search box to your website. This is an additional revenue stream that many publishers have been missing out on.
Your search page shows relevant ads to viewers based on their search terms each time they use it. You'll earn commissions every time someone uses the search box on your site. So, don't miss out on search monetization in 2022 and monetize that search box.


Paid Membership
Membership websites deliver content to subscribers who pay a monthly, quarterly, or yearly fee. The easiest way to monetize your website traffic is simply by charging your visitors for the content you provide.
Many content creators have started leveraging the power of paid membership especially since 2020 and are making a ton of money from it. Patreon Content Creators have been using the platform as an additional income stream apart from their regular YouTube AdSense checks.

Admiral offers registration walls for publishers to authenticate their visitors and establish premier content for the most loyal. Regwalls are a great way for publishers to build first-party and zero-party data to better target ads and drive premiums for direct sale inventory. Admiral handles all the heavy lifting to set up accounts for each authenticated visitor.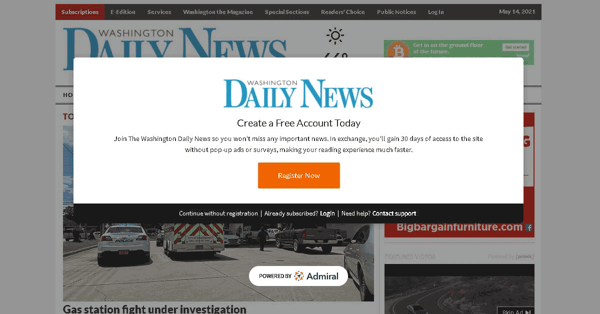 Paid Subscriptions
By using subscription models, you offer your visitors access to membership sites and high-quality content for a monthly or yearly fee. The subscription model works well for website publishers who can justify charging recurring fees for content that's worth the money.
The best part about subscription models is that you get a consistent source of revenue on a monthly basis, with the scope of increasing the costs of your subscription models in the long term.
Just take a look at The New York Times' subscription packages and the benefits they provide for their subscribers like:
Unlimited access to NYT times journalism on all your devices.
Research, reviews, and recommendations for tons of products from WireCutter.
Digital recipe box & e-recipes from NYT Cooking.
Admiral offers the publishing industry's fastest, easiest solution for media or news subscriptions, metered paywall, donation campaigns, and more. The service includes support for the publisher's visitors, payment processing, custom visitor journeys, segmentation and robust subscription analytics.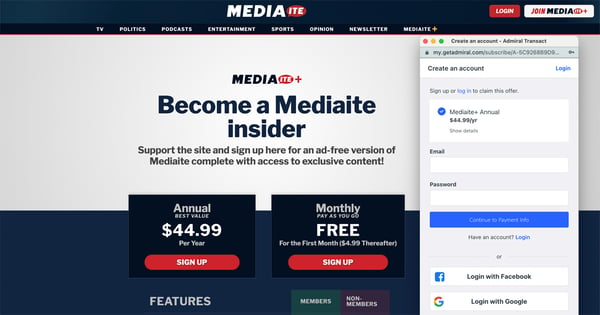 Affiliate Partnerships
In affiliate marketing, you are compensated for every referral you make to the products and services of other brands.
Once you embed affiliate links on your website, you'll earn commissions for every organic click on that affiliate link which in turn takes the person who clicked it to deals or product pages where they can buy that product.
The best affiliate program is not always the one with the highest commission rate when it comes to monetizing through affiliate advertising.
In order to effectively market your brand, the products and services you promote need to be consistent with your brand and appeal to your target audience or user base.

E-Commerce
Many content creators have started selling their own merchandise or educational content to create additional income streams.
These products also include e-books, webinars, online courses, or anything else of value to your target audience. E-commerce works best for publishers who come with complementary and converting products to offer.
Email Newsletters
Using an email list to monetize your website is a great way to experiment with different monetization strategies, allowing you to find the right one for you and your audience.
If you want to monetize your email list, you should create a weekly newsletter packed with interesting, relevant content, then offer a place at the bottom for banner ads or sponsored content from relevant brands.

Looking to grow your email list quickly? Use a simple tag to drive new email subscribers, which then turn into more pageviews and monetization options. Admiral has you covered with email campaigns that are optimized for conversion, and make it easy to offer a free week of ad-free content in exchange for an email signup.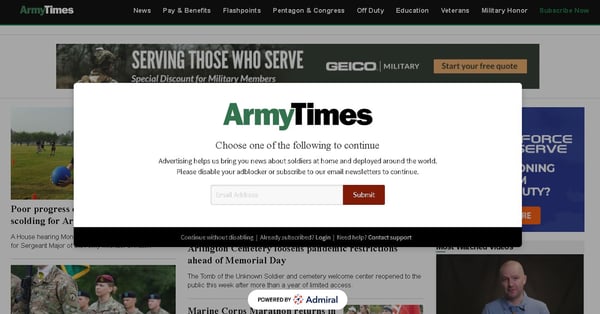 Flipping Websites
If you have the knack for creating stellar websites, you can buy them and sell them for 5-10X the price after optimizing them. The sites that are flipped for the highest prices are e-commerce, membership, and dropshipping sites. News sites and real estate websites also get sold for a great price.
For a well-maintained popular niche category website, you can easily make 25-50 times your current monthly revenue which is pretty impressive income from solely website flipping.
The valuation in 2022 depends on:
Monetization model
Niche
Monthly organic traffic
Engagement & conversion rates
Monthly revenue to expenses ratio


Need Some Proven Methods to Grow Revenue Streams this Year?
Talk with MonetizeMore about their array of ad-focused publisher tools such as Traffic Cop, App Monetizer, and Header Bidding services.
If you need to increase your pageviews this year, or diversify your revenue streams, schedule a demo with Admiral's revenue experts. They can show you half a dozen ways you can increase your ARPV with a single tag install and their Customer Love team to help craft an engagement strategy for your visitors.