With increasing news of an economic downturn in 2023, and costs of marketing continuing to rise, savvy media publishers know that it makes sense to take action to manage costs to compensate for potential losses this year. In fact, according to Pew Research Center's data from January 2023 (the last month with data so far), "75% of Americans say strengthening the economy should be a top priority this year."
Recently, we've seen that companies are laying people off including tech firms like Alphabet/Google, Meta/Facebook, and Zoom, as well as publishers like Washington Post, NPR, and Fandom.
Ad revenues are definitely not following a typical normal cycle. Things really are tougher right now, as Ezoic's Ad Revenue Index shows.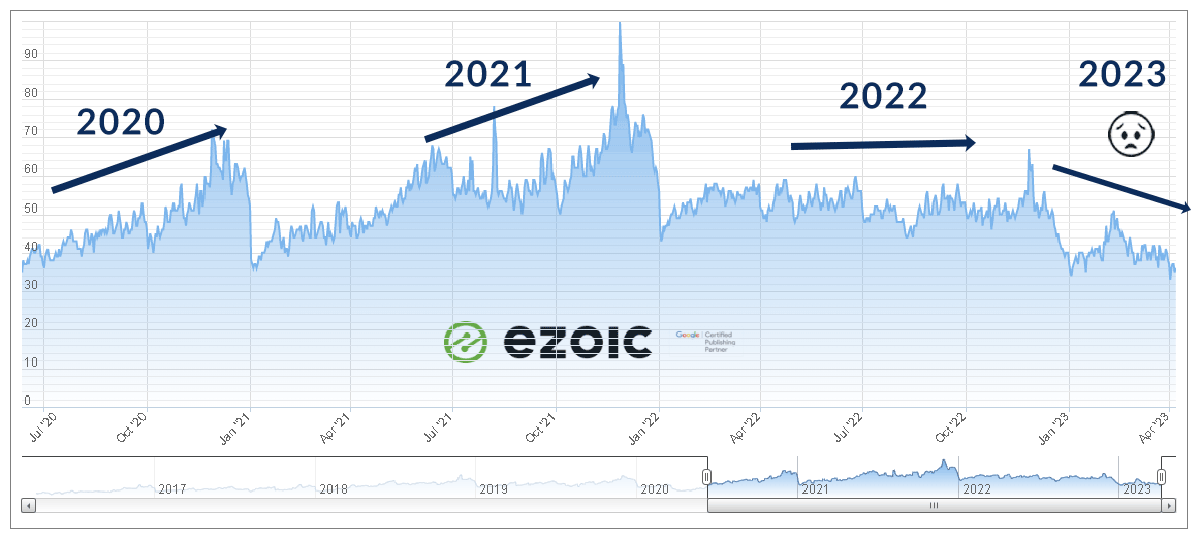 Admiral has written several articles on revenue continuity for publishers, and hosted a publisher revenue roundtable. This list of cost-cutting measures should be considered in combination with aggressively maximizing visitor revenues and relationships in 2023.
Other issues to be aware of in 2023 are expanding competition with in-house publishing from large retail businesses who are projecting a 26.2% growth rate to $52.2 billion, and the announcements that streaming companies are jumping into the media advertising game. And to top that off, in 2023, Google finally pull the plug on third-party cookies in its Chrome browser like Safari and Firefox have already done.


What cost reductions are publishers considering to maintain balance?
Getting a head start on managing costs will keep your media business healthy for the short term and the long term in tough market conditions. Here is a list of opportunities you can take in 2023.
1. Lower marketing costs
Being a publisher, you know first hand that costs for marketing are going up. This means being selective when you choose marketing solutions and working with the marketing channels that reap the greatest reward. Stick with marketing concepts that are proven winners, and reduce your overall marketing costs by doing less marketing in 2023.
2. Hire fewer new employees
While you might not need to lay off employees to balance your budget, when someone retires or changes jobs, you can still hold off hiring a replacement until you are more sure of your profits. Of course, you need to hire staff for essential jobs, but if the job can be done by someone already working for you, then slow your hiring or institute a temporary hiring freeze.
3. Cut back on office space
Since the pandemic began, there has been a general move towards remote work. It's likely that some of your staff is already working remotely from home. To cut back on office and building costs, you can move more people to remote work and for more days per week. This way you can use less office space and only pay for enough space for a smaller on site workforce. As you examine how this change in working locations affects your media company, you can find a happy medium between on-site and remote work that is ideal for you. This move can be temporary until you are more sure of your 2023 profits, or you can make it permanent if it suits your business model.
4. Reevaluate business tools and subscriptions
Managing costs is a good reason to take another look at your business tools and subscriptions. Maybe you have some costs for tools that are no longer being used. Or maybe you can consolidate tools into one provider to get a better price. With monthly or quarterly subscriptions, it's possible that you are still paying for subscriptions that have fallen by the wayside in the last few years. Why pay for tools that aren't being used anymore? Reveiw all of the monthly subscriptions that your staff are using to see which can be eliminated or cut back.
5. Look for aid or investment from new sources
There's a chance that there is government or private financing that you have access to or can apply for. Search for loans or grants that you qualify for, and then apply for them if they look right for your company. There may also be ways you and other companies can collaborate that offer a win-win scenario for both participants. Consider government grants for research or any other applicable sources of aid. See if grants are the right avenue for your company. If you're partnering with another business, make sure you fully understand the role you'd be asked to play during this transaction.
6. Outsource your work
There are many times that using freelancers or contractors can be a profitable move for your publishing business. When working with contractors, you can save money on labor hours and benefits. As long as the contractor is qualified and has time to work on your projects, you can save HR costs.
There are some businesses that can't outsource work because they need highly-skilled workers. But often businesses have repetitve routine tasks that don't need special knowledge or expertise.
7. Integrate with automation and AI
AI has been in the news lately regarding writing and artwork. However, AI has been taking on automated tasks for a while now. As the software continues to grow and develop, you will find that AI can handle the routine task better than a human, giving your employees more time for the critical work that only a human expert can do.
Look for ways to automate repetive or low-level tasks and communication. With a chatbot to answer initial queries, for instance, you can rely on your knowledgeable staff to respond to more complex and specialized communications.
8. Recover lost ad income with adblock recovery software
Marketing and advertising are a significant revenue source for publishers. However, due to privacy concerns and other issues, the big search engines are phasing out third-party cookies. To combat or recover lost income for this change, add adblock recovery software to your marketing stack.
Using software to recover lost income can take the pressure off your bottom line, and reenergize ad revenues. Admiral's full-stack adblock recovery is 100% revenue share; risk-free, guaranteed net revenue gain.
9. Improve subscription services
Subscription services have increased in popularity, and publishers are experienced in selling subscriptions to prospects and customers. Use these skills to add more options or addons to your existing subscription services, and increase your revenue per customer.
During the height of the pandemic, some publishers enhanced their bottom line by using Admiral's donation management solution to collect monetary support for quality journalism. Here's a case study of Encyclopaedia Britannica driving donations and adblock recovery. They benefitted from one vendor, one tag, consistent visitor experience, across multiple revenue streams.