New automation feature designed to ID and drive more revenue from traffic spikes in real time.
Surge Targeting tracks traffic surges on your site in real-time so you can take timely advantage of the influx of visitors, automatically. By identifying these surges (and the content that's driving them) Admiral's platform can automatically optimize existing user journeys to serve a modified configuration that will ultimately increase revenue.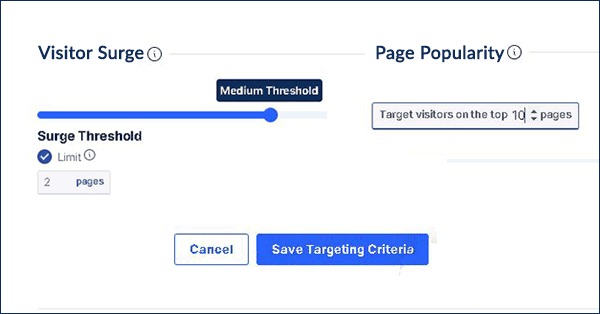 Surge Targeting can be configured based on multiple threshold levels, and combined with other targeting criteria for greater control and real-time intelligence.
A good example of this would be automatically applying gated engagement for adblock users that arrive on a specific area of the site when a viral article meets a set threshold of surging traffic. Early results are showing a 2X increase in recovered revenue.
Admiral's Surge Targeting helps publishers capitalize on surging traffic without ever having to predict when those surging events will happen. In addition, Admiral's Page Popularity feature allows publishers to leverage top-performing pages as a targeting criteria for specific Journeys and objectives.


What is Surge Targeting?
Surge Targeting is an intelligent targeting layer that identifies, in real-time, content receiving significant increases in traffic. Surge Targeting is available to users of Admiral's Visitor Relationship Management (VRM) platform.
Based on a machine learning model unique to your business, this targeting criteria pairs real-time traffic data with other segmentation to drive conversions on an exploding article. Surge Targeting will automatically understand which articles are driving abnormally high traffic in real-time and target those surges with the ideal offer given users' elevated demand for your content at that moment.
With surge targeting, publishers can now prepare to capitalize on surges in traffic without ever having to predict when they will happen. It accomplishes this by looking at traffic thresholds unique to your business using machine learning.


What are some Best Practices & Examples for Surge Targeting?
When traffic surges on an article, it can be a leading indicator that content is extra relevant and valued by visitors in a window of time. When and where there is an elevated demand for content, your users may be more likely to agree to an offer.
Five example use cases of Surge Targeting:
Pair low-threshold, Surge Targeting with ad blocker segmentation and show a Gated Engage mandating users disable their blocker to view the surging piece of content. (This has been shown to increase recovered revenue by over 2x)


Run a special subscription offer to return visitors viewing surging articles (Drive new subscription business)


Require an email to view surging content for first-time visitors


Grow social media followers interested in breaking news.


Ask your visitors for their support via a voluntary donation while content is surging.
Surges can be caused by breaking stories, viral articles, product or movie launches, game scores, exclusives, election results, and more. If it drives peak interest in your audience, Admiral's Surge Targeting can help you capitalize.


How do I set up Surge Targeting?


Surge and Page Popularity Targeting can be found in the Targeting Criteria section of Journeys in Admiral's Visitor Relationship Management (VRM) platform.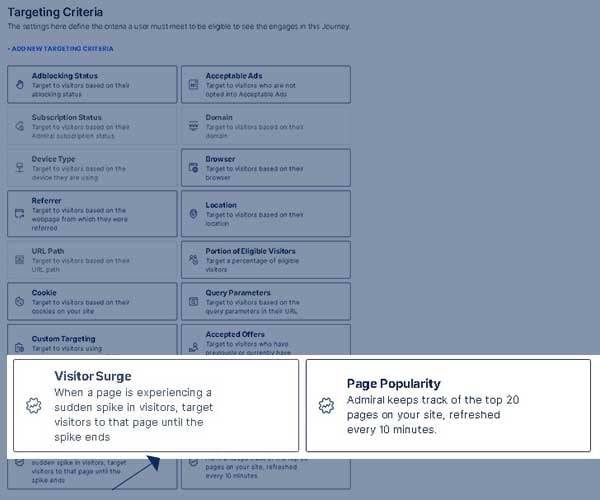 All that's required is choosing the preferred threshold for surge sensitivity: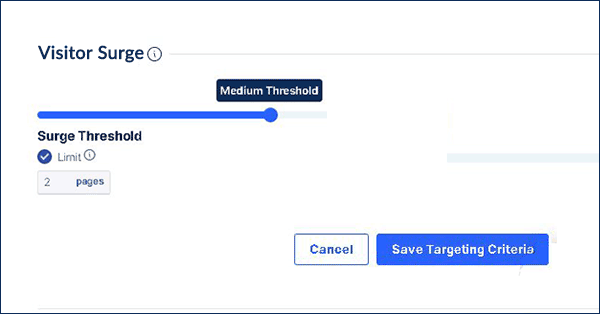 Surge Threshold: Sets the relative sensitivity to surging articles. A low threshold would equate to more articles qualifying as "surging" than a Medium or High threshold.

Limit: Determines how many surging articles to engage at any point in time. i.e., you could have 5 articles surging, but only want to engage on one of them.
Read more about how to set up Surge Targeting in this knowledge base article.


What is Page Popularity Targeting?
Popularity Targeting allows you to use your most popular content as a tool to your advantage. With this feature, you can target a Journey message exclusively to visitors who are viewing your site's most popular articles (up to twenty articles).
Visitors who are engaged while trying to view a popular article may be more likely to turn off their adblocker or agree to an offer, due to the perceived content value at that point in time.
Publishers can view their historical page popularity, and which pages are "Popular Now", in Admiral's Analytics Dashboard.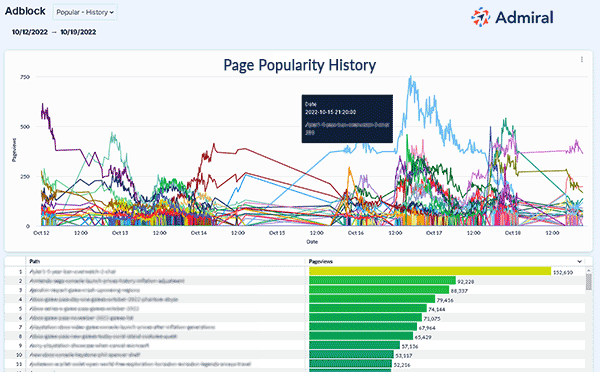 Leverage Real-Time Engagement Automation for Your Objectives
Find out more about how surge targeting and Admiral's AI and ChatGPT integration could help you grow relationships and revenue with your audience, schedule a demo today.