Are you a news or media publisher struggling to increase revenue and stay compliant with GDPR?

The General Data Protection Regulation (GDPR) has been a hot topic since its introduction in May 2018. Many businesses have seen GDPR compliance as daunting, requiring significant resources and time.

In this article, we'll show you why GDPR compliance can work to your advantage. We'll discuss the following:
The benefits of GDPR compliance for publishers
Visitor journey and consent management
How Admiral VRM helps publishers with GDPR compliance
So, whether you run news, sports, gaming or any other type of publishing website, keep reading to learn how GDPR compliance can benefit your business.


Admiral is a Google-certified CMP provider.
More about Admiral CMP is below.
Benefits of GDPR Compliance for Publishers

While most media coverage focused on the multimillion-dollar fines businesses could face if they failed to comply with GDPR laws, they neglected new business opportunities that the compliance principles set.

Improved Transparency and Data Security
GDPR compliance involves implementing appropriate measures, such as encryption, to protect visitors' data. From safeguarding sensitive information to establishing a security-conscious workflow, you can enhance your IT infrastructure's safety as you reevaluate your cybersecurity strategy to obey regulations.
By complying with GDPR, publishers illustrate to visitors and advertisers that they are supporting the 7 key GDPR principles:
Lawfulness, fairness and transparency
Purpose limitation
Data minimization
Accuracy
Storage limitation
Integrity and confidentiality
Accountability
Becoming privacy and consent-minded should be promoted as a feature and benefit to visitors, not a burden. By implementing GDPR consent requirements, publishing businesses can be more transparent to their visitors as they provide clear information about the data they collect and how they use it.
Increased Trust and Reputation
As you adopt GDPR principles, you demonstrate your commitment to protecting your customers' private data and fostering great trust among your audience. In addition, the data standards you implement help you safeguard your infrastructure from cyber attacks and avoid damaging your reputation.
Consent is an indicator of safety, loyalty, and trust, which both visitors and advertisers value. Go beyond complying with GDPR requirements by providing clear privacy notices to your visitors. This helps you differentiate your business from competitors and demonstrate respect for visitors' data preferences.
As more visitors recognize your business's ethical and responsible approach to data management, you attract more subscribers and retain the current ones.
The commitment to data privacy and visitor consent can extend beyond the website, to become a positive brand attribute generally, with benefits that extend to all brand initiatives on and off the website.
Higher Marketing ROI
According to a study published in Ad Exchanger, publishers who adopted a CMP saw a 9% increase in CPMs and a 5% rise in fill rates following the implementation of GDPR. This statistic may surprise you until you understand why it's possible.
See also: CMP Rates Higher for Visitors Providing Consent

GDPR policies emphasize the importance of getting visitors' consent before processing personal information. With a database of engaged and consenting visitors that can turn into paying subscribers, you can increase conversion rates and operational efficiency.


Visitor Journey and Consent Management

From discovery to engagement, conversion and retention, the touchpoints along a visitor journey can vary based on the channels your audience uses to interact with your publishing website.
Admiral's role as a Visitor Relationship Management (VRM) solution along the visitor journey is to help you establish better relationships with your audience by interacting with them directly instead of relying on data from a third-party cookie. This approach will help you increase visitors' trust and engagement and enhance your brand's reputation as you develop a loyal customer base.
With Admiral, you can optimize visitor journeys by leveraging marketing automation, accessing consent management tools and improving user experience. Admiral lets you gain valuable insights into your website visitors by tracking their journeys at each touchpoint and collecting first-party and zero-party data.
See also: Consent Management FAQ
GDPR Compliance as a Step in the Visitor Journey
GDPR compliance is essential to the visitor journey as it fosters trust and transparency between publishers and visitors. Adhering to GDPR allows you to establish stronger relationships with your audience.
Admiral enables you to manage visitor consent preferences to help you comply with GDPR and build trust and create a positive user experience by giving visitors control over their data.
See also: Valnet Case Study - GDPR Consent & Adblock Recovery Across Entertainment Network
Admiral Consent Management Benefits
Easy install with Admiral's Customer Love support available
IP Detection for geographic segments, California, EU, etc
GDPR and TCF v2 Compliant
Supports GPP at the US National level (regional coverage in development)
Meet CCPA and VCDPA Compliance
Highly configurable consent CTA's
Full reporting on conversions and consent state
100% transparency and 24/7 client support
Collects visitor data sales opt-out choices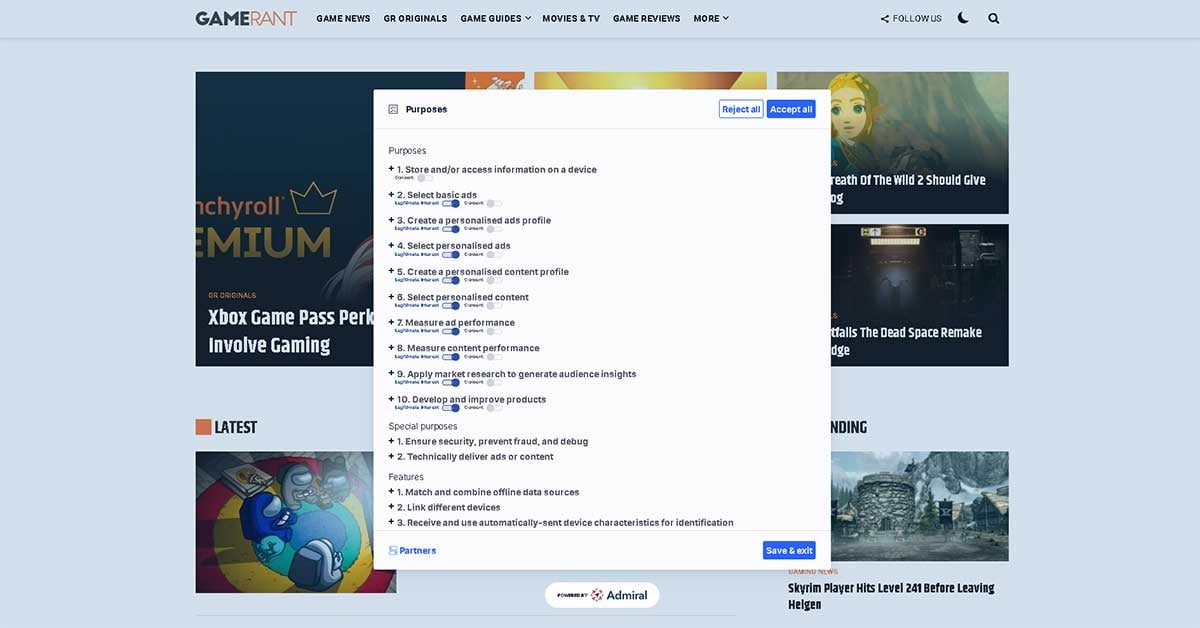 Admiral was one of the first 10 IAB-certified CMPs in the world and is happy to share that we're also a Google-certified CMP provider.
What Admiral's Google Approved status means for you:
Customers that are currently using Admiral's CMP: Great news, you're all set!
Customers that are actively using any one of Admiral's modules: Our Customer Love team can turn on and configure your CMP in minutes.
For publishers looking for a Google-certified CMP:

Schedule a demo today.