GDPR, CCPA, CPRA, and hundreds of new digital privacy laws have taken effect in the past few years. 128 out of 194 countries worldwide have enacted legislation to protect consumer data and privacy.
We're rapidly approaching a time when you need to collect consent from users to collect and store virtually any piece of personal data from online audiences. This does not only affect publishers, as the same rules apply to AdTech vendors and third-party service providers.
Although it can feel a bit overwhelming and unmanageable, most publishers have turned to Consent Management Platforms (CMP) to navigate the nuances of the ever-growing list of consent compliance regulations. It's the best way to ensure that how you interact with your users doesn't cause legal complications.
There is some good news in all of this. Publisher CPM rates for visitors providing consent are leading to higher CPMs.
When visitors give consent via a CMP, your advertisers know that you're complying with privacy laws. Not only does it signal safety, but it also activates safe and accurate first-party data. This creates premium inventory that can lead to higher CPMs.
First-party authenticated user data provides a host of benefits, including customizing content and marketing to attract and retain consumers and offer a more effective venue for advertisers. It can also produce premium inventory that is more attractive to advertisers.


High CPMs with CMP and User Consent
A study published in Ad Exchanger showed that publishers using a CMP saw a 9% lift in CPMs and a 5% increase in fill rates in the wake of GDPR. Conversely, publishers that failed to use a GDPR consent management platform saw CPMs plummet in the EU.
Without the ability to target ads effectively, CPMs fell more than 40%, and fill rates dropped by more than 30% after GDPR.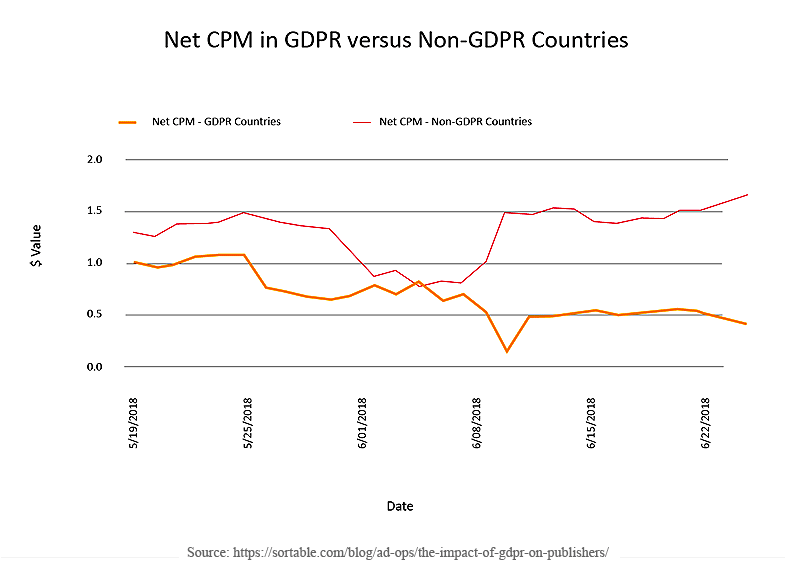 Publishers adding a CMP saw an even greater increase in the study compared to publishers that stayed with their current setups. Sites implementing a GDPR CMP saw a 52% increase in rates, and fill rates jumped by more than a third. It's been a few years since GDPR started rolling out, but with the privacy regulation trend sweeping across other countries and states in the US (i.e. CCPA and CPRA), similar patterns may emerge over the next 4-5 years.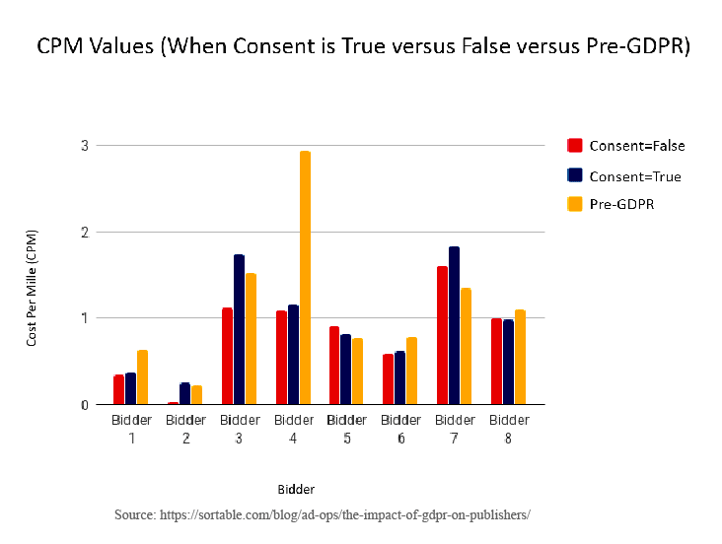 Another study examined 200 sites and more than a hundred million impressions and saw comparable results. Companies that implemented a CMP and validated opt-ins from site visitors saw net CPMs increase significantly.
An interesting part of this study is that it compared those required to get opt-ins under GDPR up against sites in countries that did not require GDPR compliance. In each case, the companies required to comply with GDPR using a CMP outperformed companies that did not use a CMP.
While GDPR and other privacy protections may have put an additional burden on publishers, these compliance measures may also help publishers increase their advertising and fill rates. For premium publishers, an affirmative opt-in using a CMP can produce premium CPMs.
Publishers asking for consent or using a registration wall solution hope to see similar results regardless of their location as the industry begins to acknowledge privacy concerns and question the wisdom of relying on third-party data for targeting.



Want to find out if Admiral Consent Management
makes sense for your website?

Let's talk. Request a demo today:


First-Party Data Becomes Even More Valuable
With the release of iOS 14.5 in April, publishers on the Apple ecosystem had to request permission from users to track behavior, including cross-platform tracking. The early reports are that few users granted permission.
A study by analytics firm Flurry found that 96% of users in the US and 88% of users worldwide have opted to disable app tracking in iOS 14.5 in the US.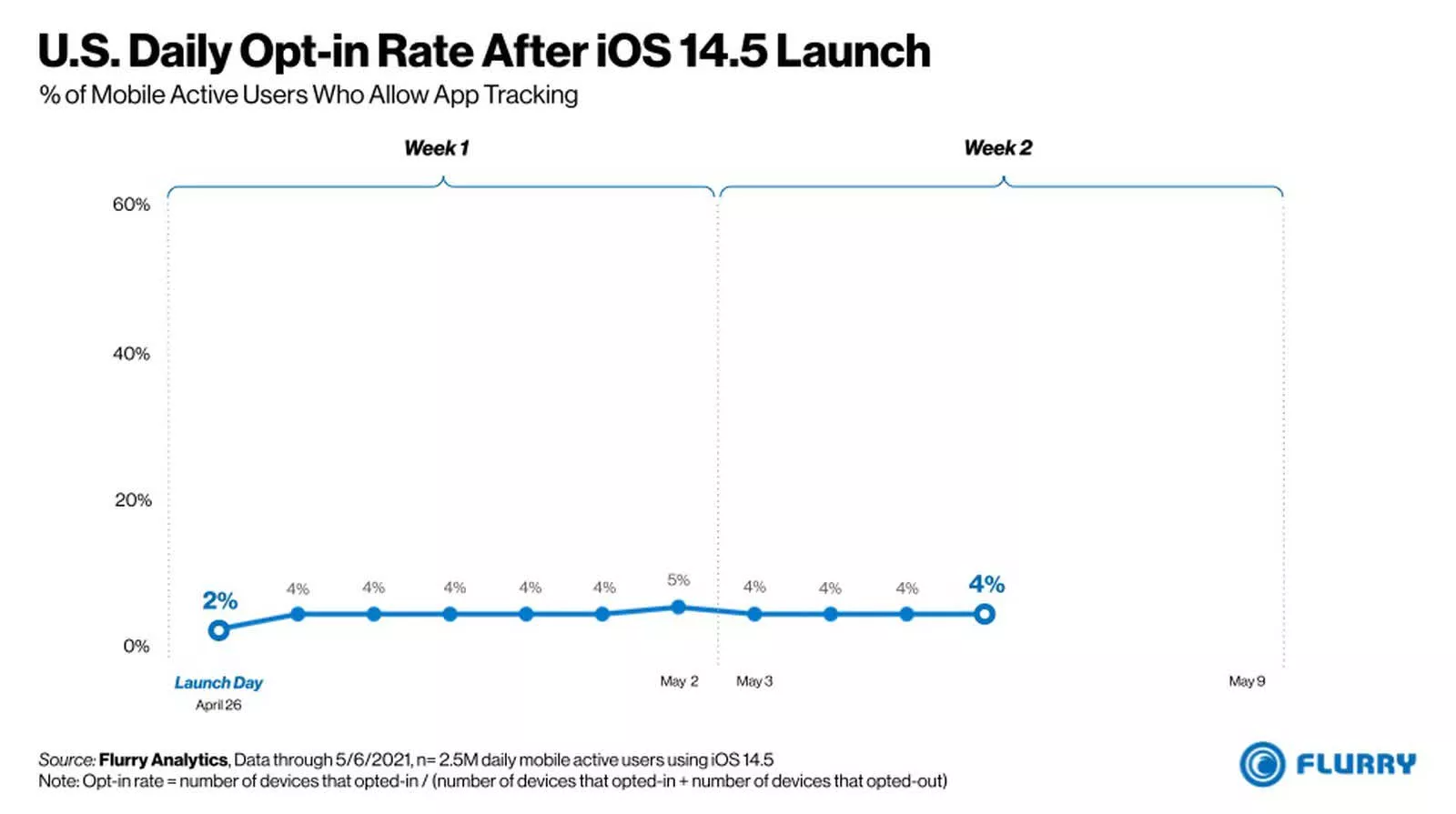 This creates significant challenges for the ad-tracking marketplace but creates even more opportunities for premium publishers. In many cases, premium publishers using a CMP asking for opt-in saw exactly the opposite reaction from users. One platform reported a 70% opt-in rate. Another saw 90%. Mediavine, serving popular blogs, reported a whopping 98% opt-in performance when visitors viewed their CMP message.
For publishers with loyal followings, this can create a significant competitive advantage over other sites relying on third-party data targeting strategies. It creates a new class of authenticated users that have given permission for customized and targeted marketing.
It may also increase traffic. As users navigate online resources, there are increasingly encountering opt-in requests. For premium publishers and high-quality brands, opt-in rates are universally higher. When faced with granting permission on unknown publisher's sites, users are more likely to leave and look for information elsewhere.


Consent Management Platforms Will Continue to Grow

As more data privacy regulations are on the horizon, the CMP market is continuing to grow at a significant rate. Projections show the market growing at an annual Compound Annual Growth Rate (CAGR) of 19.3% between now and 2025, expanding from $317 million in 2020 to $765 million by 2025.
While many publishers are implementing consent management platforms to stay in compliance with privacy regulations, they may also be seeing another benefit: more revenue.
See also: FAQ for Privacy Consent Management

Looking for a Consent Management Platform (CMP)?

Admiral Consent is the first blocker-aware CMP and one of few available designed under the IAB's Transparency and Consent Framework that can manage both IAB and non-IAB vendors alike. Additionally, Admiral is an easy install as part of Admiral's Visitor Relationship Management (VRM) platform, tying together key data points and insights across the visitor journey.

One CMP to handle both IAB and non-IAB vendors
Single tag installation, with built-in blocker monitoring
Configurable messaging and consent types to maximize transparency and conversion
Targeting and segmentation including location-based and site-specific traffic
Reporting to help monitor conversion tracking and GDPR revenue impacts
Cross-platform support including mobile web
Flexible pricing options with real live experts to speed network rollouts