Question 1: If you improve the ad experience for your site visitors, how will visitors with an adblocker ever know?

Question 2: If you show adblocking visitors a third party verification of your improved experience, are they more likely to turn off their adblocker to unlock your full ad stack?
These were some of the questions that drove the Better Ads Coalition and Admiral to team up in a case study of publisher CBA certification, and delivering a webinar to share the consistently strong results.

Adblock adoption has grown to 37% globally and is costing the publishing industry in excess of $30 billion annually. Additionally, adblocking software can impair the visitor experience beyond ads, affecting layouts, Google analytics, even site checkouts and forms.
This is where Admiral, the industry leader in adblock revenue recovery, and the Better Ads Coalition, an industry organization that created the Better Ad Standards, come in. Admiral's expertise in adblock detection, and their AI-driven visitor engagement layer, was the perfect tool to inform site visitors that the ad experience has improved.
Admiral's tech was able to target just the visitors that were using an adblocker and present to them a request to support the website by disable their blocker, combined with a visual certification shield verifying the site's compliance with Better Ads Standards.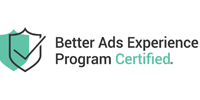 This webinar discusses pilot results from the partnership of Admiral's VRM and the Better Ads Certification in a case study of 10 media websites, including Legacy.com, PGATour.com, and 8 Regional News sites in the Advance Local network.
The webinar features Admiral CEO Dan Rua, Legacy.com VP Connie Walsh, and Director of Coalition for Better Ads (CBA) and co-founder of Brand Safety Institute, Neil Thurman.

"I was excited by the magnitude of improvement" expressed Thurman. "To get lift even before the brand has really been out there for consumers is great."


The Problem
Publishers are moving towards full compliance with Better Ads Standards and becoming Better Ads Certified, yet website visitors aren't aware of these changes. One reason that visitors aren't aware of ad changes is that they employ ad blockers. Activating adblockers is sometimes the default setting for browsers, meaning consumers may not even know they are using them.
In fact, a survey of over 5000 adblock users found that 68% did not install or turn on their adblocker. 19% didn't know who installed it, and 10% didn't even know they had adblocking software running.
How can a publisher earn loyalty, and revenue gains from improving the site experience if 30% of their visitors aren't even aware anything has changed?

When asked about what steps sites have taken to ensure a quality ad experience in the past, Legacy's Connie Walsh shared, "We use an ad quality vendor with adblocking capabilities so any ads that are in violation of these restrictions, or other quality controls that we have set up, are blocked on the page. And our programmatic account manager does regular checks with all of our demand partners that our block lists are up to date and being honored."
The Hypothesis
Would communicating to website visitors that you've made a commitment to Better Ads Certification increase adblock recovery rates for publishers?
The hypothesis: Third-party evidence that the publisher listened and is trying to improve the visitor experience would result in more visitors supporting the publisher by turning off their adblocker.


Publishers Participating in the Study
In order to test the synergy of Admiral's platform with Better Ads Certification, it was tested on three brands' sites in this case study:
PGA.com
Legacy Media sites
Advance Local sites in varied geographies from New York to Oregon, Michigan to Alabama.
The Campaign
The campaign reminded website visitors that each site was Better Ads Certified and asked visitors if they would turn off their adblockers when visiting the specific site.
The webinar shares the conversion data from adblock allowlisting during the pilot. This case study illustrates that visitors welcome this interaction and transparency by the publisher, leading to improved ad experience and ROI.
The webinar also shares data from a few of the participants that further enhanced the campaign with frequency and timing options, to grow revenue recovered at even higher rates than either the baseline or the primary test.


CBA Certification Case Study Results
Establishing a baseline
To begin the study a control measurement was made - adblock recovery call-to-action (CTA) prior to adding a Better Ads Certification message. The conversion rate and recovery revenue rate was measured to indicate a baseline.
The recovery rate is a measure of how much revenue is unlocked and recovered ongoing for a particular publisher, compared to how much total revenue was being lost to adblockers in the first place.
Surveying Adblockers
Admiral runs the world's largest real-time adblocker survey panel, with thousands of participants every week. We asked a few preliminary questions before implementing our CBA test.
Question 1 revisited the question, "What is the PRIMARY reason you are using an adblocker?"
The most common reason given, by 33.1%, was "to block annoying and intrusive ads".
For Question 2, adblockers were asked if they agreed with the following statement: "A website's ad experience is a major factor in deciding whether I allow ads on the site when I'm using an adblocker".
44.2% of those surveyed "agreed strongly" with the statement, and another 21.9% "agreed somewhat".
The final survey question asked:
"If a website was certified as having a "better ad experience" by a third-party consumer advocate group or organization, would you be more or less likely to allowlist the site?"
23.4% answered "very likely" and another 30.9% were "somewhat likely", over 54% of those surveyed.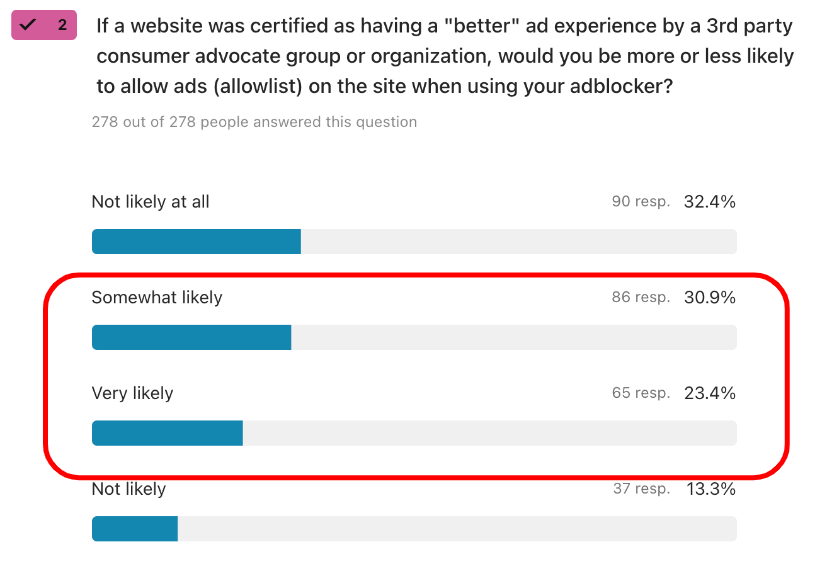 Test Creative
A CBA certification banner was added to the baseline CTA for each publisher. It was not prominent or particularly enlarged, and further testing of positioning and size could further improve conversion and recovery rates.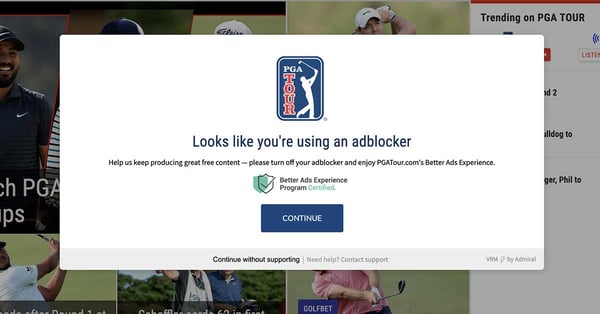 What we learned
The test recorded improved conversions and revenue recovery rates across every publisher and site participating in the study.
Conversion rate lift averaged 16% across all sites, with a high of 30%)
Revenue recovery rates improved an average of 28%, with a high mark of 49% lift.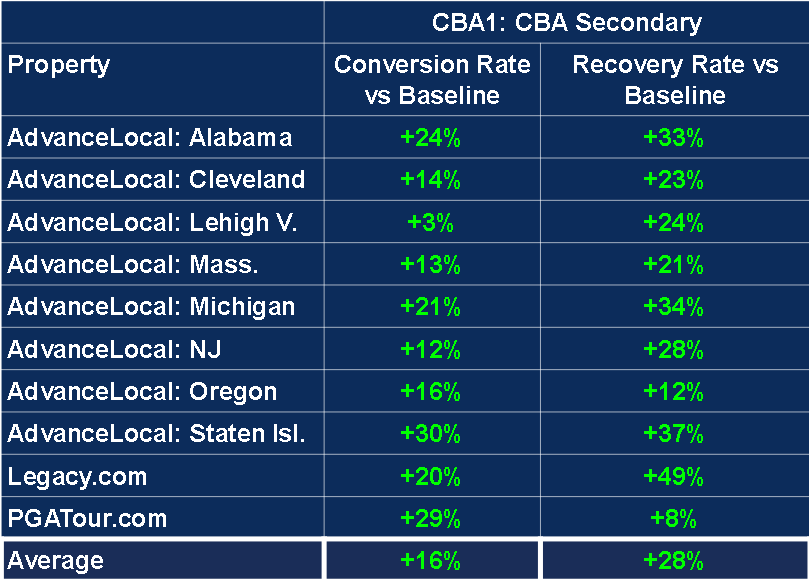 Keep in mind, these are improvements over and above the baseline recovery rates which already are adding revenue to the publisher's bottom line. Also, this test may have been the first time visitors had heard of the Better Ads Certification. The trust factor will likely increase as the CBA brand and shield become more common.
"I was excited by the magnitude of improvement because, to be
honest, the CBA brand is not a known brand to the average consumer," expressed Thurman.
"So, to get lift even before the brand has really been out there for consumers is great."
The CBA Director continued, "I think if we continue to do more of these and more top-tier sites are leveraging the certification, I think rates can go up even higher."
In fact, some of the test subjects continued to run the shield and measure additional impressions beyond the case study campaign parameters, and reached revenue recovery improvements of 65%!
Watch the full webinar below to hear more insights and learnings from the case study:
This study proved the efficacy of informing adblock users that the publisher's site was Better Ads Certified.
"You've already done the work you might as well get the revenue for it," Dan Rua summarizes. "Sometimes you do the work and it's uncertain whether there's a revenue gain, but this is an example of a case where you can prove direct revenue as a result."
The best next steps are:
Register for Better Ads Certification. It's a pretty simple form.
Sign up for Admiral. It's free, and set up takes minutes to add a single tag, opening access to the full dashboard of revenue and block rate reporting, targeting, and more.
A free trial for running your own adblock or CBA Certified test is available, but to understand the full potential of Admiral's VRM platform, we encourage you to schedule a demo to walk through the options, targeting, journey automation, and more.

In addition to adblock recovery, Admiral's single-tag VRM app offers the ability to launch GDPR/CCPA consent management, paid subscription offers, registration walls and paywalls, grow email newsletter signups, grow social followers, turn on AI-driven Surge Targeting, and more.