Admiral Accounts is an innovative new layer in the Visitor Relationship Management (VRM) stack, allowing visitors to create and manage privacy-first, personalized accounts to seamlessly interact with publisher sites and networks. A major breakthrough towards realizing Admiral's VRM vision, Accounts empowers publishers to build multi-faceted 1st- party relationships with their visitors to drive maximum average revenue per visitor (ARPV) while maintaining privacy & trust.

Digiday and WNIP recently reported that more publishers are embracing site registration and registration walls, most notably NYTimes, TheGuardian, and The Telegraph. Admiral Accounts can make it easy for publishers to launch and measure a registration wall, or run a strategic site registration campaign to grow email lists.


Admiral Account creation happens when a visitor signs up for an account on the site that uses Admiral's VRM platform and can start as simply as an email subscription. Once an account is created, the visitor can leverage their account details to enable various SSO features including on-site, cross-network or cross-platform authentication. Accounts makes it easy for publishers to scale site registration and leverage profile data to better provide a range of services.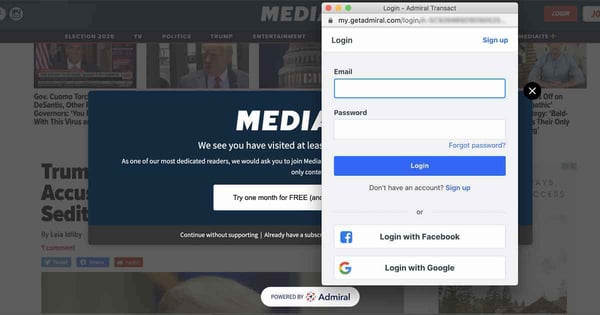 Multiple Benefits of Admiral Accounts for Site Registration
As logged-in visitors interact with consumer-facing elements on the publisher's site, such as Admiral's Adblock Recovery, Consent & Privacy, Email Acquisition, and Social Growth, their 1st-party data and choices are stored in their account. In addition, publishers can enrich user accounts with data provided outside of Admiral's platform (i.e. surveys, offline subscriber status and more). In turn publishers can access this layer of user data in real- time to:
Enable SSO authentication, allowing users to access a variety of features on their site
Grow 1st-party data to better understand, segment, and serve their audiences
Overcome leaky paywalls with an easy-to-implement regwall
Quick grow email subscribers, which can convert 10x higher to paid subscribers
Unify data from multiple sources with the visitor serving as the hub
Put the right offer, in front of the right user, at the right time to grow ARPV
Eliminate friction for returning visitors
Admiral Does the Heavy Lifting for Site Registration and User Profiles
The best part? Admiral Accounts does not require the publisher to host and maintain their own database as all data is managed by Admiral and readily accessible in real-time via client-side and server side APIs or through the company's universal dashboard. This allows publishers to focus their precious development resources on great content and great visitor UX instead of trying to keep up with best practices for database hosting and account security. For publishers that like to build custom systems, product teams can leverage Admiral's powerful Accounts API to build custom accounts even quicker and easier.
Lastly and most importantly as data privacy grows in importance, Admiral Accounts follows "privacy first" data management principles and empowers publishers to give users consent-based options to protect their personal data. Admiral Accounts and regwall technology applies encryption-in-transit, encryption-at-rest, and industry-standard hashing to protect sensitive login details.
---
GET STARTED TODAY
Publishers can start growing 1st-party visitor relationships and revenue with Admiral Accounts in as little as 5 minutes, installing a single tag that powers the entire VRM platform including the option to launch a site registration wall. Request a demo today.