One revenue metric to rule them all: ARPV -- average revenue per visitor. ARPV is a measure of how well you are maximizing revenue from your visitors.
Table of Contents
Addressing the Perfect Storm of Publisher Industry Disruption
Recently the AP reported that US newspapers are dying at a rate of two per week. Media companies large or niche are facing a perfect storm of industry disruption from privacy regulation, 3rd party cookie death, adblock technology, ad fraud, and more.


Publishers need to chart a course through the storm to grow sustainable revenues. Strategies include:
building visitor relationships directly rather than piggybacking on the data from a 3rd party cookie,
revenue channel diversification such as subscriptions, premium newsletters, or donation campaigns,
reducing revenue losses due to unchecked adblockers
building their own proprietary set of zero- and first-party data collection tools, storage, and applications.
Yet most pubs are still fairly siloed, and struggle to align the priorities across ad ops, audience and traffic needs, subscription growth, and other channels.


That's where ARPV becomes your primary KPI, a recognizable "North" to your compass.

When everyone is bought into the need to drive total visitor revenue for the business, then the publisher is less rocked by channel or tech-specific waves. And a ship that is steady, can move faster, and use less effort to stay ahead of the competition.


What is ARPV?

Average Revenue Per Visitor (ARPV) is a measure of the average amount of money your business generates across all visitors regardless of the revenue channel or product involved. ARPV is used in the media publishing world to measure website visitors that may generate money via ad views, ad clicks, subscriptions, brand eCommerce store, affiliate links, sponsorships, or more. The term grew out of the Telecom and SaaS software industries, as the acronym ARPU, or average revenue per user.
ARPV differs from conversion rate used by ad operations, in that it provides a specific value on a per visitor basis for all visitors and all revenue channels they contribute to.
Here's an example from Statista of Meta's average revenue per user (ARPU) from 2012 to 2021 (in U.S. dollars)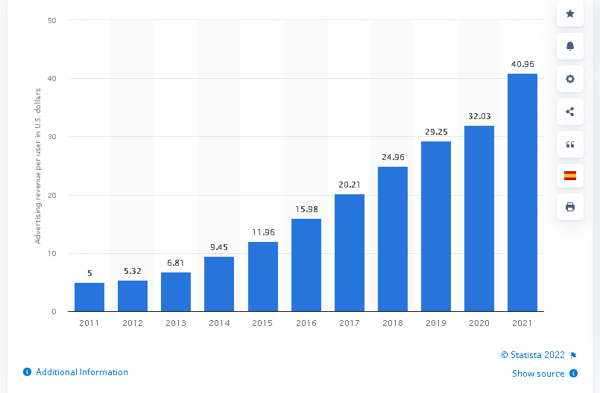 How do you calculate average revenue per visitor (ARPV)?
To calculate ARPV, divide the total revenue earned during a specific time frame by the total number of visitors during that same period. Here's the formula:


ARPV = Total Revenue / # of Visitors
(for a given time period)
First, determine the time increment you want to use.
According to Hubspot and Investopedia, the most common time frame to measure ARPV is monthly.

For businesses that are more seasonal, such as Hotels, a quarterly ARPV might make more sense.


Then, total all revenues. This may include:
ad revenue from all ad types, programmatic, direct sales, etc
affiliate revenue
paid subscriptions
upsells and cross sells
premium newsletters
donation campaigns
ecommerce/brand store
paid events
So let's say in March, your business generated:
$100k in ad revenue,
$20k in subscription (MRR),
$5k in donations, and
$5k in your brand store.
Total revenue = $130k.

Then add up your total unique visitors.

If your business generated $130,000 during March, and 300,000 people visited your site(s) during that month, then your ARPV would be $0.43 for the month. Some track it as average revenue per thousand users per month, which would be $430/mth in this scenario.
Comparing this number against your ARPV goal is crucial to learning how to tailor your marketing efforts for overall strength, vs competing silos.
How to Use ARPV for Strategic Decisions
Overall profitability
Publishers use ARPV rates as a blended indicator of overall site profitability. This has implications for investments in new visitor traffic, external marketing spend, the value of increasing visitor engagement and products you can launch such as newsletters or subscriptions.


Competitive benchmark
ARPV can also be a metric used to compare publisher to publisher. Each my have a different slate of products, adoption, pricing, but ARPV provides a single blended metric to judge their ability to maximize revenue. A measure of which publisher is doing the best job of maximizing revenue from its visitors.


Segment analysis
By looking at ARPV by segment you can find the strongest drivers of revenue across products. This can inform your marketing channels and traffic generation targeting. Which of your segments have the highest ARPV and what can you learn from exploring them more closely?


ARPV can serve as a leading indicator
ARPV can help to forecast and plan for the changes necessary to reach company-wide goals. This can help underscore the value of retention, as ARPV benefits from deeper relationships and graduation to more profitable revenue channels.


A measure of which publisher is doing the best job of maximizing revenue from its visitors.
How to Increase Average Revenue Per Visitor (ARPV)


1) Keep what you've already earned
You built the traffic, produced the content, and optimized the programmatic and ad stack. But if you aren't addressing adblockers you may be losing 20% - 50% of your ad revenue.
Or, if you are using the Acceptable Ads reinsertion, you could 9X your adblock recovery revenue by unlocking adblockers to your full ad stack. In fact, publishers should be using both techniques for maximum recovery. Before pumping out the basement, stop the leaks.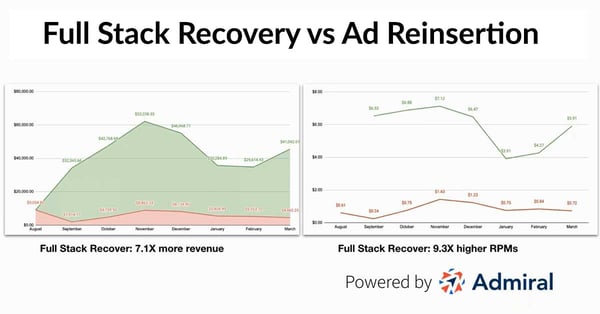 This is by far the easiest first step to optimizing ARPV. You can turn on adblock rev recovery in as little as one hour with Admiral's tag. Admiral has helped thousands of publishers measure and monetize their adblock traffic.
2) Design for Multiple Channel Revenue
Visitors are not one-size-fits-all. You will have fly-bys, regular readers, loyal fans, mavens, and super-users. A single monetization strategy, such as ad revenue, is leaving money on the table.
Publishers should build for tiers of content experiences and multiple revenue channels. By using an intelligent visitor relationship management (VRM) platform such as Admiral, you can drive yield across the business.
Walk visitors to the next step in their journey, from adblocking recovery to grow social media followers, newsletter signup to app download, or from site registration to paid subscriptions. Design for visitor experiences to drive relationships, which drive revenues.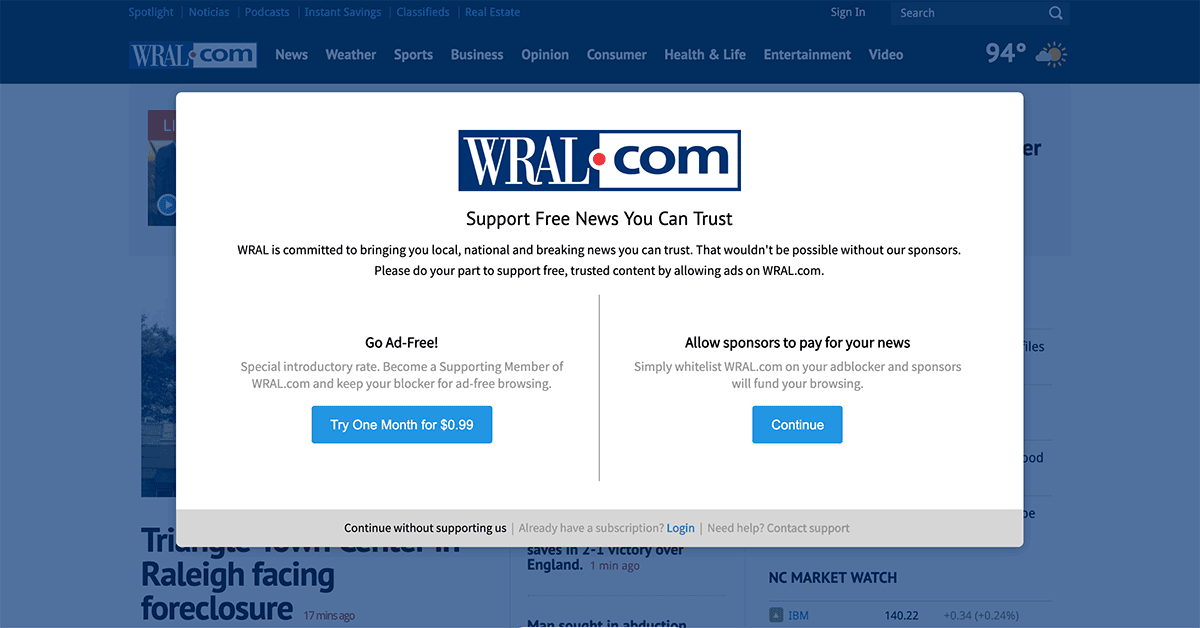 3) Adjust pricing, strategically
Subscription pricing can have an immediate impact on ARPV, but should be done thoughtfully. Consider if there are bundled options across sites, or premium experiences that may include exclusives, journalist access, or more.
Using a consent-based VRM can also provide unique loyal segments to test new pricing on, such as those that subscribed to email, or registered, or provided a donation, downloaded your app, or turned off their adblocker. In fact, current adblockers, who may not be delivering any revenue are a great segment to test with ad-free subscriptions and new price points.

4) Reducing Churn Helps ARPV
Churn, or loss of paying subscribers, reduces your ARPV over time. But reducing churn, publishers can benefit from greater life-time-value (LTV) of each visitor, and the compounding effects of monthly recurring revenue (MRR).
Churn can be minimized by:
great onboarding experiences,
superior support,
building in natural switching costs,
building alerts for churn warning signs,
leveraging churn prediction analytics,
encouraging annual contracts


Publishers that focus on retention and reducing churn sustain revenues per visitor longer, driving higher LTV and ARPV.


5) Leverage Visitor Journeys with Admiral VRM
Data has shown:
Using Admiral's visitor relationship management (VRM) platform to drive ARPV, publishers can not only identify key segments likely to take the next step, but leverage the VRM journey-builder to automate the offers and conversions at scale. It's a marketing automation conveyor belt to guide visitors to the next best step in the revenue journey.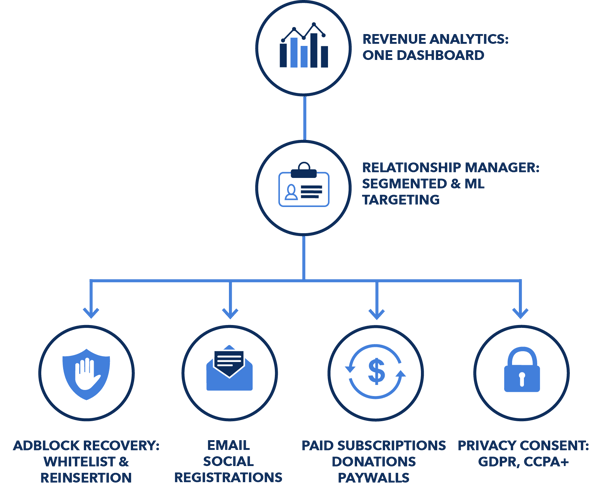 VRM does the heavy lifting to help publishers leverage zero-party data and first-party data across many visitor touchpoints. By collecting key behavioral data publishers can improve direct sales, unique offers, and relevant visitor experiences.
Visitor touchpoints vary by site, but here are some of the common engagement steps that Admiral's machine learning and journey builder manages at scale:
paywalls and subscription offers

site registration and visitor authentication

drive newsletter signups for 1st party data

grow social media follows and app downloads

unlock adblockers to your full ad-stack

manage GDPR or CCPA privacy consent

Below: Screenshot from Admiral's VRM platform showing multiple engage options in the journey-builder library. Can be used separately, or in sequences to deliver the right offer, and the right time.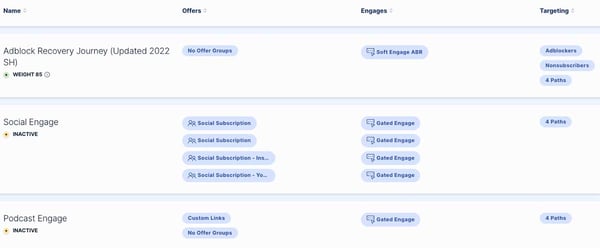 6) Test and Offer Multiple Subscriptions
Publishers should test multiple subscription packages and time frames to find the optimal offers for audience segments, as well as run custom campaigns.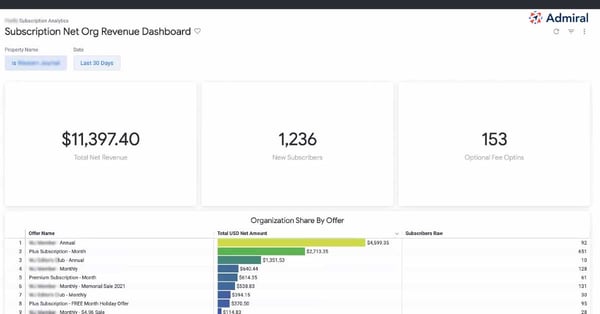 Admiral's clients test different price points, creative messaging, segments, special offers, ad-free subs, and monthly vs annual subscriptions to drive maximum revenue. Are you a network with multiple sites? Admiral can set up multi-site subscription bundles so you can cross pollinate multiple content sites in your network.
For more subscription offer tips, check out our webinar on five key steps for offering subscriptions.
Help to Grow Your ARPV
As a successful publisher, you are probably doing some of the tips above. You likely have a robust ad operation, and have or are considering paid subscriptions.
It makes sense to have a platform that is built to maximize our ARPV, and to help deliver the right offer, and the right time, at scale to your visitors.
Find out what the Admiral platform can do for you, take a look at the tool set, dashboards, and real examples from publishers like yourself. Schedule a demo today.