Marketing automation has been a major driver of growth for SaaS and digital product companies, yet the historical focus on ad revenue models have kept media publishers in a laggard position on marketing automation.
With the development of Admiral's Visitor Relationship Management (VRM) platform, and industry focus on visitor journeys, revenue diversification, sustainability and ARPV, the time is ripe for leveraging an automated marketing solution.



Edit: In 2022 and 2023, Admiral was the highest-ranked selection by Inc 5000 among marketing automation solutions for publishers. Story: Admiral tops 4 categories.
Paradigm Shift in the Media Industry
Over the years, media companies have done a good job of courting advertisers and building an audience, but have generally focused on generating ad revenue rather than building one-to-one relationships with visitors.
If they did focus on building relationships, they often did so in broad segments to create pools of visitors to monetize. Yet, they often neglected to form one-on-one relationships in the way many in the B2C and eCommerce world have done to create loyalty and sustainability.
Yet, today's consumers have become accustomed to personalization. As much as 80% of the viewing on Netflix comes from its recommended titles based on past viewing habits. 35% of Amazon's revenue comes from its product recommendations.
66% of customers expect companies to understand their needs and provide an experience tailored to them. In today's environment, you're not just competing against other publishers and how they manage the user experience, but you're competing with every other online platform. The experience they have in other interactions will impact the way they rate you.
For publishers, this means finding a way to strengthen relationships by anticipating visitors' needs and delivering them a robust customer experience. The challenge, of course, is doing this at scale, which is where marketing automation software comes into play.


What Is Marketing Automation?
Marketing automation is technology that allows businesses to effectively target their customers with automated and relevant messaging at scale, across multiple touchpoints, to drive businesses objectives and revenue. Using a set of rules and audience data, you can build workflows to engage with specific visitors in specific ways.
While a marketing automation definition usually references driving leads and site traffic, you can also use it to improve engagement, relationships, retention, and revenue on your website.
For example, when someone comes to your site, your marketing automation can tell whether they have signed up for your newsletter, have a paid subscription, or are using an adblocker. You can then automatically deliver the right message to get them to signup, join up, or turn off their adblocker.
The best marketing automation platform lets you streamline and automate your marketing tasks, allowing you to scale without having to do things manually. At the same time, they collect data and measure performance so you can optimize future workflows.
What Are the Benefits of Marketing Automation for Publishers?
There are a variety of benefits for publishers using marketing automation, including:
Saves time: You can automate much of the marketing process, allowing you to reach more people with the right message (at the right time). You can even set up multi-touch journeys that guide a visitor from one action, to another, intelligently.
Personalizes at scale: Marketing automation allows you to personalize and customize your marketing messages and do so at a scale you couldn't do in any other way.
Increases productivity: Frees up your marketing and development teams to work on other initiatives to grow traffic and generate revenue.
Improved ROI: You can also track the results of your marketing activities as visitors progress through the customer journey to see what's working and what's not, so you can optimize your efforts.
Drives revenue: Marketing automation creates an 'all roads lead to revenue' approach, building visitor loyalty, retention, relationships depth, and average revenue per visitor (ARPV).
Leveraging marketing automation can drive substantive improvements by reducing marketing expenses, increasing productivity, and improving conversion rates and revenue.


How Does Admiral Marketing Automation Work?
Admiral's marketing automation platform helps media publishers communicate with visitors directly at scale, increasing conversions, transactions, and revenue across every visitor journey.
Though it takes only a single small tag to get started, Admiral's marketing automation platform for news publishers includes nimble journey builder tools, engagement design and settings, and robust dashboards for tracking revenue, journeys, and visitor actions.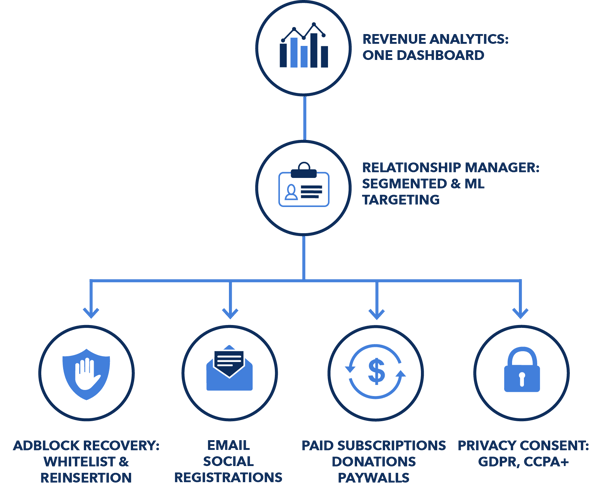 Here are just some of the ways our marketing automation tools can help drive key visitor touchpoints:
Turning Adblock Users into Paid Subscribers or Unlocking your Full Ad Stack
With adblocker adoption hovering around 34% in the US and even higher in other countries, adblockers cost advertisers billions of dollars annually. Not only does this prevent ads from being shown on desktops, but it can also stop people from accessing sites and can erode loyalty and repeat visits to publisher's websites.
Admiral's visitor relationship management software includes the industry's best adblock detection and recovery solution, and can even turn adblockers into paid subscribers.
Admiral also makes it easy to offer an alternate value exchange with visitors, driving donations and paid subscriptions. Adblocking visitors are presented options of how they wish to support content they enjoy, via allow listing, a subscription, or other value exchanges Admiral can help implement.
Driving Digital Subscriptions and Profitable Paywalls
By automating your digital subscriptions, you can leverage your content to improve revenue and build a closer relationship with your visitors. Donation campaigns, metered paywalls, and paid content subscriptions can help you maximize the average revenue per visitor (ARPV).
Paywalls and regwalls (registration walls) can also provide valuable information that helps you build first-party relationships with your visitors.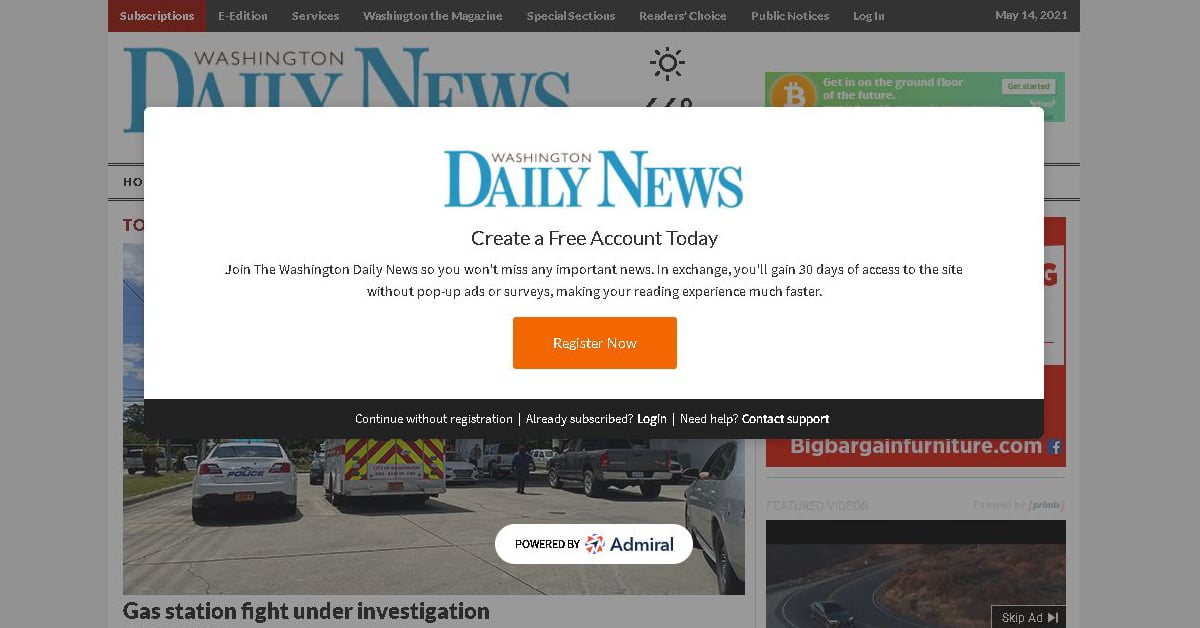 At the same time, you can customize and personalize content to target individual visitors by automated marketing at scale, providing the right content and offers at the right time.
Once visitors sign up for your subscription or paywall, you can gather more and deeper first-party data to target them more directly and efficiently. AI and analytics tools can track and measure performance and help you understand the impact of your marketing campaigns for optimization.
Growing First-party Data and Zero-party Data
Admiral allows you to track visitor journeys at each touchpoint to collect and leverage first-party data and zero-party data. First-party data is collected from your visitors when they come to your site. Zero-party data is data that your visitors share with you through surveys, subscription or newsletter sign-ups, or responding to queries.
Admiral allows you to collect first-party data and zero-party data by adding a single tag to your site. This allows you to capture deep insights from your visitors, create a personalized journey to enhance the consumer experience, and generate higher levels of engagement. The more relevant your marketing is, the higher conversion rates you will see.
These data points help publishers fuel their digital marketing automation both on-site and off-site. Not only can you provide targeted and dynamic content when visitors are on your website, but you can also use this data to prioritize and segment your marketing efforts off-site as well.
Growing Social Channels
The same tag can also help you grow your social media presence and increase traffic to social platforms, grow your email newsletter lists, or even drive more app downloads.
When visitors come to your website, you can create highly-configurable CTAs that target certain segments of your visitors to drive them to connected conversion events. This deepens and expands the relationship connection, can drive more site pageviews as social and newsletters present content links and can be used as a leading indicator to potential paid subscriptions.
Rather than put a link on your site and hope people connect with you on Facebook, Instagram, Twitter, TikTok, etc., you can customize the request to targeted users and maximize social media growth conversions.

Here are some Admiral case studies which serve as marketing automation examples for publishers:

Factinate drives revenue recovery
Mediaite grows paid subscriptions
Britannica engages visitors for donation campaign


Get Started with Admiral
The more you can customize your marketing to your visitors, the better relationship you can build. Each touchpoint allows you the opportunity to gather important information to serve them better the next time they visit. It leads to more engaged visitors, more return visits, and greater levels of conversions.
Let us help. Talk to an Admiral marketing automation specialist today.
Install the free Admiral tag on your site and quickly access your revenue potential using our visitor relationship management (VRM) platform. Leverage the best marketing automation features to grow relationships and revenue for your business.
Schedule a demo today and let us show you what Admiral can do for you.