The best thing you can do today: Go live with an ad-free subscription program and start generating incremental revenue in minutes.
Here's an excerpt from an actual conversation that took place between Admiral and a client during one of our Customer Love check-in calls:
Client: "We'd like to start selling ad-free subscriptions to adblock users in addition to asking them to disable their blocker, is this something you can do?"
Admiral: Yes.
Client: "Can we also sell paid subscriptions for an ad-free experience to all site visitors (not just adblock users)?"
Admiral: Yes.
Client: "Great, they won't be happy but we'll let our dev team know we'd like to start working on going live next week."
Admiral: "We configured the following content Subscription Offer Engage while we were chatting. We can go live as soon as you approve the creative."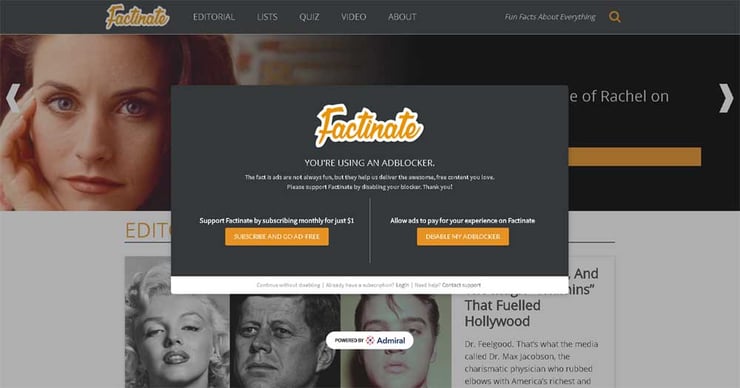 Check out Factinate.com, and thank us later (it's a very cool site).
While we took some creative license with how the conversation went down, the fact is we were able to configure and launch a fully functional adblocker-aware, ad free, paywall and paid subscription management solution in minutes using Admiral's Universal VRM Dashboard with zero client-side dev work required. Admiral is the industry leader in Visitor Relationship Management (VRM) combining the best technologies for growing visitor revenues via paid subscriptions, email signups, social follows, donations, visitor registrations, app downloads, and more.



Want to see real success numbers from paywall installations?

Submit a paywall demo request:

The Perfect Audience to Test Your Ad-free Subscription Program
Paid subscriptions are fast becoming a lucrative source of revenue for many digital publishers, and Admiral makes the cost-of-entry non-existent as there are no platform fees, and you'll only pay us only when you actually sell a subscription. We often recommend selling ad-free subscriptions as one of the many value exchanges a publisher can offer to monetize their adblock traffic. Adblock users are prime candidates for subscription offers as this non-monetized segment of visitor is more likely to pay to maintain their digital consumption experiences. According to a recent survey of 30K+ adblock users conducted by Admiral:
"48% of adblock users pay for an online subscription to a website."
A key learning derived from 5+ years of engaging this consumer segment is that there's always a subset of users that may not be interested in whitelisting a site they love to visit, but they're more than willing to pay to retain their ad-free experience AND support the content they enjoy.
We live in the age of Patreon, Twitch, Kickstarter, Go-Fund-Me, and more, and audiences, including active adblock users, are giving their thumbs-up to content by opening their e-wallets. Even TikTokers are leveraging user generated revenue to monetize their content, and let's face it, your content is probably far more engaging than the average TikToker's.


Taking Things Up a Notch
Now that you're selling ad-free subscriptions to your adblock users, why not offer an ad-free experience to everyone that visits your site? We won't do the math for you, but it doesn't take a lot to come to the realization that a single visitor paying you $1.00 a month is likely far more financially lucrative than if you were simply monetizing that user via ads.
When you're ready to open things up, Admiral can help configure an ad-free offer and experience for all visitors. Some of our clients have even added value to their ad-free subs in the form of access to exclusive/premium content or by adding ad-free access to sister sites within their networks to create a bundled subscription using the same account. The level of out-of-the-box configurations you can apply to your program so that you can make the right offer, to the right user, at the right time is tremendous.
Check out this recorded 30 minute webinar on how to prepare for a successful paid subscription offer: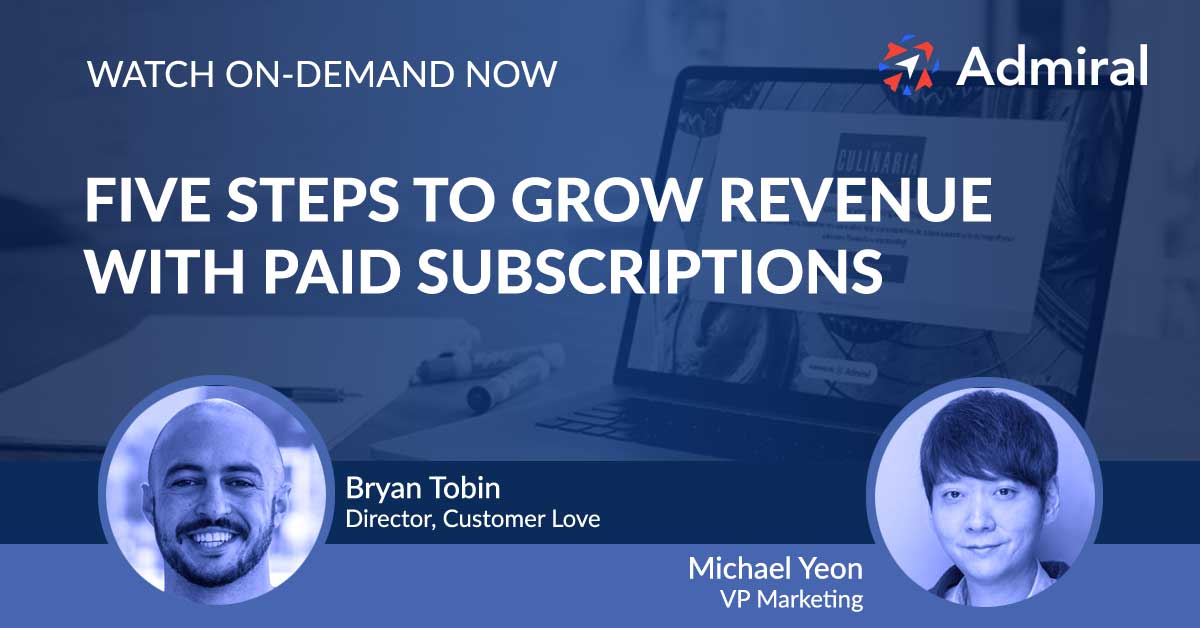 Why Admiral?
Admiral is the industry's fastest, easiest way to launch paid subscriptions and memberships. Benefits include:
Maximize Average Revenue Per Visitor (ARPV)
Direct, predictable, recurring revenue
Highly configurable engagement options and CTAs to optimize conversions
Detailed audience segmentation and targeting
A/B test price points, payment types (subscription vs. one-time donation), duration, creative and messaging
Offer and manage multi-site subscription bundles via a single purchase/login - the industry's first and only multi-site module
Subscriber data management, analytics, UI editor are all accessed through Admiral's Universal VRM Dashboard
Single-tag installation, virtually zero dev- lift, no front-end or backend development required
Payment processing, fulfillment and customer service is 100% managed by Admiral
More detail for Build vs Buy considerations; share with your evaluation team. For more background on adblock users, revenue impact, and recovery best practices, visit our adblock recovery FAQ..
For assistance on how to launch a paid subscription program, connect with us via the chat box in the lower right corner of this page or reach out to your Admiral Customer Love account manager, or email us at customerlove@getadmiral.com.

Not an Admiral customer yet? Get started today, for FREE.