Single subscription offer leverages Admiral to deliver ad-free access and custom content anchored by Pulitzer Prize winning journalist David Cay Johnston across RawStory.com, AlterNet.org, and DCReport.org.
NEW YORK, N.Y. - May 29, 2019 - Partnering with a Pulitzer Prize-winning former New York Times reporter, popular political news site RawStory.com has launched a first-of-its-kind multi-site subscription bundle. Within thirty days it clearly became a good adblock recovery case study.
In response to the increasing challenges of monetizing traffic via advertising dollars alone, more and more digital publishers are taking a horizontal approach towards revenue management by activating new revenue streams, including paid subscriptions.
To implement, RawStory.com chose Admiral's Visitor Relationship Management (VRM) platform as its subscription, engagement and paywall engine.
"Raw Story sees its future in original, reader-supported journalism, powered by reader subscriptions," said Raw Story founder and CEO John Byrne. "We already have a fantastic working relationship with Admiral in using their platform to recover thousands in revenue losses from adblocking, and Admiral's subscription paywall platform and powerful API allowed us to bring something unique to the market quickly.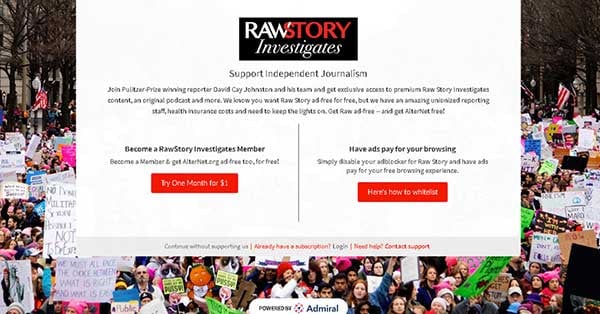 "Admiral is leading the way with multi-site subscriptions, which allows us to deliver exclusive content via a wide array of customizable settings, all with a single-tag install and ease of use," Byrne added.
The subscription offer includes seamless ad-free access across a bundle of political news sites including RawStory.com, AlterNet.org and DCReport.org. Users who sign up via one of the sites can receive the same benefits when visiting other participating sites by paying for a single subscription.
Subscribers are given exclusive access to premium investigative reporting in partnership with DCreport.org's Pulitzer Prize-winning former New York Times reporter David Cay Johnston. Through Admiral's highly configurable Transact subscription module, RawStory.com offers various pricing models and price points including introductory trial, monthly, and annual subscriptions. The Raw Story implementation also became a paywall and digital subscription case study, with quick implementation, new subscribers across an innovative multi-site content bundle, as well as recovered ad revenue.
"Publishers today face a growing list of challenges, from adblocking to privacy compliance that affect their ability to drive profitability with ads alone," explained Dan Rua, Admiral's CEO. "By enabling clients to activate new revenue streams like paid subscriptions, Admiral helps publishers expand and maximize visitor revenue through stronger, multi-touch visitor relationships."
"We live in an age where consumers recognize the need for a value exchange between themselves and content creators, and they're demonstrating their approval with their wallets," Rua added. "In Raw Story's case, they've set the bar for what a visitor-first subscription package should be by offering custom, exclusive content, ad-free experiences, and multi-site benefits. We're thrilled to be able to provide the subscription engine for such a forward-thinking publisher."
Raw Story says they're using Admiral's subscription platform to reinvest in original journalism.
"We cannot sit still and watch publishers abandon their watchdog roles," Byrne said. "Advertising alone won't pay the costs of beat reporting, but that's not an excuse for publishers to sit on their hands."
A theme at this year's AdMonsters Ops 2019 is how visitor relationships drive revenue. Admiral is a Platinum sponsor of the conference that takes place on June 3rd and 4th in NYC. Admiral CEO Dan Rua, RawStory.com CEO, John Byrne, and others will take part in a special Thought Leaders panel: "Visitor Relationship Management (VRM): How Top Publishers Turn Relationships Into Revenue" at 4:00PM ET on Tuesday 6/4. All attendees are invited to reach out and connect with Admiral at the conference.
ABOUT ADMIRAL
Admiral is the industry's leading Visitor Relationship Management (VRM) platform, serving over 15,000 sites worldwide. Our product empowers publishers to engage their audiences to drive and optimize revenue streams from paid subscriptions to adblock recovery. Admiral's platform includes the free adblock analytics module, and a suite of engagement, privacy compliance, paywall subscription management, and revenue growth tools including Engage, Recover, Transact, and GDPR/CCPA Consent modules. Interested publishers and partners are encouraged to learn more at GetAdmiral.com