Panel: Top Revenue Growth Strategy Panel
Watch the recorded session from this LMA Revenue Growth Panel
The theme was: Revenue, revenue, revenue!
Moderator Peter Lamb of Lamb Consulting acknowledged that COVID-19 caused most publishers to rethink and adjust revenue plans for the year. Panelists from Village Media, Beasley Media Group, and Graham Media Group shared how companies are adapting, their best practices and strategies.

Beasley Media Group
Todd Handy, Chief Digital Officer at Beasley, recommends publishers invest in people, product, and process, and shares how Beasley crafted revenue strategy using the framework.
People
Built a digital support team for their 200 integrated sales staff

Digital sales specialists and digital sales managers to help scale and support existing efforts

Created a digital-only account team and leadership
Instituted digital sales training across the organization to improve win rates, retention, and avg. order value (AOV)
Product - Beasley is focusing on the following product areas to drive revenue:
Beasley is "bullish" on video and sponsored content.
Double-down focus on analytics, segmentation, and identifying the "right" traffic.
A better job of monetizing email and social channels, which already have good adoption and volume.
Build out and scale a digital agency
Process - Beasley is improving their process on many fronts
Created a Digital Sales Playbook
Enhanced focus on vertical markets and regional opportunities
Drove more process value from Salesforce and Hubspot platforms
Optimized programmatic revenues with OpsCo technology


Village Media
Jeff Elgie, CEO of Village Media walked through their steps to grow total revenues by 50% YoY in the heavy pandemic months of April, May, and June 2020. Their revenue baseline was 75% local advertising, 22% programmatic, and 4% donations. Their local advertising business spans many categories such as classifieds, newsletters, video, or sponsored content.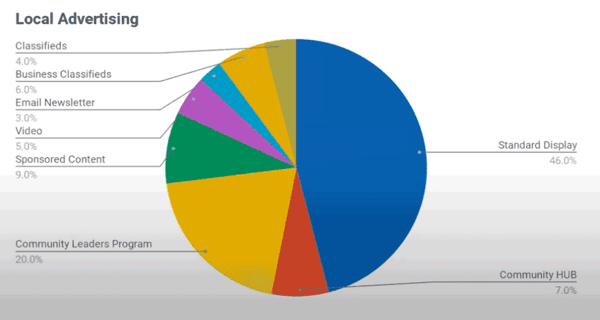 Village Media Employed Four Revenue Strategies During COVID
Voluntary donation campaign

Donations exceeded goals to become 15% of revenue in April, 9% of May

Help save existing clients

Specialized tools offered such as virtual home shows, online auctions, online concierge experiences, and rapid messaging shifts

Finding new clients

Focus on clients that had a mandate to communicate quickly to the community, more so then advertise. i.e. hospitals, municipalities, higher ed
Facilitate local charity 50/50 raffles online
Targeted CPC/CPA programs to offer emergency loans, car loans, as consumers struggled with financial instability

Programmatic focus on government entities need for pandemic communication
By executing on these strategies, Village Media improved local ad sales by 30-40% YoY, and donations by 100-500% YoY. Programmatic was down in April and May but approached 50% YoY increase in June.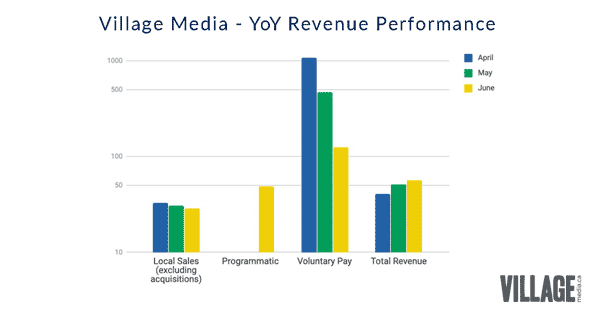 Graham Media Group
Catherine Badalamente, SVP/chief innovation officer for Graham Media Group, shared their focus on seven growth strategies this year:
Optimizing passive revenue and programmatic
Realigning AE comp to the "right kind of sale"

Selling packages that drive immediate results, with good tracking

Specific category focus - Education, Home improvement, and Health
Prospecting - Ensure AE's have the right training and tools
Launch digital agency - Training on "results, reporting, & ROI"
New revenue opportunities

town halls, virtual events, big emphasis on email newsletters

Focus on Membership Growth

Drive sustained relationships, rather than one-and-done
Monetize with e-commerce, deals, sponsorships and DTC
The Revenue Growth Strategy Session panelists included:
All of the leadership sessions have additional content, along with slides, charts, and extended Q&A segments.
Insights from Consumer Revenue Strategy Panel
Insights from Collaborative Journalism and Business Transformation Panel
---
Interested in growing and amplifying multiple revenue channels?
Admiral knows that building relationships is the best way to build sustainable revenues. The Admiral Visitor Relationship Management platform requires only one simple tag to open multiple revenue opportunities. Easily add digital subscription offers, paywalls and regwalls, email list growth tools, unique value exchanges with your visitors, immediately recover adblocked revenue, and more. Contact Admiral for a demo, and your FREE Revenue Analytics Dashboard.