Building direct relationships with your audience has never been more critical than today for local media publishers. Publishers are facing a perfect storm from the death of the 3rd party cookie, pressures from platforms to own the keys to the kingdom, volatile ad revenues, and trust increasingly a key factor in visitor's minds. As panelists at the LMA Digital Summit 2020, leaders from WEHCO Media, Star Tribune Media Company, and Record-Journal share their strategies for driving consumer revenues via direct relationships with their audience.
Reader Revenue Strategy Panel: Accelerating Transformation and Growth Through Direct Audience Relationships
Watch the recorded session from LMA Digital Summit
Local media needs to be active and engaging with all subscribers they already have on board. Acquisition is more expensive and time-consuming than retaining. Digital engagement becomes a key part of this strategy.
A 5% increase in customer retention can lead to a revenue boost of 25%.
Only 14% of people say they paid for local media within a given year, according to Pew.
App users visit more frequently than web users (13x more for WEHCO Media)
Star Tribune Subscription Campaign
Toby Collodora of Star Tribune relates that their early strategic focus on digital helped prepare them to immediately shift gears at the start of the COVID impact. With a foundation to grow digital accounts in place, Star Tribune sent out an email suggesting "now is the time to activate your digital account."
They pointed out the need to get COVID-19 news faster than a 24-hour print cycle, and how digital can deliver that benefit. Star Tribune sent out two versions, one to drive activations, and another to drive digital awareness to those that had never visited the website.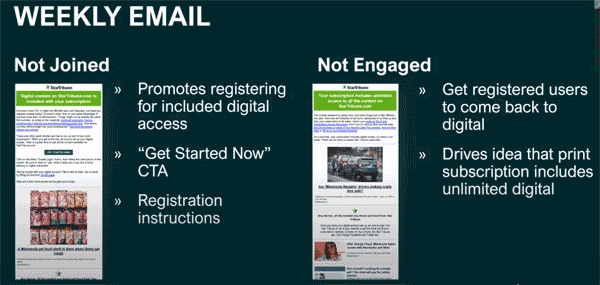 The Star Tribune subscription campaign included a banner across the top of their print editions 2X per week, encouraging readers to set up their digital account. In social media, they ran a campaign for 30 days focused on motivating unengaged subscribers. The social campaign drew 5% CTR and CPC of .10. Their email campaign has continued to drive an increase in activations of 1.5% of their eligible audience for each bi-monthly send March - August 2020.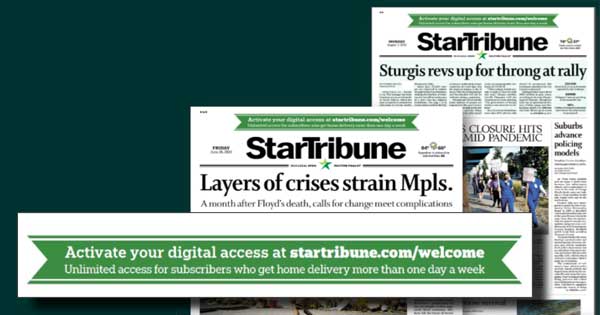 WEHCO Media / Arkansas Democrat-Gazette
Jay Horton of WEHCO Media emphasized the significant operating and financial pressures on local media, and shared Pew Research showing 71% of the general public may not be aware, and only 14% of them paying for local news. The team at WEHCO, which includes a newsroom of 111, calculated the total in-market audience that could pay for a local subscription. That helps Jay "determine a rate that we need to ask for in order to support the level of quality journalism we want to provide."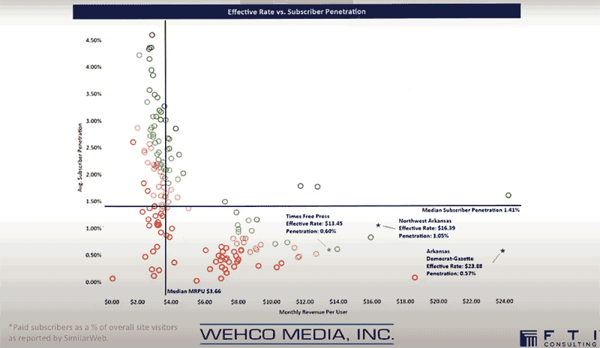 WEHCO looked at the following when building their digital subscription strategy:
Is the value of readers' digital experience better or worse than their print experience?
Data from user data and surveys that suggested their app experience was superior to the website.

App users visited 13x more, read 5x more stories, and spent 7x more time per session that web visitors.


"70% of their readers with both subscriptions read the digital version more than print."
- WEHCO Media
That led them to:

Set their website's main goal to drive visitors to the app.
Adding an FTE for video and multimedia content, based on user feedback
Adding 67 puzzles to their app, as well as more in-depth stock information
Additional survey results:

70% of their readers with both subscriptions read the digital version more than print, love the experience, and ask for more features.
WEHCO Media focused on service as a key factor in value and retention, providing one-on-one help sessions to walk through their local media app.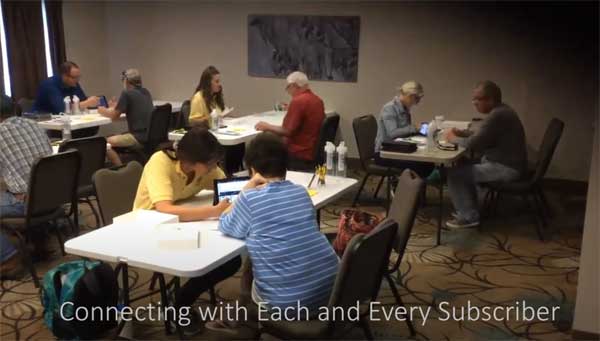 WEHCO initiatives from Jan - Aug 2020 resulted in 99% month to month retention of their highest touch subscribers, with all group retention over 90%. Their expected subscription length for their iPad subscribers is 110 months, over 9 years! Their other digital subscriptions are expected to average 30 months.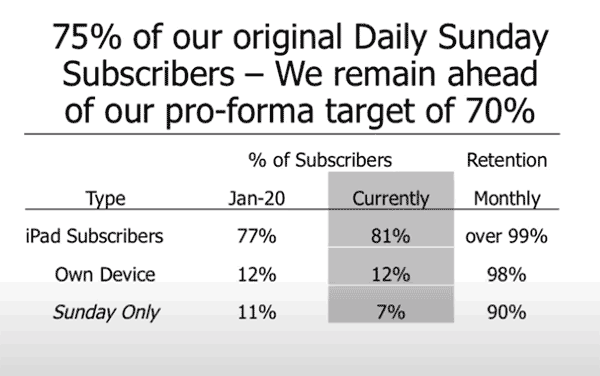 Their projected Customer Lifetime Value (CLV) for iPad subscribers is $1,717, vs $921 for other digital subscribers. With an investment of $320 per iPad, they expect to get 3X more return than from their subscribers using the iPad devices.
Takeaways: Digital journalism must be reflective of the cost. In some cases, users may need to be introduced to the technology so they can fully appreciate the digital experience over traditional print. Asking users to cover those costs is reasonable and the community will respond.
RJ Media / Record-Journal
Liz White, fifth generation of family owned 153-year-old RJ Media Group, shares that consumer revenue is one of 4 pillars of their growth strategy.
RJ Media created a cross-functional consumer revenue team comprised of editors, creatives, editors, digital, and circulation, and including contributions from outside perspectives. They all work together to explore how consumer revenue could grow across the company. RJ Media also took part in Poynter Table Stakes program for local media, which helped provide more structure around how they were thinking about digital subscriptions.
RJ Media developed the campaign slogan FactsArentFree to help communicate to customers, as well as within their team. They wanted to reinforce that good journalism costs money to produce, and they shouldn't be afraid to ask for compensation to do so. Secondly, they created a dynamic presentation for the company to share what the strategy is, why consumer revenue is a priority, and what the goals are.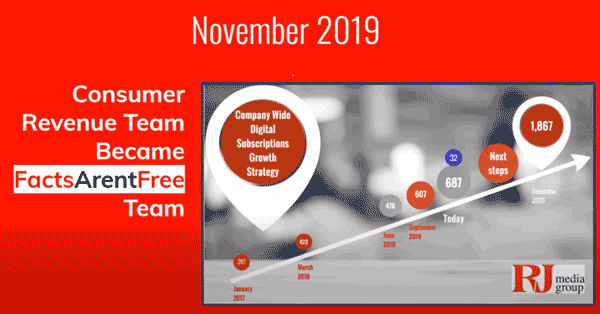 RJ Media's presentation emphasized an Audience-Focused model, with three key shifts:
From pageviews to engagement
From "audience = all readers" to audience segmentation
From "fighting for clicks" to "building engagement; earning subscriptions"
To execute the FactsArentFree campaign, they formed four working groups:
Content engagement
Marketing #FactsArentFree
Retention and onboarding subscribers
New pricing offer strategy
Strategy & Execution of Record-Journal Digital Subscription Campaign
When marketing the idea to consumers, the company included headshots of their journalists, to emphasize that it takes employing real professionals to create quality journalism, and there is a cost for that. Liz White also reminds publishers to always collect signups for email newsletters, as they are a key part or marketing digital subscriptions. "Email was the biggest call to action to generate results," says White.

(Note: Admiral VRM provides simple tools to grow email signups fast for any publisher.)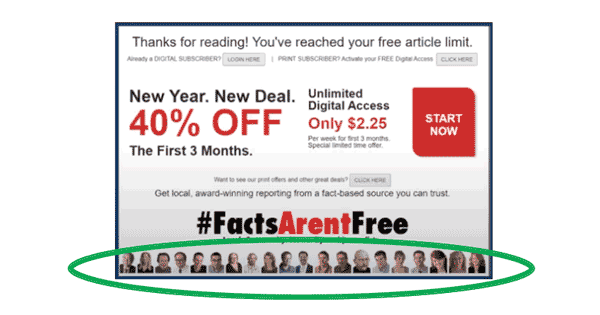 RJ Media strove to put Donate or Subscribe wherever they could. They were initially uncomfortable with asking for donations. Liz credits the LMA for their COVID-19 Local News Fund because it brought RJ Media out of their comfort zone, and the message was received positively by the community. They also created a list of best practices and strategies for the team to follow on the fly when running the reader donation campaign. A sampling of strategies included:
Create a registration wall to gather high volume email signups
Add donate/subscribe CTA to emails for abandon cart, newsletters, page header, and donation follow-up emails
Donate widget at the bottom of every article
Social ads sharing donor comments, thanking them and including donate/subscribe link
Results of RJ Media #FastArentFree Campaign
Timeframe = 65 Days
$21,000+ in donations
16% increase in new digital subscriptions
Lessons Learned:
Create a cross-functional team on a mission
Make consumer-revenue part of the culture, not another job
Always ask for newsletter subscriptions
Secure leadership buy-in and participation from the top
RJ Media is looking forward with a list of news initiatives to continue building on the campaign. Donations are being paused, but subscriptions will remain a key focus. Outreach and engagement with readers is key, as well as community leaders, will build bridges, relate the value of local journalism, and may lead to new sources of donations and subscription support.
(Sidebar: View the Britannica reader donation case study to see how they grew reader donations with little effort on their team)
All the panel members concluded with emphasis on celebrating and communicating successes and reader feedback, internally as well as externally. To view the full session content, along with slides, charts, and extended Q&A segments, visit this LMA Summit page.
Panel included:
Insights from Revenue Growth Strategy Panel
Insights from Collaborative Journalism and Business Transformation Panel
---
Interested in building relationships with your audience, growing your email lists, or driving digital subscriptions?

Admiral, the Visitor Relationship Management platform was built to help publishers build direct relationships and grow revenue. Admiral can help publishers grow email newsletter lists, implement registration walls, run donation campaigns, test and implement paywalls, grow digital subscriptions, and immediately recover revenue lost to adblockers.
Contact Admiral for a demo and your FREE Revenue Analytics Dashboard.