Google remains the most preferred Supply Side Platform (SSP) in the latest Advertiser Perceptions SSP Report, but other SSP providers are showing strong growth in adoption rates.
Which SSPS are publishers using on their platforms? Which SSPs are those surveyed in 2021 rating as their top choice for an SSP platform?


Rated as Best SSP for Publishers
Source: Advertiser Perceptions SSP Report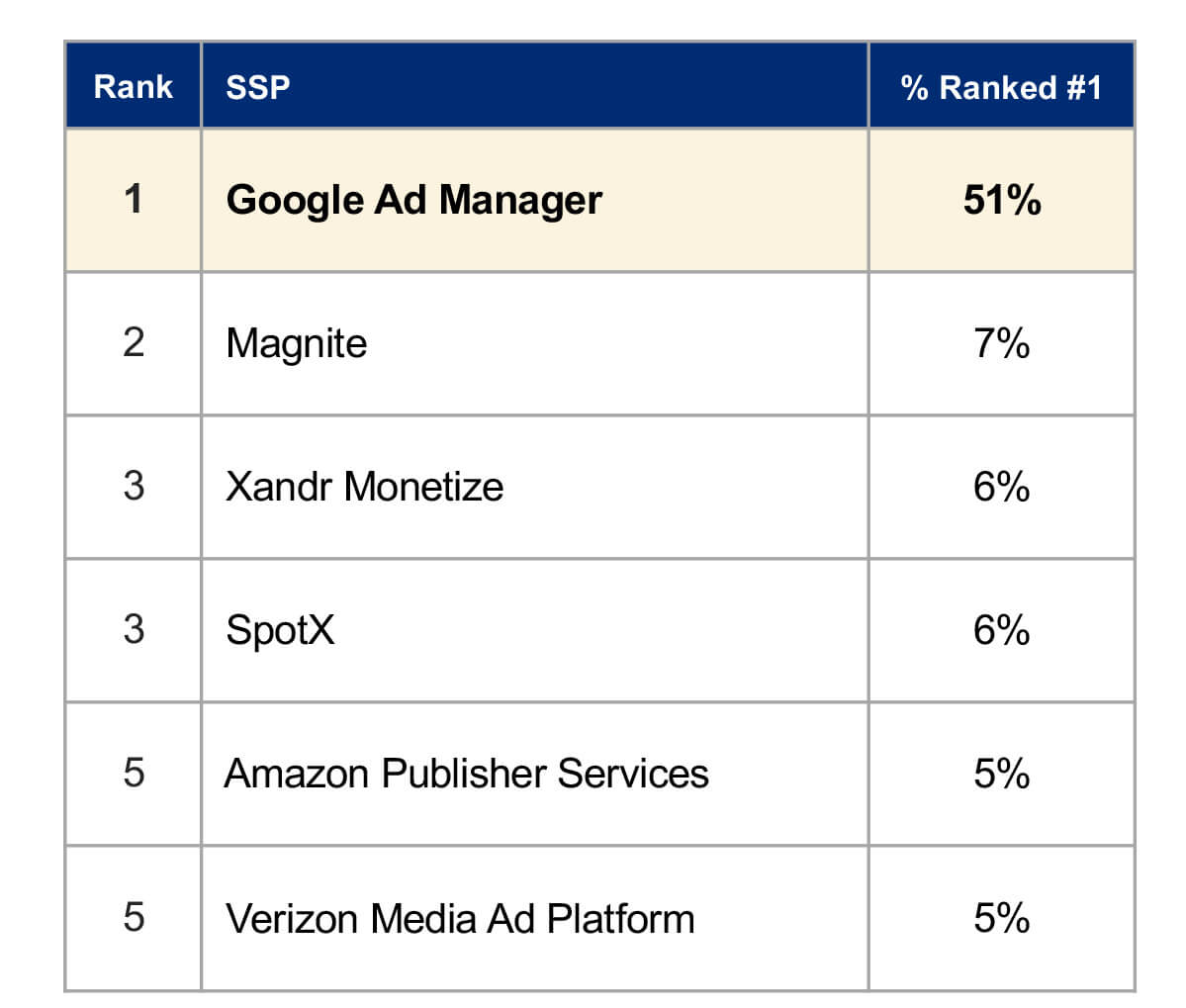 Increased Number of SSPs Used
One of the big trends uncovered in the study is that publishers are now using more SSPs to sell advertising on their sites.
Lauren Fisher, VP of Business Intelligence at Advertiser Perceptions, said publishers are continuing to add bidders for their inventory. In last year's report, publishers reported using an average of five SSPs. In 2021, the number has expanded to six.
The increase in the use of multiple SSPs has had a significant impact on the SSP market. In last year's study, only Google Ad Manager and Amazon Publisher Service showed utilization rates above 40%. This year, Verizon Media, PubMatic, Xandr Monetize, OpenX, SpotX, and Index Exchange all hit the 40% mark.
"Publishers are open to putting as many pipes as possible into their inventory as possible, if that SSP can make the case that it has unique supply or data that will make the publisher more money," Fisher told Ad Exchanger.
It makes sense. During a difficult year for publishers, many looked for new venues to pursue revenue.


Decrease Number of DSPs Used
At the same time, however, publishers are pulling back on the number of buying platforms they are using. The 2021 survey shows publishers have reduced from six to three Demand Side Platforms (DSPs) over the past few years, continuing a trend that eMarketer reported on in 2018.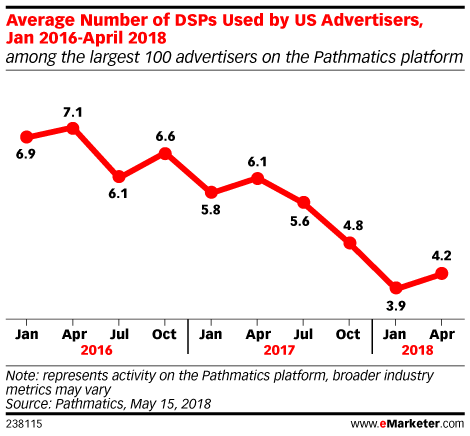 While Google holds a commanding position in the SSP market, Kevin Mannion, Strategy Chief at Advertiser Perceptions, there's more of a battle between Google, Amazon, and the Trade Desk on the DSP side of the business.
Room for Growth
Fisher expects that the number of SSPs used by publishers will continue to grow in the future. Fisher expects publishers to average seven SSPs by 2022.
The SSP market continues to see changes. Verizon Media jumped ten points in the adoption rate after integrating six different SSPs that were associated with AOL and Yahoo. Verizon Media bought AOL in 2015 and Yahoo in 2017, but only recently combined SSPs under Verizon Media. Now, Verizon has announced they are selling Verizon Media to Apollo Global Management to focus more on providing internet and telco services and less on media. By the way, the new name for the group being spun off to Apollo? Yahoo.
Header Bidding and PMPs
Header bidding is also becoming more universally adopted. It's almost the default technology for site monetization and is becoming more accepted for video and Connected Television (CTV) programmatic ad buys. More than half (55%) of publishers report using header bidding for video ads, an increase of 48% from the year before. 22% also report using header bidding for CTV ad buys.
Private marketplaces (PMPs) allow publishers to invite advertisers to a real-time private auction of ad inventory are seeing a resurgence. The Advertiser Perceptions SSP Report reveals that 90% of publishers are using PMPs and relying on SSPs to manage them.


Survey Methodology
The survey of publishers was conducted in February and March of 2021 and analyzed the buying habits of more than 150 publishing executives at sites selling inventory using an SSP and averaging at least three million unique monthly visitors.
For the full report, contact Advertiser Perceptions.
---
Need to grow revenue in Q3? You can unlock adblocked revenue this week without impact to your dev team. For those not ready to turn off their adblocker, Admiral can help you add them to your newsletter lists, become social followers, paid subscribers, and more.

Be the rock star delivering new revenue to your organization. Contact Admiral for a demo today.