Admiral continues to evolve what is possible with adblock revenue recovery to maximize publisher returns, improve ease of use, quicken implementation, and ensure a great visitor experience.
Product enhancements in recovery A/B testing, visitor journey management, and enhanced dashboards all combine to provide advanced benefits. Admiral has also added machine learning targeting, and AI-generated CTA's to drive more recovery conversions and revenue opportunities for publishers.
In this recorded adblock recovery webinar, Bryan Tobin, Customer Love Director, compares basic vs advanced recovery, three next level tactics, and closes with some insights from recent case studies for adblock recovery.


What you will find in this webinar:
Basic vs Advanced Revenue Recovery
What constitutes basic adblock recovery, and its benefits.
Distinction between consent-based full-stack adblock recovery vs ad reinsertion via the adblock vendors.
Basic recovery vs next-level advanced tactics, including an increase in expected revenue recovered rate that can exceed 80%.


Three Building Blocks of Advanced Adblock Revenue Recovery
Timing

How to use combinations of visit frequency and page view metering to engage users at the right time for conversions
Times you may NOT want to ask users to turn off their adblocker
Mapping scheduling and Surge Recovery tactics to seasonal, time range, or key events
Visuals: views of improved journey builder and engagement scheduling tools
Targeting

Leveraging visitor segmentation to surface more personalized and relevant recovery messaging
Offering alternative value exchanges to each visitor based on segmentation and history
Establishing content categorization and tiers to adjust recovery tactics aligned with whether the page content is premium or lower tier.
Using visitor data to create a better experience for each
Visuals: Targeting rules config by url, content type, visitor type, content popularity, and more



Creative

Creating recovery messaging that is on brand visually and semantically
Building out value exchanges where visitors have more choice, and publishers present options that achieve goals whichever value the visitor prefers
Visuals: examples of Admiral customers Mediaite and Sherdog delivering alternate value exchanges


Case Study Results of Advanced Revenue Recovery Tactics
Bryan shares data showing how clearly a publisher can impact his revenue recovery using these advanced techniques.
In the screen grab below, Bryan walks through the results of a customer switching from a soft recovery tactic to a smart journey tactic, growing from 25% recovery to over 50% recovery of adblocked revenue.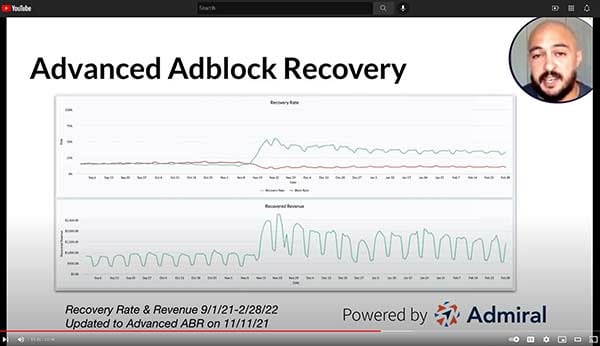 Three Next-Level Strategies for Adblock Recovery
"Here's some really cool stuff." -- Bryan Tobin

Smart Journeys

Automated delivery of intelligent messages that change across time.
The engagement changes leverage frequency of page views, modified gate flexibility, value exchange options, frequency capping and time delays.
Avg recovery rates 30-50%, some as high as 80%+



Surge Recovery

Leverage spikes in article traffic to maximize recovery
Align specific creative to high performing articles in real time
Surge Targeting allows machine-learning AI to automate where and when to engage for greater impact
Set your Surge Targeting threshold tolerance and total number of simultaneous surge engagements.


A/B Testing

Test creatives, frequencies, offers, etc to test optimize conversion
A/B testing feature native within Admiral platform
View table data and line chart results for tests, 1:1 or 1:many. Easily spot winners
Bonus: Full Stack Adblock Recovery vs Paying the Blockers (Reinsertion)
Bryan shares head-to-head case study data from tests tracking revenue from Admiral's full-stack, consent and engagement-based revenue recovery, vs ad reinsertion which leverages the permission of Adblock vendors who "allow" publishers to show ads that are restricted in type, size, format, page density, and more.

Across multiple tests and months, Admiral's full-stack recovery drove 7X more revenue, and 9.3X higher RPMs.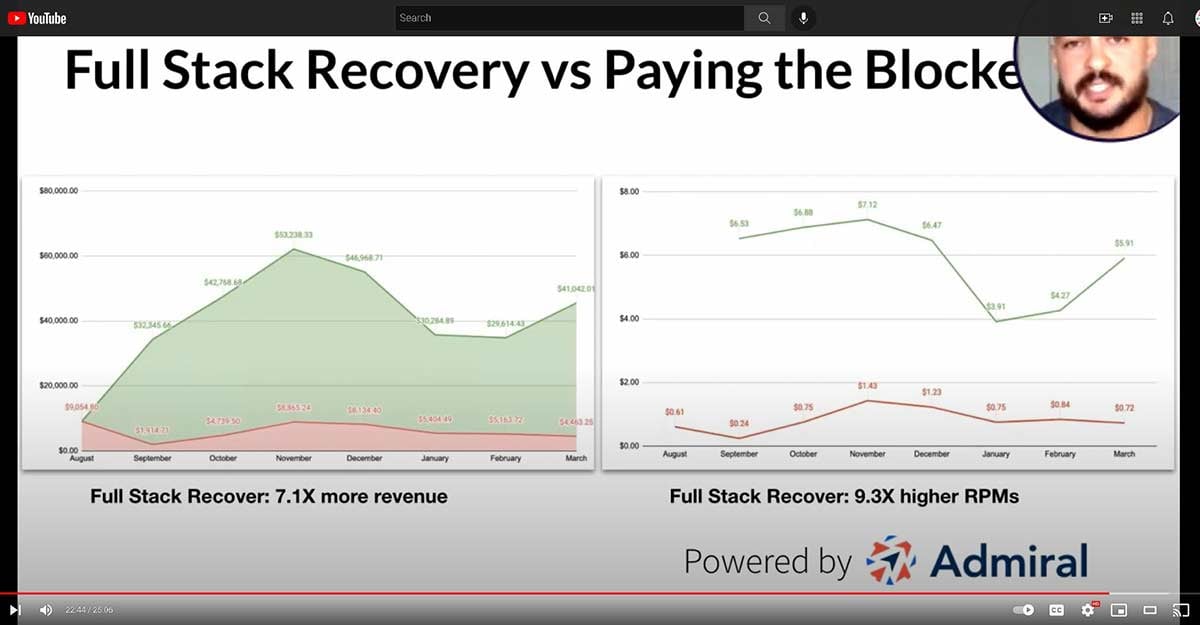 The ad reinsertion approach can be a helpful first step and compliment to engagement-based recovery, (Admiral offers both types of adblock revenue recovery, separately or in combo).
However, ad reinsertion is limited to certain adblock vendors, whether the visitor consents to allow ads through, lower CPM's, lower fill rates, and lower impressions.
Ultimately, it is the publisher industry that pays a "tax" for this option, thus the . This is why it's helpful to understand the approach as "paying the blockers". In this slide, Bryan shares how the reinsertion potential is built from fractions of the full adblock lost revenue pie.

Interested in learning more about Advanced Adblock Recovery with Admiral?
Admiral offers guaranteed net revenue, simple dev-light implementation of a single tag, and a dedicated Customer Love team that can bring insights and peace of mind. Request a demo today.