While online video usage was already growing on social media before the pandemic, the pandemic accelerated this growth. People changed their habits while working from home and spending their off hours at home.
Now that we are emerging from many of the restrictions caused by the pandemic, these new habits have become familiar and comfortable. According to Wyzowl, "people are watching more video online than ever before – in fact, the amount of online video they watch has almost doubled since 2018."
This is one of the reasons that video is becoming one of the most valuable ways to grow your social media following and engagement. Another factor is the growth of streaming. Streaming has opened up new channels to reach consumers.
The line between watching television and streaming videos from the internet is fast becoming blurred. Many consumers are choosing to watch all of their entertainment via streaming services. They are still watching shows on their TV, but they are increasingly watching TV and movies from computers, mobile devices, and smartphones.


Access to Video
What differentiates online videos from movies and television? The truth is, not much at all. While traditionally, we have grown up with a clear concept of what TV is, younger generations are becoming adults in a world where the definition of TV is entirely different.
Millennials and younger generations are used to a world where not having a smartphone is a rarity. According to Pew Research, as of 2021, 85% of Americans own a smartphone. Owning a smartphone gives users access to the internet, and thereby, online videos anywhere there is an internet connection.
Videos offer a way to capture your audience's attention to better engage them. Videos are entertaining (even when that's not their prime purpose), and easy to watch while standing in line waiting to enter a restaurant.
Since almost 50% of smartphone users spend an average of 5 to 6 hours a day on their phones, and 2 hours and 27 minutes of that time is on social media, you have a good opportunity to engage your target audience.


Streaming Videos
Internet videos are available 24/7. No longer are we limited to what's on TV right now. We can watch most shows when they air, or anytime later on their websites.
We can often catch up with a show on a streaming service or on YouTube. In 2021, YouTube was the most watched video platform at 30.2%, followed by Facebook at 29.2%, Instagram at 28.9%, Amazon at 20.7%, and TikTok at 19.8%. Four of the top five are social media sites.
One of the biggest changes in watching video content today is that the consumer decides when and where they watch their video instead of a television studio dictating a show's schedule. Consumers are in charge of their own video consumption. They decide what, when, and where.


Video for Social Media
The perception of using video for entertainment only was never actually true. Even in the days of black and white television, some of the time was used for advertisements. But ever since YouTube was launched in beta in 2005, the use of video for entertainment only has completely changed. Beginning with YouTube, social media sites gave users the ability to interact with the videos they watched by offering feedback through comments and likes.
The capability that social media launched for interacting with video posts through comments and likes, along with the ability to share posts, are still good reasons to post social media videos.
On social media, we create and grow relationships through interactions with our followers. Videos are one of the top ways of nurturing those relationships.


Visual Learners
Did you know that 65% of people are visual learners? Another 30% are auditory learners.
Video is a multi-sensory engagement experience, and creates more cognitive connections in the brain. There is also evidence that video is stored more quickly, combining to increase retention. And people report that consuming information in video format is more enjoyable.
When you post videos on social media, you immediately offer visual and auditory learners a better way to absorb information than from written text.
What Types of Videos are Good for Social Media?
Live video can drive engagement and shares if you have already built a following. Facebook, YouTube, and other platforms support live streaming. Live video can be used for short announcements and updates, events, recaps, or for longer Q & A interviews with people relevant to your audience.

How-to videos are widely popular. Nearly any topic can be enhanced with how-to videos. Examples include recipes, home repair, gardening, fitness and sports, auto maintenance or key features. Stumped for how-to videos for your audience? Just ask them via your social media channel or via visitor engagement tools like Admiral. Here's a how-to video toolkit for enhancing your channel.
Behind-the-scenes videos can deliver much more than fan engagement, as they can grow brand affinity, authenticity, and transparency. Publishers may be surprised at how many of their followers are interested in how and why things get done, including how stories and content is created. Or, is focused on the joys of flying, your readers may enjoy a behind-the-scenes look at how their favorite airplane is built or tested.
User-generated video can drive engagement and particularly shares. Promoting a campaign that asks your fans to submit a video with your name or a campaign hashtag, can drive traffic well beyond your investment of time. Give your audience-creators some sense of small fame by recognizing their contribution, or have a contest to select the silliest, most informative, or another on-brand aspect.
Why People Use Social Media
The top 5 reasons people use social media are:
47.6% Staying in touch with family and friends
36.3% Filling spare time
34.8% Getting the news
30.9% Finding content
29.1% Seeing what is trending
Video content helps address four of the top five reasons people use social media.
Social media is considered a news and entertainment aggregator with a high level of entertainment value. There is no cost for membership as opposed to streaming channels, making it a cheaper way to access videos.


Improved Video Technology
Improved video technology has created a way to advertise, demonstrate, convert, and send traffic directly through videos on social media.
In fact, one survey found that "when asked how they'd most like to learn, 73% (of survey respondents) said they'd prefer to watch a short video. This compares to 11% who'd rather read a text-based article, website or post, 4% who'd like to view an infographic, 3% who'd rather download an ebook or manual, 3% who'd rather attend a webinar or pitch, and 3% who'd like a sales call or demo.
New technology, like clickable videos, is helping to add to social media growth. Clickable videos are another social media marketing tool to use to drive traffic and sales in 2022.


3 Publishers Using Video for Social Media
Sports networks like ESPN have been showing video segments before social media existed, so it's a natural extension of their broadcasts and streaming to share video clips using social media.
Check out this ESPN Facebook video pairing a tennis match along with celebrity fans' reactions. This social media post invites fans to add their impressions of Serena Williams' last competitive tennis match. Humor mixed with excitement during this event just makes it more fun for fans to join in. It has driven over 1M views, 12,000 reactions and 600 comments.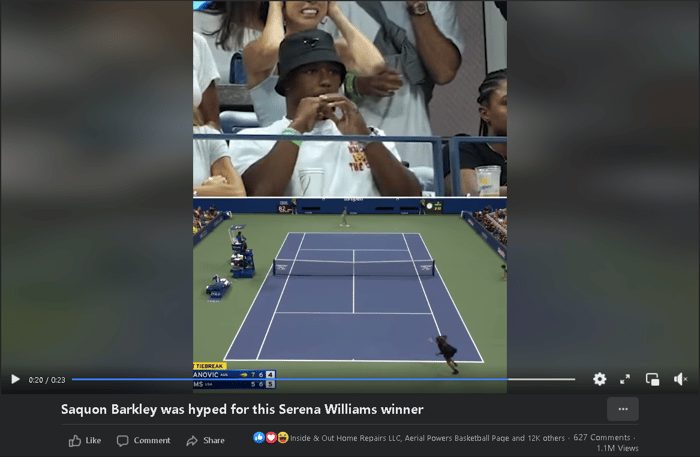 9Gag offers content on many different topics and enhances their content with engaging, shareable videos on their social media sites. Here's an example from their Facebook 9GAGfoodgasm page, which is loaded with short videos about food, preparing food, how-to food videos, and even a video on making cat costumes from food.

Perez Hilton will drop a video post into Facebook intermittently to boost one initiative or another, and to keep a diverse variety of post formats. In this social video post example, he uses video to promote a new podcast episode, the type of objective where you want to catch some attention and grow visitors from one channel to become subscribers on another.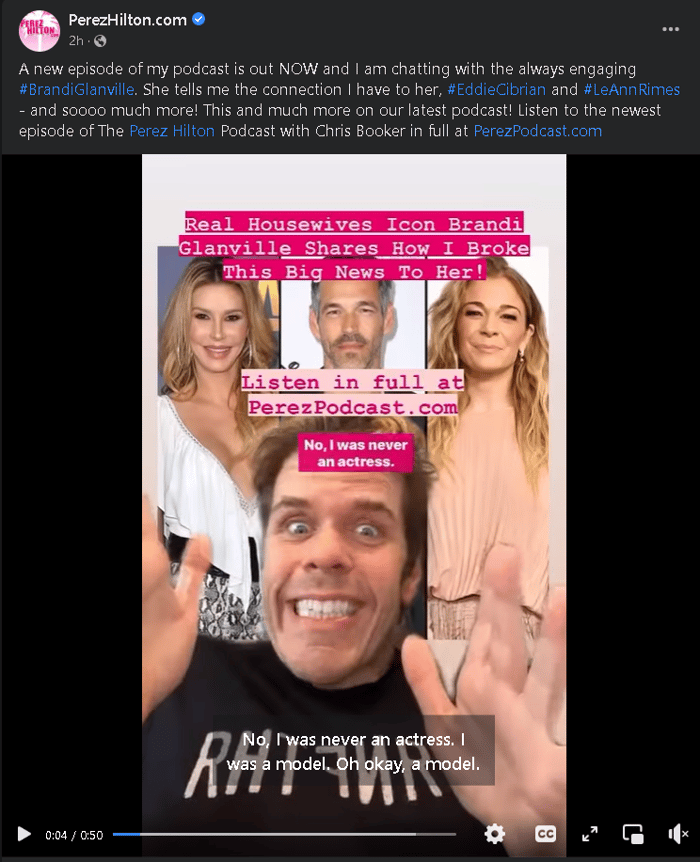 Growing your Social Media Channel
Growing your social channels can build brand affinity, loyalty, and reader retention. It can also drive more pageviews and ad views as readers click on social posts to return to your website.
By deepening your relationship with readers via social, you can further encourage them to consider a paid subscription relationship, donation campaigns, and more. Visitor relationships drive revenue and retention.


Admiral, the developer of visitor relationship management for media publishers, can grow social media followers quickly, with our intelligent and nimble visitor engagement options. To see a variety of ways our platform can drive growth for your business, schedule a demo today.