Video is a major part of social media marketing, and can grow a publisher's audience and engagement, brand loyalty, and website traffic. Social media video content is one of the best ways to keep more eyes on your brand, and it's very easy for users to share online.

Guest contributor Raychelle Raymaro of Veed.io shares 4 aspects of using video to grow social media followers and engagement.
1.Start Strong
The first 8-10 seconds is key to grab viewer attention. A study by Microsoft in 2015 showed that consumers now have less of an attention span than a goldfish.

Pop song length has fallen 20 seconds in just a 5 year span, with sub 3 minute songs now commonplace. You only have a short window to grab visitor attention.
If regular video is a part of your strategy, consider investing a little more in the opening sequence, jingle, visuals to create the tone that your audience expects for your brand.

Start with a compelling question, strong visual, or action. Remember Shakespeare started almost every play with a fight, romance, or the supernatural.


2. Optimize Your Efforts
Video is the second most popular type of content shared on social networks.
Based on research from Wyzowl, from 2016 to 2022 video marketing use grew from 61% to 86%.
And 92% or marketers value social media video content as one of the most important parts of their strategy.
If you're not utilizing videos to their fullest extent, then you are missing out on huge opportunities to get your brand in front of more eyes. You can even make it incredibly easy for users to share by making sure your videos are embedded on Facebook or LinkedIn so viewers don't have to leave the page.
Make sure all other links lead back to your primary website where there's plenty more content for them to engage with.


3. Get Personal
Aside from creating unique and quality video content, people like dealing with real people, not faceless brands.
Share videos that show your brand personality and tell stories emphasizing your brand values to build a connection between you and your audience like nothing else can.
Storytelling with social media video content can help visitors feel like they know who you are, helping to turn fly-by visitors into long-term fans and content subscribers.
Another way to get personal with social media video content is live streaming.
Live streaming
is one of the most personal and intimate forms of social media video content as it allows you to
build a connection with your audience in
real time, without any editing or post-production. It also helps build a connection with your audience as they can interact with you live in the comments section and ask questions that you can answer live on-air.

Airbnb has done a great job telling stories with video, both as corporate endeavors and also by letting their hosts tell their own unique stories. See how much more compelling this story is than just the dollars and cents aspects of staying in an Airbnb:



4. Social Media Video as an Entertainment Alternative
One reason people flock to video sites like YouTube is that they want to be entertained. They want something fast and fun from which they can get quick glimpses of enjoyment and humor with little effort.
This means that you should treat videos as another way for your customer base to consume your content rather than expecting viewers to go through the hassle of sitting down and reading.
Also, based on a study by Google, 6 out of 10 people choose watching online videos rather than television.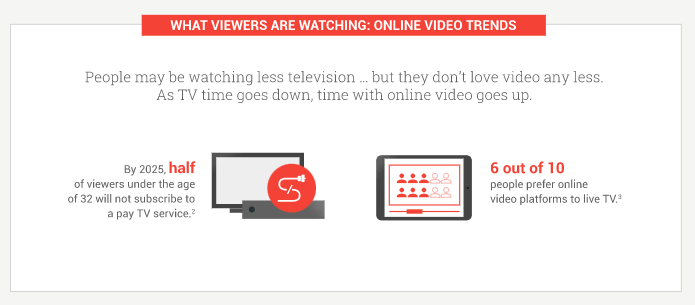 The Things You Should Think About When Creating Social Media Videos

Here are a few points to keep in mind when creating videos for social media.
Keep your videos short. Based on this study by Wistia, audience engagement decreases as the video becomes lengthy.
Make Sure Your Videos Are Edited: There are a few situations where raw footage is best, to ensure the authenticity of the story/event. However, in most cases, at least a minimal attention to editing is critical.
Make sure videos are properly trimmed and that there are no abrupt cuts.
Avoid shaky footage by using a tripod or stabilizing your camera.
Add audio (background music, narration or explanation) to your video content before uploading.
In most cases you will want to include your logo either in the opening or closing, or as a watermark. Consider if your video approach makes sense to have a closing call-to-action to further your goals.
Put Audience First: When creating a marketing strategy for anything on social media, think of your audience first. What is going to interest them? How can you relate? What does our reader and pageview data tell you about their interests?
Sidebar: Check out our cheat sheet for 80+ Questions to Boost Social Media Engagement
Consider Video Orientation: Vertical videos are best for Instagram, but Facebook and Twitter are embracing them more. TikTok, one of the fastest growing social platforms, only accepts vertical videos.
Horizontal videos are still the majority, and the best for YouTube, Vimeo, and elsewhere. But there is a growing trend towards using more vertical videos. Here are 5 reasons brands should consider vertical videos.
Add Subtitles: Whether you "burn" them into the video, or create a subtitle file for Closed Caption, you should keep in mind that 93% of consumers prefer to watch video without sound.
Conclusion: Video is a powerful marketing tool that can be used in a variety of ways to improve your social media marketing. By using video, you can create more engaging social content, increase brand awareness, and drive traffic to your website.


---
Want to grow your social media followers? Growing your social media followers can increase your site pageviews, ad impressions, loyalty, and brand shares.
Admiral can help you quickly turn visitors, even adblock users, into social media followers on Twitter, Facebook, TikTok, Instagram, and more.
Are email newsletters more important? Great, Admiral has modules to drive newsletter subscriptions and build first-party and zero-party data. Contact Admiral today for a demo.