Social media has quickly become one of the most valuable ways for people to discover and engage with sites they love. Publishers that know how to grow social media followers have a leg up on driving subscribers and revenue.
Whether you measure your social media following through the number of Twitter follows, YouTube subscribers, or Facebook likes, having a loyal group growing brand affinity is essential to growing Average Revenue Per Visitor (ARPV), Lifetime Value (LTV) and the reader revenue funnel.
Check out some of the reasons that the value of social followers is critical to growing digital publisher audiences, subscribers, and revenue.
You Will Have a Consistent Presence in Front of Your Target Audience
Social media followers have already shown an interest in your site, which gives you an audience of people who want to read your content and learn more about the products and services you offer, including articles, newsletters, digital subscriptions and more.
In fact, consumers who are brand loyal are most likely to engage with the company through social media. According to MarketingSherpa, 95% of consumers aged 18-34 will follow companies or brands they love through their social media outlets.
To keep your audience engaged and make them loyal followers, you want to make sure that you consistently post to keep their interest. Here are a couple articles that can help you build engagement and retention:
Your Content Can Reach an Exponential Audience
One of the best benefits of social media is that information can be shared with a simple click. Your social followers become part of your marketing campaign by re-posting content on their feeds and sharing it with other users.
This can help you grow your audience via social media since they are most likely to forward the information to others they think will be interested as well. If done well, one simple post can be circulated numerous times and for months to come, all for little cost to the company.
Followers Are More Likely to Have Higher Conversion Rates
The ultimate goal of any marketing campaign is to turn leads into customers, and for publishers, this means turning those followers into active subscribers. By driving them to follow your company on social media, you have already achieved the most important first step to conversion, which is interest and engagement.
The behavioral step to follow you on social demonstrates that they like your content and what you have to say, so becoming a subscriber is likely the next logical step.
Social Media is Here to Stay
Even though social media marketing has been around for a long time, and there are numerous competitors vying for attention, it is and will continue to be one of the most widely used digital platforms that can reach a large audience in a short amount of time.
According to a report by Hootsuite and WeAreSocial, there are more than 4.62 billion social media users active in 2022, which is an increase of 900 million since January 2020.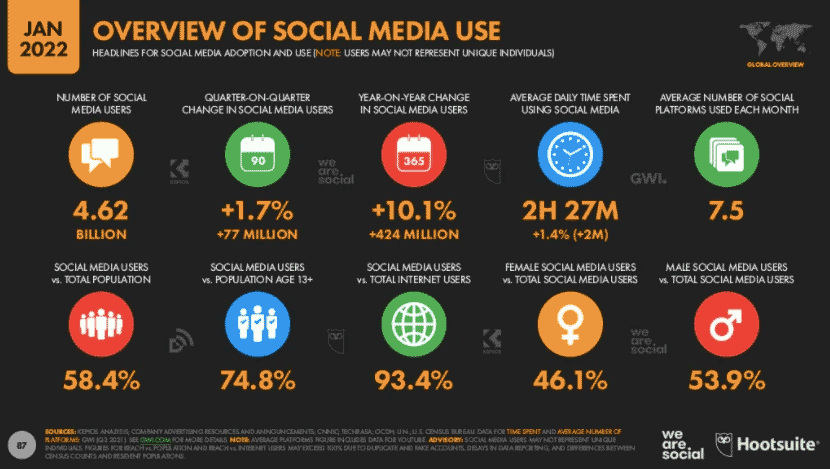 It is also estimated that a large portion of users will spend an average of two and a half hours each day interacting with social media -- finding your content or your competitor's. For digital publishers, this means a significant time frame to capture their audience's attention every day.


Let Admiral Help You Grow Your Social Media Following
Admiral's Social Growth VRM module can help you grow your social media following by engaging and/or incentivizing content fans. Often they are not ready for paid commitment, but would like to support your site and have access to quality content.
Admiral's Visitor Relationship Management (VRM) platform makes it easy to build those relationships through the reader revenue funnel. Admiral's one-tag marketing automation install makes it easy to drive social growth, email growth, adblock recovery, paid subscriptions, and more.
Request a demo today.