First-of-its-kind adblock recovery innovation launched in response to surveys showing less than 30% of adblock users installed their own adblocker
New York, N.Y. - 11/14/2018 – The industry's leading adblock recovery and visitor relationship management platform Admiral, announced today the release of its exclusive new 1-Click Whitelist® feature.
This patent-pending upgrade to Admiral's Engage module, allows adblock users to disable adblock on one site or many with a single click. Engage is Admiral's DMCA-based access control tool that empowers digital publishers to detect adblock, engage adblock visitors, and communicate various value exchanges; including the request to whitelist their sites.
"Just as Amazon (NASDAQ:AMZN) revolutionized ecommerce with 1-Click Buy, the introduction of 1-Click Whitelist is a step change in user experience that benefits both visitors and publishers" says Dan Rua, CEO, Admiral. Prior to 1-Click Whitelist, publishers and competitors the world over have been asking adblock users to manually whitelist a site with instructions for their blocker settings.
"While some blocker settings are easy to navigate, we operate in an environment where simplicity rules, and — much like abandoned shopping carts — one less click can dictate whether you capture or lose your visitors' attention" says Rua. "1-Click Whitelist offers adblock users who want to support the sites they love, the quickest and easiest way to do so."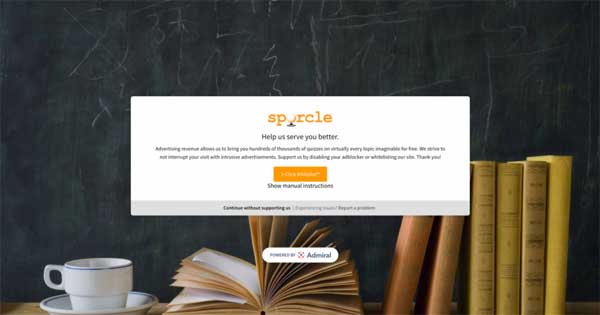 1-Click Whitelist®
Select Engage customers out of the 1000's of publishers worldwide who use Admiral to size and solve their adblock losses are already benefiting from this industry-first innovation.
The move to 1-Click Whitelist can triple recovery rates for publishers who were previously relying on manual whitelist instructions. In addition, not only does 1-Click Whitelist greatly improve the user experience and eliminate their "how to whitelist adblock" friction, it also empowers publishers who own a related network of sites to leverage Engage to present visitors of a single site, a transparent, consent-based path to whitelist their entire network of sites with a single click.
"Admiral provides publishers with highly effective tools to engage their audiences and grow relationships" says Rua. "Whether it's helping visitors whitelist, sign up for an email newsletter, purchase an ad-free subscription, or protect their data privacy, we dedicate a tremendous amount of research and testing towards understanding consumer behavior, which in turn drives our product development".
According to a recent survey of 1,000+ respondents via the Admiral Adblock Research Panel, over 70% of adblock users didn't install their own adblocker.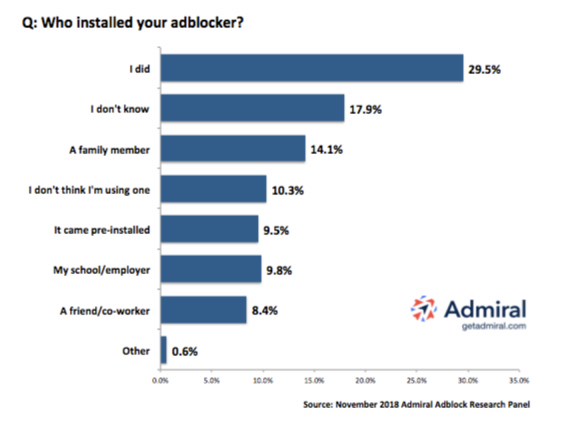 For more statistics on adblocking, contact Admiral at research@getadmiral.com, or check out our Adblock Revenue Recovery Guide.
"1-Click Whitelist will drive better user experiences and lead to stronger revenue recovery"
"It's a really simple question, but the findings surprised us. Who knew that most adblock users didn't make the conscious choice to block ads online? That's why asking users to whitelist adblock with an access control system like Engage outperforms surprise ad reinsertion and has been so effective towards recovering lost ad revenue for publishers" says Rua. "Making that easier with 1-Click Whitelist will drive better user experiences and lead to stronger revenue recovery for an industry in desperate need of new revenue innovations".
To find out how much revenue 1-Click Whitelist can recover for your site, request a demo today. You can be up with dashboards and revenue recovery in less than 24 hours!

ABOUT ADMIRAL
Admiral is the industry's leading visitor relationship management and adblock recovery platform, serving over 1000's of sites worldwide. Our products empower publishers to engage users, grow visitor relationships and recover revenue lost due to adblocking. The Admiral platform includes the free Measure adblock analytics module, and a suite of engagement, compliance, metered paywall software, digital subscription revenue growth tools including Engage, Recover, Transact, and GDPR Consent modules. Interested publishers and partners are encouraged to learn more at GetAdmiral.com.