The demand for adblock analytics for publishers has grown in recent years as the rate of adoption of adblock extensions grew globally. Much of the internet has been supported by ad-driven websites for years. Millions can surf nearly unlimited content for free, because ads were paying for the cost of content creation, servers, staff, etc.
Worldwide adoption of adblockers exploded in 2014, and has been as high as 47% of internet users. An Adobe study estimated adblocking results in revenue losses of over $40 billion per year. No ad-funded website has been immune, and the losses continue to grow. In the wake of this impact, publisher adblock analytics were developed to provide the detailed information pubs need to make informed decisions about revenue objectives.


What is Adblock Analytics?
Adblock analytics refers to a set of metrics that track the impact of visitors using technology to block ads. A good adblock analytics dashboard can show web publishers the number of ad impressions blocked over time, revenues lost vs recovered, adblock users by device type, and more.
What can you learn from adblock analytics?
View revenue lost due to blocked ads
See total blocked ad impressions, or adblock rate, by custom time frame
See site visits and page view stats by adblock users vs non-users
See adblock use by device, browser, OS, or geolocation
View recovered adblock revenues, (when used with a revenue recovery solution)


Example dashboard views from Admiral Adblock Analytics
KPI at a glance. Revenue recovered. Adjustable date range. Mobile vs Desktop.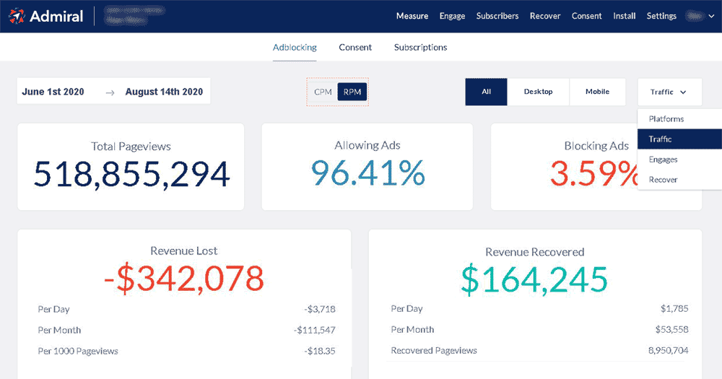 Graphically track recovered revenue and blocked ads, by percent or total number, over time range. View by page views, Impressions, Visitors, or Engages.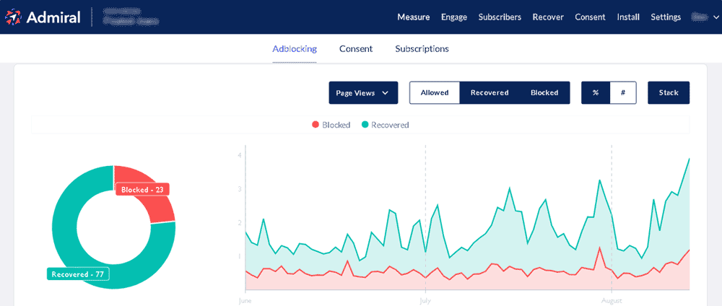 View data details in table view and export by custom date range.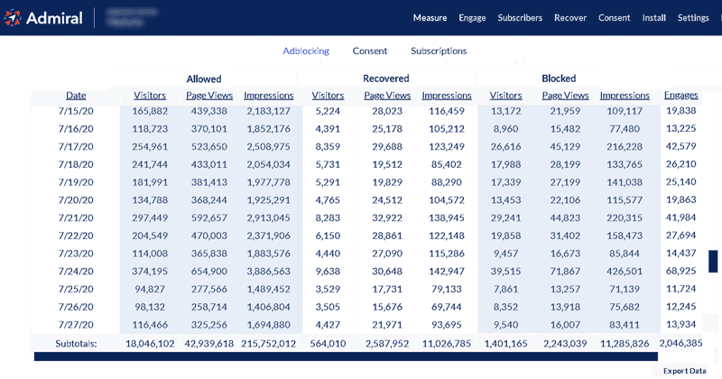 Want to find out if Admiral Adblock Analytics and Revenue Recovery make sense for your website?

Let's talk. Request a demo today:


How many people use adblockers?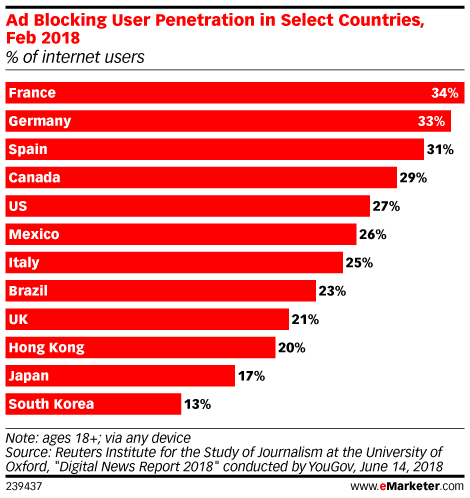 Can adblock analytics tell me how much revenue is lost to adblockers?
Yes. Although most adblock analytics providers and DIY detection efforts only provide a rough estimate of how many visitors are using an adblocker, some adblock specialists like Admiral offer detailed analytics, down to the visitor, pageview, impression and revenue level.
This is critical information to understand the full impact of adblockers, because knowing a general visitor-based block rate doesn't account for the different consumption patterns of adblockers. For example, adblockers typically consume more pageviews than non-adblockers, so using an analytics platform that measures blocked pageviews and resulting revenue fully captures the total revenue impact on your site. Additionally, some DIY methods, such as custom configurations with Google Analytics, can be blocked themselves by tracking blockers.


What are the benefits of Admiral's Adblock Analytics?
Airtight attribution
Complete adblock analytics solution for FREE
Up in 5 minutes: one-tag installation
Superior adblock detection across dozens of extensions
Intuitive dashboard for quick business insights
24/7 customer support
Immediately quantify ads blocked and revenue recovery opportunity
Segment by device, browser, and more
Easy data export
Also see our comprehensive guide for: Adblock Revenue Recovery


How do I get started with Adblock Analytics?


Sign up for a free Adblock Analytics account.
Install one line of javascript in the <head> of your site.
You'll see results in your dashboard within a few hours. That's it!
---
If you want to go beyond analytics, to grow and diversify revenue, consider Admiral's Visitor Relationship Management (VRM) platform for publishers. The VRM approach can help automate the "right offer, right time" for all of your visitor segments, all using the same free one-tag that takes minutes to install. VRM can automate offers for whitelisting or ad-reinsertion, paywalls and paid subscriptions, registration walls and email newsletter signups, social media follows, donations, privacy consent for GDPR/CCPA, and more. Request a demo today.