Considering an in-house Admiral alternative or build vs buy options for adblock detection, analytics, and revenue recovery?
Of course, Admiral's performance-based revenue share model avoids any upfront budget need, but there are also some clear technical, resource, and expertise considerations that publishers should know about Admiral's adblock recovery solution.

Benefit from Admiral's Experience
Admiral is the leader in the adblock monetization category, bringing years of insights and learnings based on being the solution of choice for thousands of publishers and sites worldwide. Admiral has been recognized as one of the fastest-growing businesses in America by Inc. 5000, two years in a row.
Pioneers in Access Control
Based upon lessons from the music space, Admiral pioneered DMCA copyright access control, which keeps publishers out of the usual cat & mouse game (and wasted time/effort/resources) with adblockers.
Expertise Across Existing and New Adblocker Tech
Your solution is only as good as your detection. Admiral is the category expert for ongoing adblock monitoring and prioritizes adblock detection for all major adblockers, more than anyone in the category.
Dedicated User Support and Toolset
Admiral offers dedicated support personnel and tools to help your visitors who may not know how to turn off their adblocker. Many blockers either didn't install their own adblocker or they run multiple adblockers requiring dedicated recovery assistance.
Multiple Recovery Options via Single Tag
Admiral is the only solution that offers both allowlist-based recovery and ad reinsertion-based recovery. In addition, Admiral's platform enables publishers to create alternative value exchanges with their users including email subscriptions, social subscriptions, ad-free passes, paywall management, paid subscriptions and more -- all from a single tag = unparalleled ROI.
Segmentation and Revenue Optimizing Focus
Admiral's adblock revenue recovery module is fueled by a powerful segmentation engine that allows publishers to deliver targeted messages and CTAs to various segments of their audience. This gives clients the ability to put the "right offer, in front of the right visitor, at the right time".

See more about Admiral's AI-driven Surge Targeting and Content Popularity options: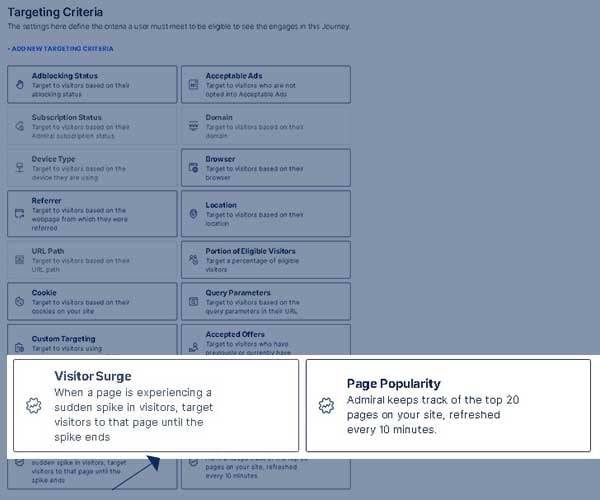 Out-of-the-Box Recovery Dashboards
Admiral offers a universal, Intuitive, and easy-to-use adblock analytics dashboard and CMS that your team doesn't have to build. Publishers can manage their adblock recovery efforts, paid subscription programs, and privacy consent tools all through this single dash.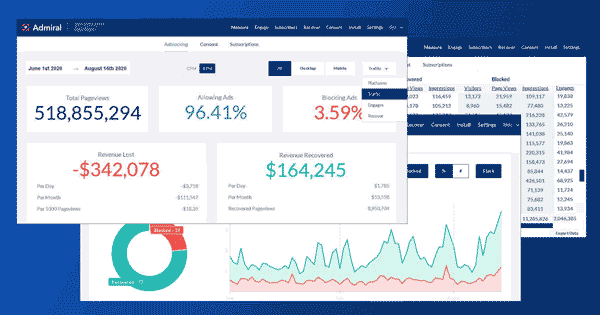 Guaranteed Net Revenue With ZERO Out-of-pocket Investment
Admiral is based on a revenue share model (we only make money if our client recovers revenue), and there are zero up-front costs. All recovered revenue is incremental, and publishers will not have to dedicate internal resources.
Focus on Core Competencies for Highest ROI
Adblockers are a minority of your overall traffic and monetizing adblockers isn't your core competency. Your internal dev resources should focus on higher upside projects and your core competencies, in parallel to Admiral taking this problem off your shoulders -- this is our core competency.
Ongoing Investment & Innovation
In-house anti-adblock recovery attempts will drain focus and resources, struggling to keep up with 100's of adblock tech changes or Admiral's continued innovations in the category like 1-Click Whitelist, Smart Engage, Progressive Engage, Registration Walls, ML-based optimization, and more.
Related: "Any publisher talks about being a tech company, run for the hills."
Considering a product spun out by a publisher team? You might want to read this analysis.
For best practices, tips, and industry facts about adblocking, see our comprehensive Adblock Revenue Recovery Guide.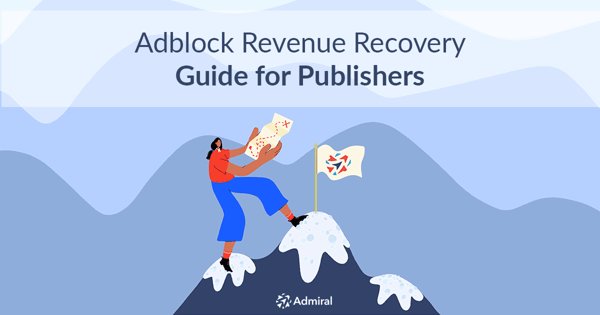 ---
Admiral solves adblock revenue recovery better than anyone else in the world. The Admiral team, tech, data, and user support, will deliver better results for a lower total cost of ownership, while allowing your team to focus on core competencies and priorities.
Get started today, and recover your adblocked revenue in as little as 24 hours.