Knowing how to detect adblock users on your website is a critical must-have for web pages that serve online advertisements.

Adblockers cost online publishers billions of dollars in lost revenue each year, and it's become a critical first step to detect adblockers. Every ad-supported publisher should know what percent of their audience is blocking ads.
The average active block rate in the US is 28%, and Statista reports 33% of women and 49% of men in the U.S. used an adblocker in 2020. If nearly a third of your site visitors are using an adblocker, that equates to a significant lost revenue.
The first step is to use the best adblock detector before you can engage them and recover revenue. This article will discuss sever how to detect adblock, how adblock works, and how to choose an adblock detection solution.

Many visitors have valid reasons and concerns about managing their overall ad experience. Building a sustainable, growing relationship with visitors will adblock losses, but requires an exchange of value and two-way, consent-based communication.
In order to start the dialogue with an adblock user, a publisher first needs to be able to test for adblock use across dozens of proprietary solutions, browser ad block, and tracker blocker extensions.


How does Adblock Work?
When a browser with adblock loads a page it identifies scripts in your code used to serve, target, or track ads; it then stops them from functioning so the ads never appear.
Most adblock extensions are set to block all ads on a page. Browser built-in tools, such as Chrome adblock, blocks some ads by default, and users can add more blocking functions via the settings.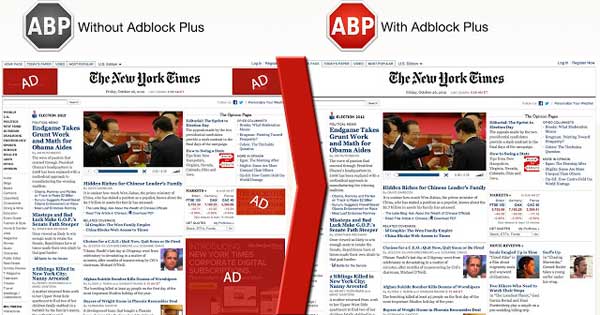 Some of the more popular adblock extensions include Adblock, Adblock Plus, and uBlock, plus the Brave adblocking browser.
The primary reason a user chooses to use an ad blocker is frustration with the quantity and intrusiveness of ads. Other reasons include avoiding the bandwidth used to download ads, and concerns about privacy and tracking.
Surveys show some visitors aren't even aware they have an ad blocker running, and present a prime opportunity for publishers to engage them to whitelist the website.
Publishers that do not install an adequate adblock wall are leaving money on the table every day they delay.
Surveys of adblockers find that "68% did not personally install or turn on their adblocking software. 19% didn't know who installed it, and 10% didn't even know they had ad blocking software running."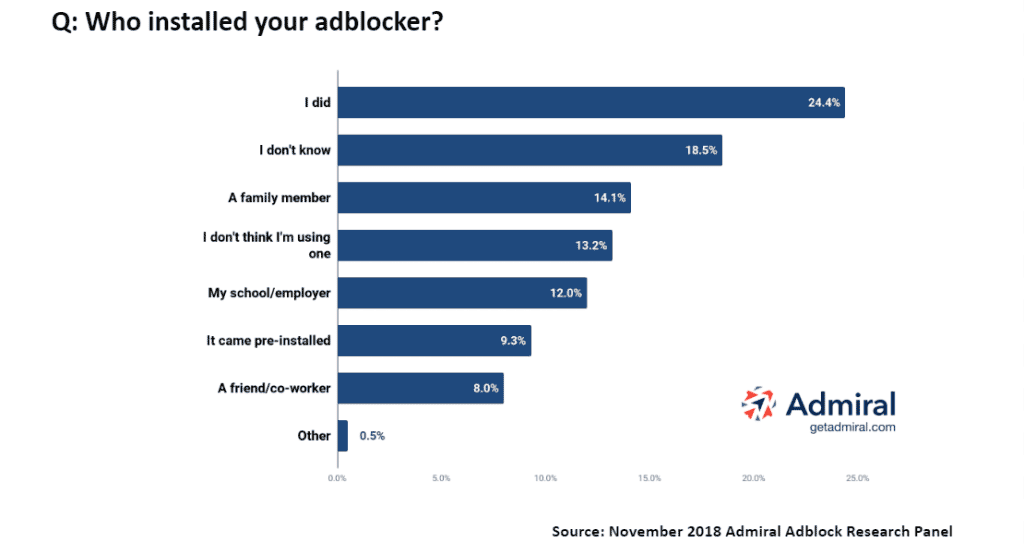 Admiral has developed proven approaches that drive visitors to turn off their ad blocker. Admiral's anti-adblock software can also drive paid subscriptions, newsletter signups, and social follows in exchange for an ad-free pass granted the visitor.



Want to find out if Admiral Anti-Adblock makes sense for your website?

Let's talk. Request a demo today:


How to Detect Adblock?
Adblock detection is most commonly achieved by providing code that acts as "bait" to ad blocking scripts. The bait content is a bit of web code that falsely appears to be a container for an ad unit.
When the adblock script seeks to block the bait, it modifies the page rendering, and this change can be identified as the work of an adblocker extension or software.
Publishers with Admiral's free anti-adblock script can then launch a variety of actions to engage the visitor or mitigate the revenue loss.
The bait content is typically a hidden <div> that contains a file known to be a target of adblock extensions, such as a file called ads.js. Adblocker tactics are commonly posted and shared across the web, so an adblock checker can use those same lists of targets to create the bait.
Once adblock is detected, publishers can engage the visitor to:
Ask them to whitelist the website or turn off their adblocker

Offer them an ad-free paid subscription

Offer a temporary ad-free experience in exchange for email signup or social follow

Block access to the site's content beyond the adblock wall

Ask for a voluntary donation to help cover the ongoing costs of quality content
To avoid posting current code that adblockers could exploit, here's a sample of outdated 2015 javascript code that adblockers reverse-engineered and built a counter for.
Developers can see how the bait is laid for an ad-blocking script, then checks to see if the bait was acted on by the ad blocker.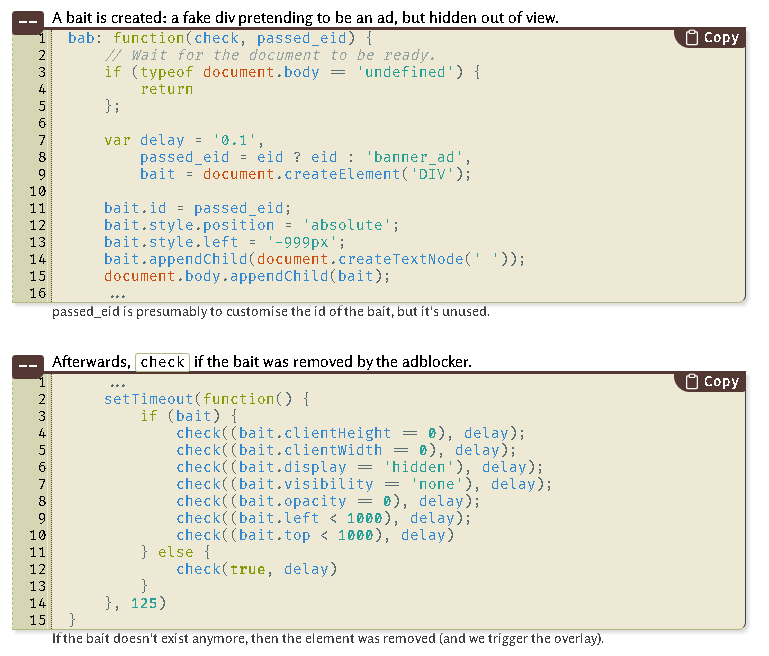 Like the ad business, there is no limit to the creative offers a publisher can present to a visitor that is blocking ads. These engagements can provide consent-based value exchanges with visitors, while guiding the relationship towards a mutually beneficial path.


To do so, publishers need a good adblock detection solution, visitor engagement system, and adblock analytics to track progress. It's also important to use a VRM platform that is connected to all of the touchpoints in a visitor journey, as Admiral is uniquely designed for.


Choosing an Adblock Detect Solution
There are a variety of adblock checker options open for publishers, from Open Source scripts on github, to industry developed scripts from Interactive Advertising Bureau (IAB) or even from the Google AdSense team.
If ad revenue is critical to a publisher, they likely want to research professional website adblock detection and recovery solutions. There is an ongoing cat & mouse challenge to adblock detection vs adblockers, with constant modifications across dozens of adblocking apps and adblock browser extensions.
It's best left for the experts to handle the critical step of ad block detection. Working with a professional adblocker-block solution will help provide the best experience possible for your users.
Admiral not only has deep expertise in detecting adblockers, but has surveyed tens of thousands of adblock users to understand their needs. Admiral currently has the largest data set of adblocker survey responses available.
At a minimum, all publishers should have an adblock detection solution, and have an option in place for revenue recovery once identified. Here's a list of adblock recovery build vs buy considerations.


Adblock Detection Analytics
A good anti-ad block solution should include dashboards to easily track the ad block rate by device, potential revenue loss, and more. Open source DIY solutions can set up Google Analytics event tracking, though both the detection scripts and GA must be manually updated amidst constant tactic changes by adblock vendors.
Here is an example of Admiral's adblock analytics dashboards, available free to any publisher with a single tag copy-paste to your website: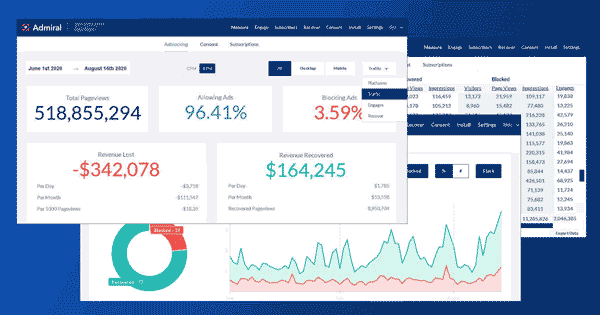 How Can Publishers Recover Adblock Revenue?
Publishers have many options to recover blocked ad revenue, and some have even combined strategies to recover over 100% of their lost revenue.
Paths forward can include paid subscriptions, whitelisting, ad reinsertion, value exchanges, donation campaigns, ad-lite offers, and more.
24% of adblockers said they would be willing to pay for a monthly subscription.
Adblock user surveys indicate that 37% said they would be willing to sign up for an email newsletter, 27% said they would be willing to download a publisher app, and critically, 24% said they would be willing to pay for a monthly subscription.
Adblock users have legitimate concerns, yet 60% say they strongly agree that publishers have the right to earn revenue to pay for the content they create and publish. Once adblock detection is in force, publishers should have a strategy to engage, educate, and experiment.
Engage - Open a dialogue with your adblock visitors.

Find out if they want to support your content by allowlisting the site. If they are adamant about not viewing any ads, see if they would like an ad-free paid subscription.

If their only concern is with especially annoying ad formats, offer them a chance to view the site with an ad-lite experience where all ads are vetted and conform to strict guidelines.

When Encyclopaedia Britannica first launched their Admiral engage, rather than block access to adblockers, they simply asked adblock users for donations to support journalism and were surprised at the positive response. (case study)

Being transparent, honest, and authentic in your visitor engagement copy can earn the respect and cooperation of adblock users that regularly enjoy your content.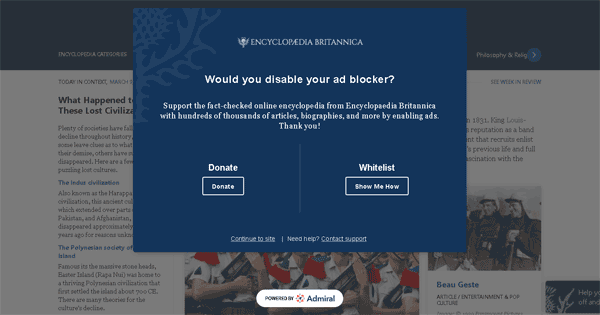 Educate - For adblockers that were concerned about spammy annoying ads, since they can no longer see the ads on your site, let them know that the ad experience has changed.

If the site is a Certified Better Ads serving site, let users know what that means.

Let them know that the visitor experience is important to you, and that you've made improvements to the ad experience. Ask if they would whitelist your site to give the improvements a try, and support continued quality content.



Experiment - There are unlimited options in how you engage adblock users.

The screen location can be tested, the creative size is flexible, the layout and creative can be on brand and friendly.

Experiment with the engage copy and offers. Use the engage to test price points and bundles for paid subscriptions, or use the engage to grow email newsletter signups to diversify your revenue options.

Join Admiral publishers that have implemented a "Whitelist Wednesday" or "Surge Pricing" for subscription offers that can automatically trigger when traffic hits established peaks.
---
Do you have a solid Adblock Detection and Recovery Solution in place? You could implement Admiral's detection tag and analytics dashboard for free, today. Easy install, immediate results.