Adblock and Subscription Revenue growth for Capitol Broadcasting Company (CBC) came so quickly and easily with Admiral that CBC asked to invest and oversubscribed Admiral's latest investment round
New York, N.Y. - March 12, 2019 - Less than three years after Admiral (GetAdmiral.com) launched at the IAB Ad Blocking and User Experience Summit in NYC, Admiral has announced at this week's 2019 AdMonsters Publisher Forum in Miami, an industry-leading installed base of 15,000 publishers worldwide and over $5.1M raised, including participation by Admiral customer and strategic investor Capitol Broadcasting Company, Mosley Ventures, New World, Gulfshore Capital, Birchmere Ventures, and others.
Since its inception, Admiral has experienced rapid growth, helping more digital publishers worldwide size and solve adblock losses than anyone else. Through its Measure, Engage and Recover modules, Admiral helps publishers detect adblock technology, engage users, and build relationships with their adblocking visitors to unlock revenue via whitelisting, and consent-based ad experiences. Additional modules such as Transact and Consent allow publishers to optimize Average Revenue Per User (ARPU) by driving predictable recurring revenue via paid subscriptions, smart paywall services, personalized ad experiences, ad-free passes, email collection, social follows, sponsored sessions and more.
"We started with a focus on helping publishers detect adblock and size and solve revenue losses caused by adblockers with absolutely minimal dev lift -- by installing a single tag -- and that's still a core strength of our platform" says Admiral CEO Dan Rua. "But we've always believed that adblocking is just one symptom of a broader breakdown in relationships between publishers and their visitors. Grow stronger visitor relationships and you will grow larger and more diversified visitor revenue -- we call that Visitor Relationship Management (VRM). Admiral's platform does exactly that for publishers, quickly and more simply than anything on the market today" says Rua.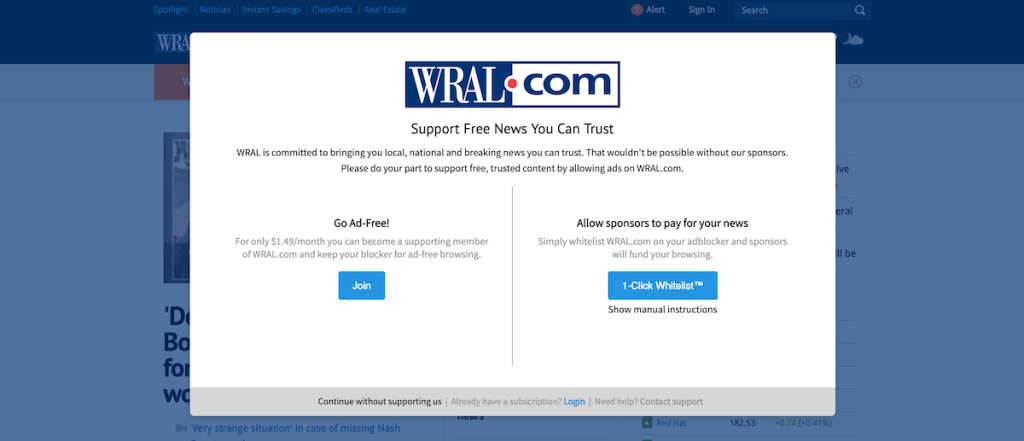 Capitol Broadcasting President and Chief Operating Officer Jimmy Goodmon said "I was surprised to see how much just one of our sites (WRAL.com) was losing to adblockers and how we might address this issue. We are now recovering thousands of dollars in what was once ad blocked impressions by installing a single tag. In fact, within weeks of our initial launch we asked Admiral how quickly they could power a paid, ad-free Supporting Membership we'd been kicking around for months -- and they took us live within 24 hours. Solid product, solid execution, solid results and all wrapped in a commitment to customer love that starts at the top. We liked Admiral's platform, results, team and VRM vision so much that we decided to be more than a reference customer, but also a long-term strategic investor and partner."
"We're honored to add Capitol Broadcasting alongside the venture capital funds invested in Admiral and incredibly proud of what we've accomplished so far for publishers, but we're still just scratching the surface," said Rua. "Every visit to a digital publisher that doesn't somehow grow that 1st-party relationship is a missed opportunity. Relationships drive revenue, and publishers that embrace that reality will survive and thrive for decades to come."
ABOUT ADMIRAL
Admiral is the industry's leading Visitor Relationship Management and adblock recovery platform, serving 15,000 sites worldwide. Our products empower publishers to engage users via smart paywall and subscription tools, grow visitor relationships, recover ad revenue lost due to adblocking, and diversify revenue with paid ad-free subscription management and more. The Admiral platform includes the free adblock analytics module, and a suite of engagement, compliance, subscription, and revenue growth tools including Engage, Recover, Transact, and GDPR/CCPA Consent modules. Interested publishers and partners are encouraged to learn more at GetAdmiral.com.