May 11, 2018 - New York, N.Y. - The world's leading adblock analytics and revenue recovery specialists announced the launch of a new feature that enables publishers to offer adblock users ad-free browsing in exchange for a paid subscription or supporting donations.
Built into Admiral's paywall and digital subscription software , subscriptions and donations adds an important new revenue option for publishers at a critical time when revenue losses are growing due to adblocking, and the growing impact of privacy regulations. (Case study: Mediaite Grows Paid Subscriptions)
​
Admiral's Visitor Relationship Management (VRM) platform engages users upon site entry to offer customized value exchanges beyond advertising. This message can easily be configured to present visitors with various choices including whitelisting, an email newsletter subscription, a social follow, and/or paid subscriptions and donations.
Publishers can customize their subscription offer, request donations from readers, and tailor their messaging to incorporate their own branding. For example, a publisher can offer a subscription that enables ad-free browsing for $2 per month or grow a base of long-term supporting members for $5 per month.
Encylopaedia Britannica used Admiral VRM to graduate from adblock recovery, to a donation campaign, to paid subscriptions.​ See Merriam-Webster & Britannica case study.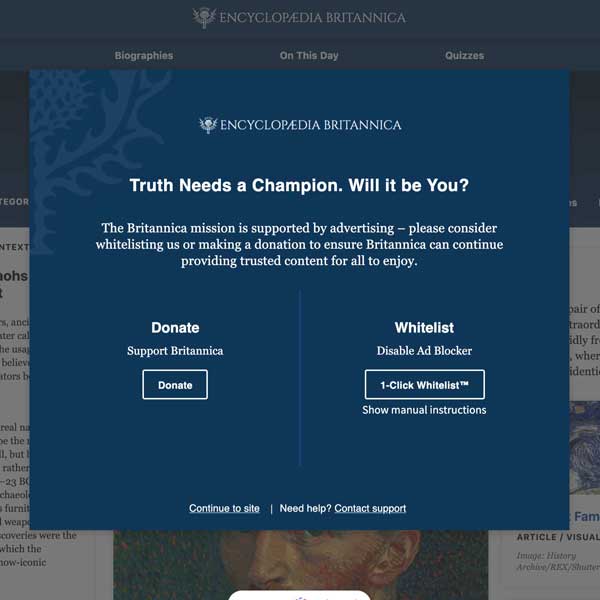 Admiral operates "The Admiral Adblock Research Panel", the world's largest real-time survey panel of adblock users, asking timely survey questions weekly. For the past 7 months, Admiral has fielded custom surveys across its worldwide network of sites collecting responses from 10's of thousands of adblock users*.
According to this research, 69% of adblock users actively pay for some form of digital content. In fact half of them (48%) currently pay for an online subscription to a content website.
Seventy-six percent (76%) of adblock users agree with the following statement: Websites have the right to earn revenue from advertising to help pay for the content that they create/publish.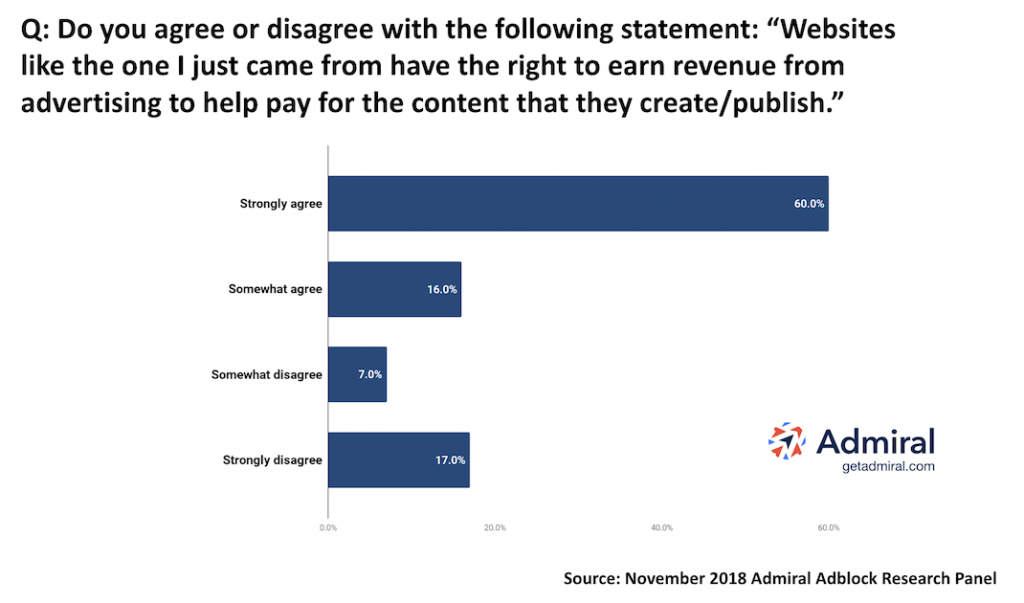 ​
"The vast majority of adblock users support the idea that publishers need to (and deserve to) earn revenue for the content they create" says Admiral CEO Dan Rua.
"Which is why our clients who request that users whitelist their sites via our Engage access control module find success in lowering their block rates and recovering ad revenue by simply reminding users that content isn't free.
However, we've also found that some users enjoy the ad-free experience so much that they're willing to subscribe to online content or donate to support the sites and content creators they consume regularly. Admiral's paywall and digital subscriptions platform makes that simple and fast for publishers, with a single line of code and one-click activation".
​
Subscriptions are fast becoming the industry norm as publishers look towards a multi-dimensional revenue model to support their businesses. Earlier this year, The New York Times reported a 46% increase in subscriptions from 2017, a trajectory that mirror's Facebook's overall growth and far surpasses that of Google's, bringing in $340 million in revenue.
Though impressive, the Time's 2.2 million paying subscribers are still a fraction of their 89 million monthly readers, demonstrating positive upside and proving that even monetizing a small portion of their users via paid subscriptions can drive significant revenue.
​
"On top of compounding losses from adblocking, publishers are facing even more declines in revenue from Europe's GDPR going into effect on May 25," said Rua.
"Instead of playing catch-up after losses mount, publishers now have the opportunity to quickly and easily add revenue from subscriptions and reader donations. Admiral's Transact module is so easy to get started — including self-serve options — we can have publishers growing revenue the same day they signup at GetAdmiral.com".
​
*If you're interested in survey results from "The Admiral Adblock Research Panel" or have questions you'd like to ask thousands of adblockers, please feel free to contact: Michael@GetAdmiral.com

​
**ABOUT ADMIRAL**
Admiral is the industry's leading analytics and revenue recovery platform, helping premier digital publishers size their adblocking challenges, engage their users, recover lost revenue, and strengthen relationships with their audiences. Admiral's adblock detection and analytics module is free for publishers to size revenue losses down to the impression and dollar.
Admiral's Recover, Convert, and Transact modules are available with guaranteed performance and fee-based pricing options. As a result, more publishers trust Admiral adblock recovery, paywall software, subscription offers, and consent management solutions than any other. Interested publishers and partners are encouraged to request a demo today.
​