Here's a question for you: What is one thing that publishers can use to target visitors that is reliable, consented, and persistent?
The answer is hashed email addresses or HEMs, and their value is growing as we step closer to a cookie-less future. (See also: The What, Why, and How of Hashed Emails)
Collecting emails always made sense for a publisher, though it may not have always been on the radar of teams outside of the email newsletter and audience growth managers. Now, with hashed emails proliferating, and the cookieless future looming, there should be a sense of urgency to email collection.
"The biggest solution to have emerged is the use of email addresses, as user identifiers."

- Playwire
"The biggest solution to have emerged is the use of email addresses as user identifiers. Everyone has an email address. And people use their email addresses across multiple sites to log in or sign up for newsletters. Publishers who collected these emails could create unique identities for advertisers to track users from site to site." – Playwire
Consider these three components:
Growing total pageviews (PVs) and Page RPM are important to AdOps and Revenue. Visitor email addresses can be used to improve both.


Every visitor matters, whether they subscribe to a newsletter or not, build your email list.


Hashed email value is growing as a targeting option.


1) AdOps and Revenue Directors Care about Pageviews and Page RPMs

AdOps professionals and Revenue Directors are increasingly focusing on:
Growing pageviews (PV)


Increasing Page RPM (Revenue Per Mille)
These metrics are key factors to grow ad revenue.
"Pageviews are strongly correlated with ad views." - Google News Initiative
"Page views deliver the ad inventory, and the ad inventory delivers the revenue." - Promise Media
Email collection can impact both PV and RPM metrics, and thus the bottom line:
Hashed emails can be used to enhance targeting for better CPMs. With 3P cookies being deprecated, emails may become the go-to solution for cookie-less targeting.


Email subscribers visit twice as many pages as non-subscribers, and are 10X more likely to become paid subscribers.


It costs less to message an existing reader than to attract a new one, growing pageviews per visitor. Email addresses give more control to the publisher to reach out to readers who have stopped visiting the website.


Newsletters themselves can be monetized with an email ad solution like LiveIntent.com.
As internet users, we're linked through our email accounts on our devices, apps, browsers, and local stores. Email addresses are what hold our digital identities together and are unique and persistent.
Essentially, more precisely targeted ads lead to improved RPMs, and AdOps professionals understand this quite well. Hence, collecting emails is not solely for the newsletter team, but also for revenue generation.
2) Every Visitor Matters, Whether They Subscribe to a Newsletter or Not

Regardless of whether visitors subscribe to a newsletter, each interaction with your website or platform holds value. Email can help nurture these connections, ultimately leading to increased engagement and revenue.
Not every visitor is ready to subscribe to a newsletter; however, they still might be interested in your content and offerings. So, publishers should collect email addresses from all visitors by using multiple options (jump to 'Collecting Emails is Easy').
Every interaction a visitor has with your website is an opportunity for engagement. This includes reading blog posts, leaving comments, or participating in surveys.
For visitors using an adblocker, you can ask them to provide their email address as a means to show their support for the site.
For visitors not using an adblocker, you could offer them a week of ad-free viewing in exchange for providing their email. This might be a great group to return to later with a digital subscription offer.
Even if they don't subscribe to the newsletter, these interactions indicate their interest and set them apart as an engaged visitor segment.


3) Hashed Email is Valuable Even Without a Newsletter

Sure, a newsletter is the go-to method for most publishers to capture emails. But even if you don't have a newsletter, you should collect email addresses now, and here's why:
ID Solution: Identify users across the web and devices without disclosing their email addresses to vendors or advertisers using hashed emails.
Reliable Targeting: Email offers a precise, privacy-compliant route to safely identify and segment visitors. It is consent-based, and people rarely change email addresses.
Cross-Channel Targeting: Emails link a user's various devices (phone, computer, smartwatch, etc.), providing publishers with a comprehensive view of their interests.
For instance, a user may track fitness on a smartwatch, follow favorite brands on a smartphone, and research B2B tools on a computer. Armed with this insight, publishers can create detailed visitor profiles to deliver highly relevant content and impactful ads.
Traffic driver: Collecting emails allows you to re-engage with your visitors by sending them emails, driving them back to your web pages, and thereby increasing your pageviews and impressions.
Monetizing newsletters: If you decide to start a newsletter, it can serve as an alternative income source if you incorporate sponsorships or ads within your newsletter.
If you have concerns about privacy law compliance, read our article about hashed emails for publishers.


Collecting Emails is Easy - With Admiral
With Admiral's Email Collection tools, publishers can easily collect email addresses from their visitors in multiple ways:
Offer Adblock Visitors a Choice: Allowlist or Email Signup
Target your adblocking visitors with a message offering them an ad-free or ad-light experience in exchange for sharing their email addresses.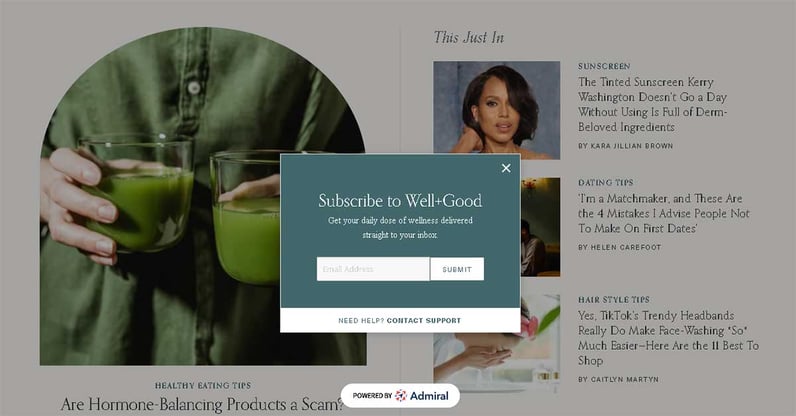 Well+Good asks users to disable their ad blocker in exchange for an email address, providing a 30-day ad-free experience.
Free Membership Status with Site Registration
Leverage CTAs or offers to allow visitors to create a free account with you using their email address.
To learn about the benefits, best practices, and examples of registration walls, visit this Registration Wall FAQ.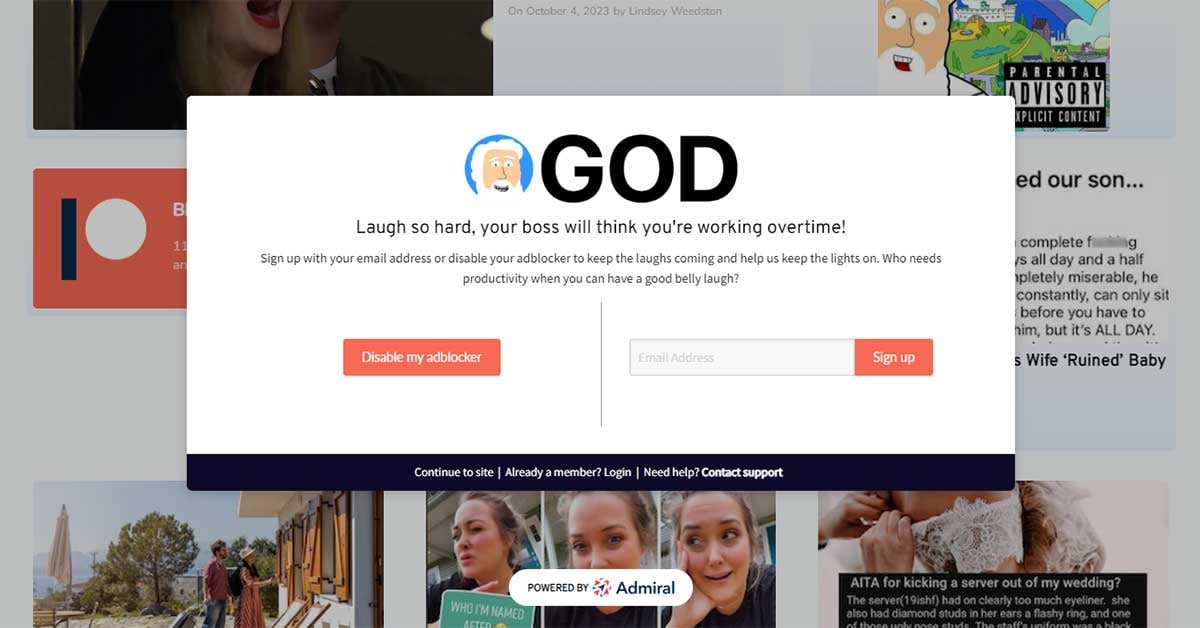 The Daily Dot uses custom messaging to ask visitors to subscribe.
Promote the Value of your Newsletter
Ask your visitors to subscribe to your newsletter and receive additional benefits such as coupons, deals, or access to premium content.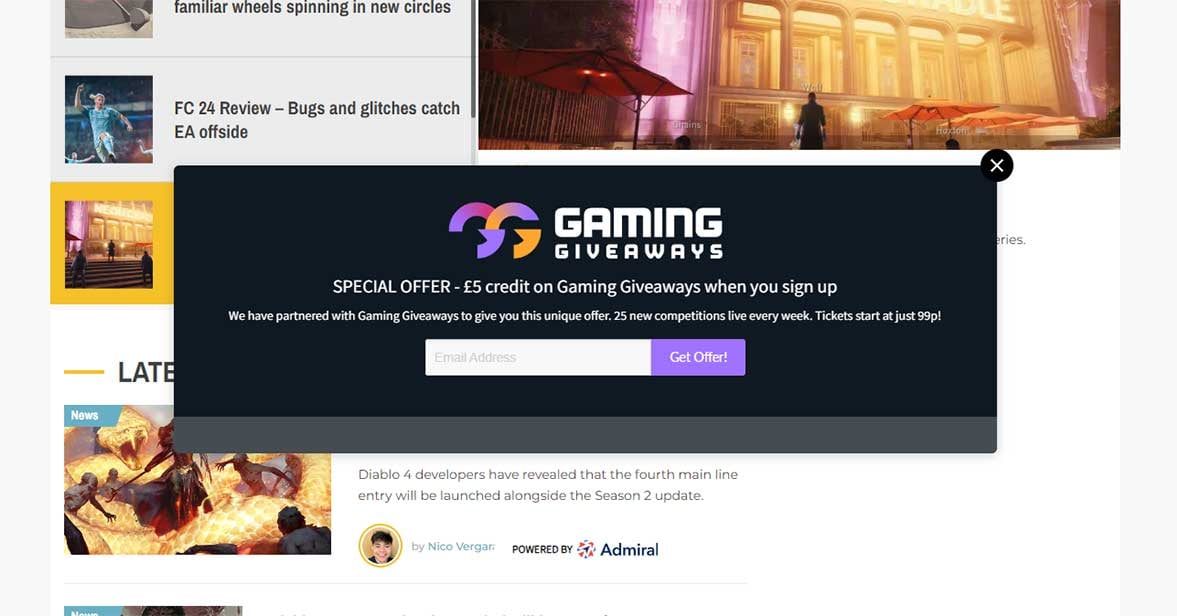 VideoGamer offers credits to visitors for sharing their email addresses.
Offer an Ad-Free Pass for a Few Days Use
Allow your visitors to experience your content without any ads in exchange for their email addresses for a few days.
Sportskeeda offers a 30-day ad-free experience in exchange for an email address.
Surge Targeting can Boost Conversions
Surge targeting involves displaying custom messages to visitors on pages surging in traffic at that moment. For example, you can ask visitors to sign up when they visit a page displaying scores from a live football match or a viral news story.
Learn more about Surge Targeting here.
Also: 10 Ways to Get More Email Signups


Email Collection Case Study

Don't assume a "No": Make the offer, let your visitors decide.
WorldPopulationReview.com provides real-time population statistics and primarily attracts visitors who check data and then leave the page.
The publisher was initially focused on adblock recovery, but the Admiral team encouraged them to test collecting audience email addresses.
At first, they questioned why anyone would want to subscribe to their site since they felt it was mostly one-time fly-by traffic looking for a population stat. Here is the direct ask-for email: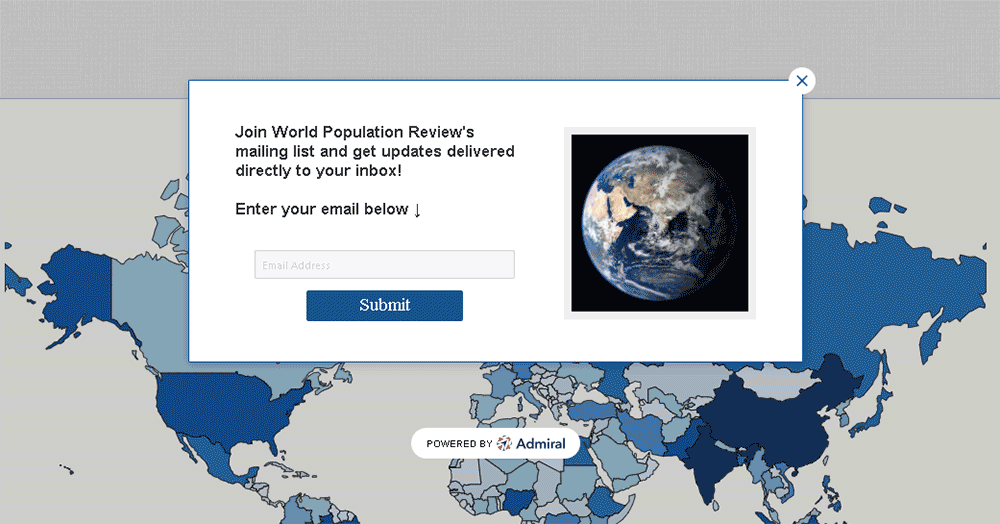 To their surprise, they gathered 87,000 email addresses in just 6 months.
Here's the full email collection and revenue recovery case study of World Population Review.
The lesson here is that you won't know what motivates your audience to share their details unless you ask and experiment. Admiral makes it very easy to launch, and can help implement the best strategy for growing your email list.


AdOps Should Start Collecting Emails NOW

Collecting emails is a smart move for publishers, and they should start now. It future-proofs your strategy, boosts revenue, retains your audience, and provides valuable insights.
Email capture isn't just for newsletter purposes anymore but is key for every visitor, and every ad/rev ops leader.

- Dan Rua, Admiral CEO
"Publishers should be going wide with collecting emails from every visitor right now, considering the lost revenue without them today and post-cookie," says Dan Rua, CEO of Admiral. "Email capture isn't just for newsletter purposes anymore but is key for every ad and rev ops leader."
Admiral makes it super easy to start collecting emails the same day you sign up. Admiral's segmentation, AI tools, journey builder, and multi-offer CTAs make sure your conversions are optimized to balance email capture and visitor experience at scale.
Schedule time to talk with Admiral today.