--Article contributed by Jeremy Moser, Co-Founder of uSERP.io:

A growing email list can be one of the most valuable assets for an online publisher.
Take The Hustle for example, which was acquired by HubSpot in early 2021, likely due to the size of their flagship newsletter that had 1.5 million email subscribers.
Let's take a step back. It is important to note the distinction between quantity and quality of subscribers when growing your email list.
You don't just want to signup hundreds of emails from people who are simply signing up for a free eBook or download. These people will evaporate into thin air and probably never buy your product or service.
Rather, you want to build first-party relationships and get more email signups full of subscribers that are ready and eager to buy your products or services.
According to Mailchimp, the average email open rate across all industries is 21.33%. The open rate shows what percentage of your audience is opening the emails you have sent.
With a little planning and a solid strategy, you can improve your engagement rates while collecting more email signups. Here are ten proven tips for those wondering how to get more email subscribers.


1) Add an automated newsletter pop-up to your site
A great way to grow email sign-ups is through an automated newsletter pop-up on your website or blog. This strategy is quick and effective.
Most CMS software already have this feature built into their platforms. You can easily control the display and timing of the pop-up.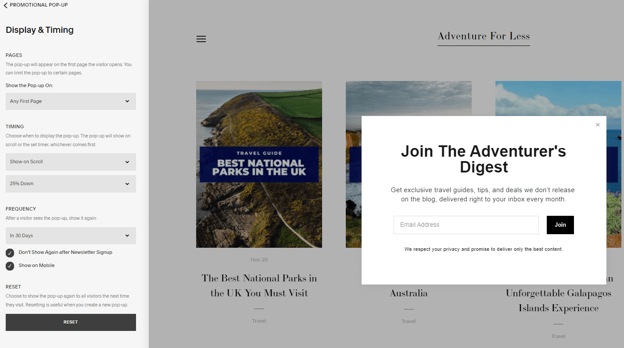 For example, this award winning travel blog - with hundreds of featured posts - built their entire blog on Squarespace. Most CMS software allow bloggers to easily customize what page the pop-up appears and when it appears (after a certain amount of time or how far the reader has to scroll).
Admiral helps publishers offer a choice where both options are good for business. In the example below, Digital Trends is offering a newsletter subscription in exchange for an ad free pass to the site, or the visitor can opt to allowlist the site to open them to a publisher's full ad stack.
This A/B choice can drive value quickly along both paths, and Admiral's segmentation, targeting, and frequency tools can help find just the right timing for conversions. See: AI-Driven Surge Targeting Options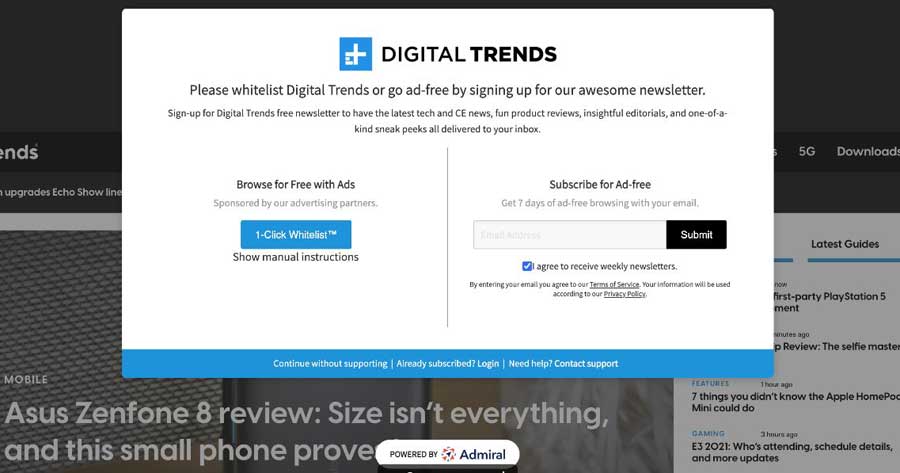 It is important to play around with these settings to ensure the optimal performance of the pop-up. Make sure your content is easy to read and simple to submit. Ideally you should only be looking for an email address here.
Given the simplicity of this newsletter subscription tactic, you can grow your email list in no time.



Want to find out if Admiral Email Signups or Registration Walls
makes sense for your website?

Let's talk. Request a demo today:

2) Offer exclusive deals or content in exchange for an email signup

Never underestimate the value of exclusivity. People often want something that is not available to the masses.
This is the perfect strategy when it comes to securing more email signups.
There are a few ways you can do this. First, you can offer a special discount or potential savings to the subscriber. Offering a 20% off coupon code will quickly turn a subscriber into a buyer, especially around the holiday season.
Second, you can provide something for free, in addition to the offer you already promised.
For example, Williams Sonoma does a great job at combining both tactics into one submission form.
Here they are offering special discounts to subscribers and daily recipes that will add future value.
By sending daily recipes and the opportunity for additional savings, this will keep the subscriber engaged in their future emails such as the best recipes for Thanksgiving side dishes or the kitchen gadget gift guide for 2021. Newsletter signups can also drive paid subscriptions for premium content.
As discussed earlier, the quality of email subscribers is increasingly important when building email lists.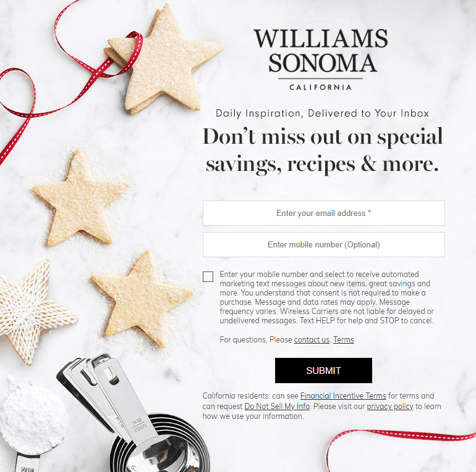 3) Promote an offer on Twitter
Twitter is an incredibly powerful tool for your marketing campaigns.
According to the Content Marketing Institute, 82% of B2B content marketers used Twitter for organic content marketing in the last 12 months.
Surprisingly, Twitter usage in content marketing matches that of Facebook and is only slightly lower than that of LinkedIn.
In short, Twitter is the perfect place to drop a form submission to gather emails from like-minded individuals.
Take the following example from Jeremy Moser, who is offering a guide for startups on using SEO to acquire customers.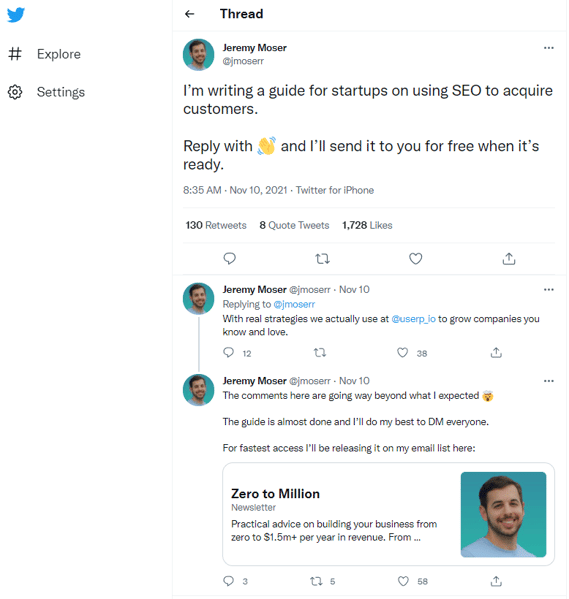 With the power of his Twitter reach, he is easily able to capitalize on the interest of his followers by placing an email sign up form at the bottom of the thread. Users are also incentivized to sign up in order to gain quick access to the SEO guide once available.


4) Keep your form submission concise
The last thing you want is a wordy CTA.
Clicking a CTA often takes time (entering your information) and money (paying for a good or service). Don't give people a reason to second-guess.
Minimize this risk by supporting your CTA with reinforced value statements.
In addition, be aware of what you are asking of your potential subscriber. Do you really need their full name and other personal information? Or does a simple email address suffice?
Take this example from Wordable, their CTA is clear and to the point. It can be broken down into three parts:
The offer (free video course on scaling content production)
Reinforced value statements (agenda for each day of the course)
Simple form submission (requires only an email address)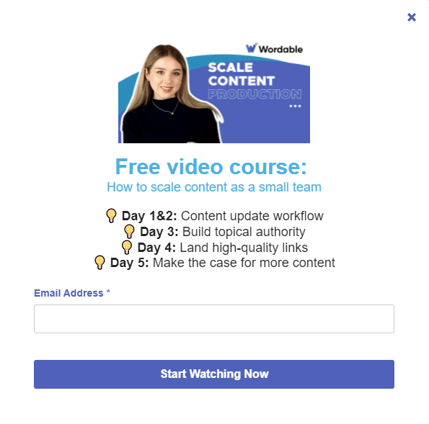 People are much more likely to hand over their email address compared to other personal information.
Keep your forms short and to the point. If you follow this simple formula, you will be off to the races scoring more email sign-ups.


5) Engage in A/B testing for form copy and page placement
You never know what type of form will generate the best conversion rate.
Location, variations of copy and even specific colors can surprisingly make a significant difference when trying to get more email sign-ups.
In this CTA for a travel nursing career, the company focuses on two main features of their CTA: color scheme and copy.
For the colors, they utilize green to show the possible options required to navigate through the CTA. It is very appealing to the eyes and also easy to understand where to click.
As for the copy, the CTA resonates with travel nurses that are in different stages of their career. Are they looking for an immediate change? Or maybe looking for something new within the next year? Run A/B tests with different headlines, different questions, and different colors, to find the best performing combination.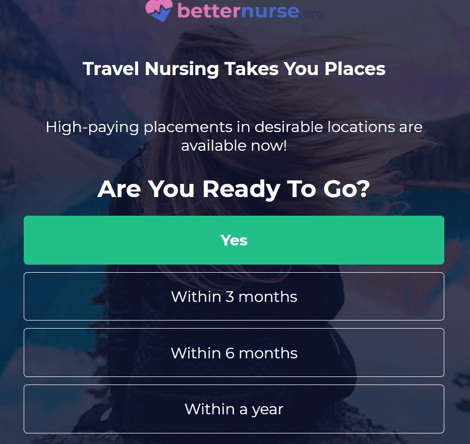 In short, the key is to try multiple variations of your CTAs until you find the form that produces the highest conversion rate.


6) Create a compelling offer that cannot be refused

One of the easiest ways to acquire more email signups for your marketing campaign is to provide a compelling offer that simply cannot be refused.
For example, this podcast hosting platform highlights a few compelling offers in their CTA that are simply too good to pass up.
Not only are they offering easy and powerful tools for podcast hosting, they are also offering free learning materials, outstanding customer support and free trials of their product.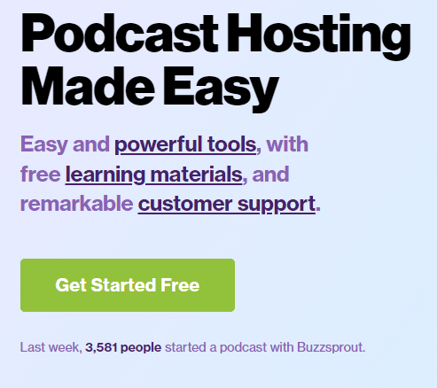 With a target audience looking for help with podcast production, they will be so enticed by these offers that they will likely submit their email information without hesitation.
This is an incredible feat considering we tend to safeguard our email address these days. Most of us were soured by the constant spam of too many emails from companies in the past.
All in all, the value of the offer provided is worth far more than a simple exchange of your email address.


7) Never underestimate the power of the word "free"
There is no doubt that Costco has a genius marketing strategy, especially when it comes to their famous free samples.
Costco's free samples allow the buyer to get a small taste of the product before fully committing to the bulk sized product.
Similar to food samples, SaaS companies can also hook in buyers by offering something of value for free. This free sample gives that user a chance to test the product or service before committing financially.
For example, take a look at how Preply offers interested students a free trial lesson with their online French tutors. This email campaign strategy gets the students in the door, signed up on their platform all in exchange for a free language lesson.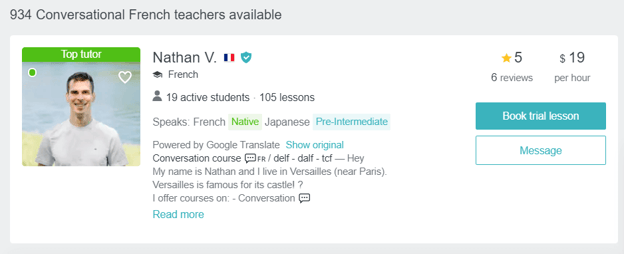 This free offer is a win-win. Preply benefits from a new email signup and potential sale. The student learns a new language and has the opportunity to decide if this is the right learning style for them.
Users who opt in for a free trial are much more likely to convert compared to cold leads.


8) Know the right amount of emails to send
Another key to growing your email list is preventing a large number of people from unsubscribing.
This factor is often overlooked by marketing experts. It is important to focus on both growing your email list with new subscribers and also reducing churn from unsubscribes.
Have your readers started to feel like they are being spammed with too many emails?
Test the frequency of the emails you are sending. Be upfront and honest about how often subscribers should expect to receive emails from your list. When subscribers click an unsubscribe link, take them to an email preference page that asks if they would prefer to see a reduced frequency or a weekly digest, then offer them those alternative delivery options.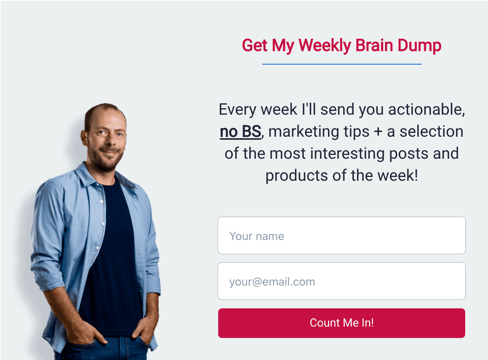 This SaaS marketing CTA offers a "weekly" no BS marketing guide sent directly to your inbox. By directly stating what your readers will be receiving and how often, you'll definitely attract more email signups and prevent previous subscribers from opting out.
After all, you worked so hard to get them in the door. The last thing you want to do is lose them right from under your nose.


9) Host a giveaway
There is a reason why people are always willing to play the lottery, despite terrible odds of actually winning. It all comes down to a small sense of hope.
The odds of winning the Powerball jackpot on September 30, 2021 was 1 in 292 million. However, the potential jackpot was $620 million. People are typically willing to spend $2 dollars on a Powerball ticket for even the slightest chance of winning life changing amounts of money.
The same holds true for contests and giveaways, which you can definitely use to your advantage in your marketing campaigns to get more email signups.
Instead of requiring a purchase from a potential subscriber, you are simply requesting their email information in exchange for a chance to win something of value.
For example, this ecommerce store offers the potential to win a $200 gift card if you subscribe to their email list.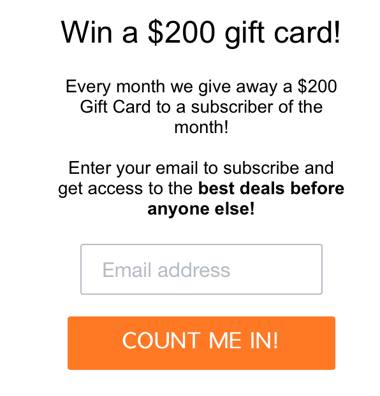 Similar to the psychology of the lottery, most people cannot say no to the opportunity to win money. The small exchange of their email address is well worth the value of the potential gift card earnings in this CTA.
After all, if you don't sign up then you will never have the opportunity to win.


10) Leverage Admiral's email subscription growth module for media publishers
Not too sure these other nine tips will help you get more email signups? Well, rest assured. You can always bring in the experts for guaranteed results.
Admiral can help with email acquisition by building first-party relationships with visitors, creating CTAs that target traffic at the right place and time to maximize average revenue per visitor (ARPV).
Installing Admiral is free and easy, just one tag to copy paste to access their revenue dashboard and modules. Admiral's Customer Love team can set up an email acquisition CTA, or regwall to gather even more first-party data.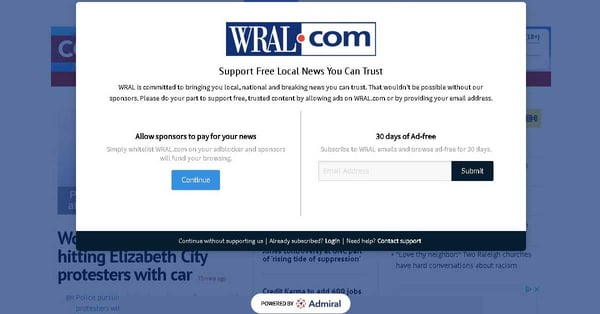 1000's of publishers turn to Admiral for a consistent, automated, visitor relationship experience for registration walls, paywalls, content subscription management, growing email lists, social signups, donation campaign execution, and more.


Key Takeaways

The value of building your email list and first-party data is more important than ever as the industry approaches a cookieless targeting future.
The strength of your email list can help drive more content subscriptions, ARPU, and reader retention for greater lifetime value (LTV).
For an easy to get started solution that combines great CTAs, segmentation, scheduling, marketing automation, geolocation, and consent tracking, request a demo of Admiral today.