What can publishers do today to prepare themselves for whichever post-cookie future emerges?

What is the value of using regwalls to collect emails and authenticate users?

Why should publishers prioritize managing visitor conversations and journeys?

These challenges and more were the focus of an Admonsters webinar with insights from large publishers, regional news publishers, and experts in publisher subscription strategies and visitor relationship management (VRM). We've gathered 15 key quotes across a variety of questions the panel considered. Topics included UID and identity resolution options, adoption of FLoC, cookieless targeting, the value of known users, and all with a bias towards what publishers can do now, rather than wait on industry change to take shape.

The panel included:
Prefer to listen? Access the full webinar recording here

Topic Shortcuts: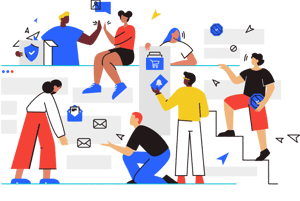 On the Importance of Establishing a Dialogue with Your Users/Visitors


Rob Beeler -
"Pubs need to have a holistic data strategy, where they are thinking about all the ways that they communicate (with visitors). Figure out which ways contribute to 1st party data; how to capture, organize, and use that data."
"It's something you can do now. If you think more about your visitors, and less about the ad tech, I think you are going to navigate the rough roads ahead better. It's better to bet on your audience than to sit there and say "Someone else knows what to do right now"."
See Rob's widely shared article referenced in the discussion: Time's Up Pubs: Start Talking To Your Users NOW

Derek Nicol -
"I'm super excited that we have a portion of our users that we're starting a dialogue with. I feel like if we come back with a new dialogue, we would get a higher opt-in rate because we are establishing that cadence."

"Being in the content business, we want to make sure we have a good value exchange between us and the people that are coming back on a regular basis and are consuming the largest portions of our product."
"Looking at the success we've had around adblock revenue recovery, adblock users wind up being some of our best users."


On Visitor Relationship Management as a Tool to Manage Conversations:


Kevin Cooper-
"The reason we got into visitor relationship management was that obviously, we knew things were changing. We knew we couldn't just sit around, we had to do something. So we work on the things we can control."
"I can't control FLoC, or UID, or which way the industry is moving, but I can control talking to my audience, and I can control having that value proposition with our audience. I think we (publishers) need to not be afraid to offer the value proposition and ask users in multiple of ways."


Derek Nicol -
"It's really important and strategic to have the ability to manage conversations and journeys.


"VRM and the challenges of conversing with visitors is another good example of marketing technology and ad technology coming together."

-Derek Nicol
"It's important to all products and initiatives where you are trying to convince someone to take the next step, to put them in a FLoC, or sign up for a newsletter, or register so that we can have UID's or ATF's, whatever we need moving forward."
On the Value of Collecting Emails, Using Regwalls, and Authenticating Visitors
Arvid Tchivzhel -
"If you look at conversion rates, conversion to subscriptions, it's about a 10X lift for known users vs anonymous users. (For users authenticated via regwall or similar) there's a 3.4 lift in total lifetime value (LTV) for a publisher, assuming you are doing it somewhat intelligently."

"Would you rather have ten fly-bys, or one really engaged user who is valuable?"


Dan Rua-
"We love the options that come from a registration wall and collecting emails. There may not be a lot you can do right now on UID or FLoC, but if you do a regwall and get email addresses,
that turns into newsletters,
which turns into traffic that grows ARPU,
it improves the likelihood of subscription conversion, and
It's a pathway to UID's as well
There's just so much optionality in starting with that to-do, getting started with regwalls and growth in 2021."
"UID vendors are solving the ad tech problem, not the publisher or audience engagement problem."

-Rob Beeler
Derek Nicol -
"If you can go from 1% authenticated users, to 5%, that can enable a lot of capability."
"If you can authenticate a good portion of your audience, you can do a bunch of things through machine learning insights and analytics to directionally tell you how effective your marketing is."
"The authenticated users can become a truth set as a brand, a set of data I can trust, and leveraging that set of data to influence what I'm doing in totality."


Get the whole story.
Access the full webinar recording here
Using Ad-Free Experience and Value Exchanges to Grow Visitor Relationships & Revenue
Kevin Cooper -
"We've been offering ad-lite experiences, unlimited access, for a period of time. We have several offers running for 7 days to 21; most of them are around a 14 day period of time (of ad-lite experience)."


Dan Rua -
"At Admiral, we discovered that many people like an ad-free experience, that it's valued, and that in itself can become a reward system. We could connect ad-free experiences with actions, regwalls, social walls, etc."
"You don't have to beg visitors for an email address or to sign up, you can offer 3 days of ad-free for an email, or 7 days of ad-free for a registration. Admiral VRM manages and automates it. It's an incentive you can use over and over again to drive transactions (along the reader revenue journey).


On the Potential of FLoC, and what Publishers Can Do Now to Prepare

Derek Nicol -
"I think FLoC may, in the long run, generate more revenue" (than current approaches).
"Don't wait for an article to be written. See what you can do to start collecting some data, and understand how your data partners are planning for this stuff (FLoC). Everything from DMP's, analytics companies, and attribution companies, what's their plans?"
"There's a lot of power in the concept of FLoC's because they should be better tuned towards the areas of interest than what we're used to today."
"If (FLoC) ends up raising CPM's and putting pressure on other things as part of my stack, I welcome it. I love competition and different tactics. Whether you buy on UIDs, or buy on FLoCs, I want all that competing because I think as a publisher I win."
Dan Rua-
"Publishers can unlock as much inventory as possible today by engaging adblockers to allowlist, subscribe, or sign up, so they will be FLoC-able in the future. That's something pubs can do today, right now, to benefit immediately and prepare for the future state"
"Subscriptions are something we can control (today), and long term is good for us."

Kevin Cooper
Rob Beeler -
"A really important thing right now is to talk to Google about your use case, if you have that relationship. There is a team at Google that is working on the privacy sandbox, and they are investing time in FLoC, FLEDGE, all of it, in their laboratory. They need to hear what we need it to be."
Advice to Publishers that Do Not have much Tech Team Bandwidth
Kevin Cooper -
"We found that Admiral's VRM platform worked for us. It was a light lift on the tech side. You have to find a partner that you can work well with, that is responsive, that will do things for you, and for us that is Admiral."

Rob Beeler -
"You're going to have to put more weight on partners and trust those partners. You have to follow and talk to other publishers so they can do the homework for you and then you choose what's best for you."


More Publisher Insights on FLoC, UID, VRM, and Regwalls


Access the full webinar recording here

Listen to the webinar recording for more insights, context, and publisher-centric perspective. Here are a few more topics covered and some fun bonuses in the recording:
How to approach ARPU challenges across organizational fiefdoms?
Will UID eventually be pro-active opt-in or remain passive consent?
How long till the United States has a national GDPR-like regulation in place?
Why Rob Beeler states "I don't negotiate with terrorists"
For kicks and giggles: Which stock do panelists prefer: Amazon, Google, Apple, or FB
Hear Kevin Cooper's knife wielding attacker story, a metaphor for publishers inaction
Relationships = Revenue. That is the underlying truth of VRM that Admiral's clients such as ViacomCBS and Boone Newspapers are leveraging.

Take steps today to drive immediate value and prepare for long-term success. With Admiral's one-tag setup you can quickly deploy regwalls, adblock recovery, paywalls, email signups, authenticated users, social follows, and consent management. Contact Admiral today for a demo or free access.


---