February 8th, 2018 - Next week, a major update to Google Chrome will affect how nearly two-thirds of internet users experience advertising on the web. As part of a larger initiative aimed at providing users with less intrusive, higher quality web experiences dubbed the "Better Ads Experience Program," Google will release a pre-installed Chrome ad-filtering feature within its browser.
​
Google has indicated this move is in direct response to stymie the rapid growth in adblocker usage worldwide. By compelling advertisers and publishers to support a better ad experience, the search giant is betting that a more positive (and regulated) ad environment will convince consumers to forgo the use of adblockers.

While this release will ultimately force advertisers to create more relevant and compelling ads and ad formats, it could also mean immediate losses in advertising revenue for publishers who aren't adequately prepared for the change. Admiral's anti-adblocking engineers have reviewed Chrome's approach and continue to monitor changes and impact to publishers.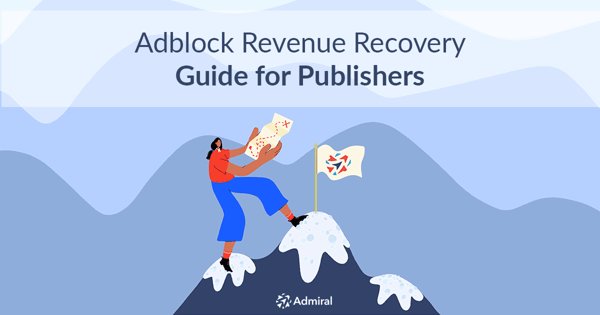 ​

Here's what you need to know:

1. The ad-filter will be included in the February 15th, 2018 Chrome update.
In June 2017, Google announced it had joined the Coalition for Better Ads (CBA), a 3rd party organization of online media and tech entities (including Admiral) aimed at improving the consumer experience with higher quality, less intrusive ads. Fast forward to December, and the CBA announced that ads with a "failing" status in their Ad Experience Report for more than 30 days will be removed from Chrome starting on February 15th.
​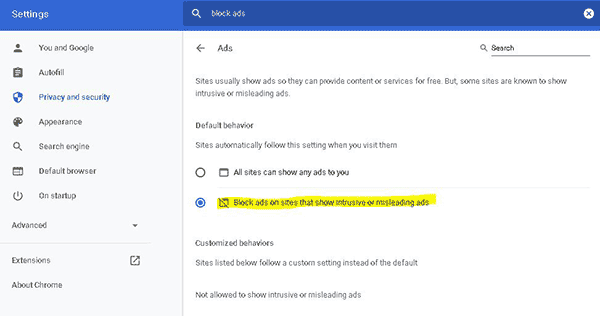 2. It's NOT an Adblocker (in the traditional sense)
The update is an ad filter, not a Chrome adblocker. Chrome's ad filter will target disruptive experiences by sifting out ads that do not meet the CBA's standards, but it will not function like a traditional adblocker. In fact, CBA-certified web publishers will even have the opportunity to pursue an independent dispute resolution plan and be notified before having their ads filtered out.

See this case study on CBA Certification driving 30%+ lift in recovered revenue for publishers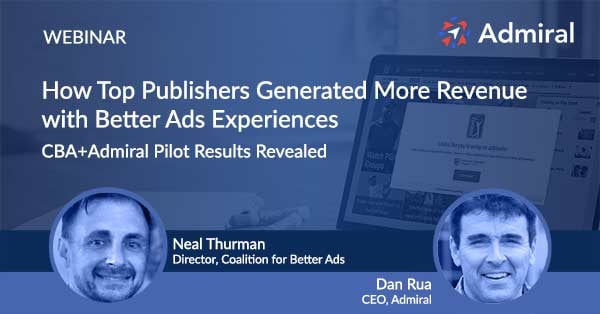 ​
3. Types of ads that will be blocked
The filter will be dependent on CBA's Better Ads standards, which come from a multi-phase research project (including over 25,000 surveyed consumers) to gauge ad preferences across the web. The standards identify the most annoying, least desirable types of ads including:
​
Desktop
Pop-up ads
Auto-play video ads with sound
Prestitial Ad with countdown
Large sticky ads
Mobile
Pop-up Ads
Auto-playing Video ads with sound
Prestitial Ads with countdown
Postitial Ads with countdown
Ad Density Higher than 30%
Full-screen Scroll-over Ads
Large Sticky Ads
It's worth noting that these least desirable ad types consist of just 9 of the 55 types of ads online. The majority of ads will still be permissible with the Chrome filter update including:
Autoplay video ads without sound
Skip-able prestitials
Ads that initiate up to 12 seconds of scroll lag
Flashing ads
Side-rail takeover ads
4. How will Google do this?
The ad filter is a part of Google's existing Safe Browsing service that automatically blocks malware, fraud, phishing, pop-up/under/-redirects, and other unwanted behavior. Under Safe Browsing, websites that are non-compliant with the Better Ads Standards will be flagged with a new threat called "BETTER_ADS."
The browser will then be able to take action on the flagged website based on the user's settings. Users will be able to permit ads on a blocklisted site, but cannot add websites to the block list.
​
Google's ad filtering capabilities will come from a set of block rules on Easylist and EasyPrivacy, both of which are widely used by many popular adblocking extensions, including AdBlock Plus and uBlock Origin. These lists determine what content is loaded on websites and include blocking rules for even Google's own DoubleClick and AdSense platforms.
​
Google says that the goal of the program is to help publishers and increase the user experience by weeding out bad ads across the internet, thereby slowing the adoption of third-party ad blockers. This is no doubt a strategic move by Google to shift the long term perception of ads, slow the adoption of competing web browsers, and keep ad blockers from infiltrating mobile, which currently has a lower adoption rate.
​
5. What can I expect? What should I be doing?
Both publishers and advertisers need to understand the Better Ads Standards and ensure the ads they serve (for publishers) and the ads created (by advertisers) are in compliance. Both groups also need to make sure they're working with compliant demand partners.
​
As a Publisher:
The Chrome update will force publishers to better understand their relationship with their visitors and refine the ad experiences they're delivering.
​
According to Google, roughly 1% of publishers aren't compliant with the CBA standards.
​
Self-promotional ads or "house ads" will not be included in the filter.
​
Single violations won't automatically be punished as there is a publisher non-compliance threshold of 7.5%. Over time, this threshold is expected to decrease to 2.5%.
​
Bad ads will be weighted by page-views, so recurring pop-up ads will be counted against a publisher each time a user visits a page.
If the ad filter manages to reduce adblocking, it could potentially increase CPMs and make publisher ad inventory more valuable in the long term.
As an Advertiser:
Though most successful advertisers don't currently rely on intrusive ads for revenue, the effects of Chrome's ad filter will still be felt as higher-quality ads will become the new standard. Standing out from the sea of compliant, more engaging ads will just push advertisers to be more creative and relevant than their competitors.
​
To avoid wasting time and money on creative that may be filtered, Google has release tools designed to identify Better Ads Standards violations.
​
Want to learn more about the update?
Check out the webinar transcripts and master list of articles and analysis on the Google Chrome adblock impact.

Additionally, publishers may want to check out our article on the Google page speed test, Core Web Vitals, and tips on how to improve site speed and performance.
​
Admiral's adblock detection, analytics, and adblock recovery solution can be installed in minutes and is a guaranteed positive net revenue to publishers. Contact Admiral for a demo today.