The Google Chrome Adblocker is LIVE: Here's Everything You Need to Know
What if every one of Google's billion plus users of its market leading Chrome web browser had an adblocker? Now they do. As of February 15th, adblock in Google Chrome becomes a reality that needs to be understood and addressed by the world's digital publishers and advertisers.
​
Traditional 3rd party adblocker usage has seen rapid growth in recent years with no signs of slowing down resulting in billions of dollars of lost ad revenue for publishers worldwide. Last summer, when Google announced that a future update of Chrome will automatically block certain ads by default, the industry began to speculate on intent and subsequent effects.
​
On February 13th, Chrome VP, Rahul Roy-Chowdhury released a brief, official statement that offered a glimpse into Google's vision behind a Chrome adblock solution: "The browser for a web worth protecting".
​
Highlighted is Google's relationship with The Coalition For Better Ads, an independent organization of publishers, advertisers, and technology platforms that lists Facebook, Microsoft, GroupM, and the IAB among its members (disclosure: Admiral is a member of the Coalition). According to Roy-Chowdhury, the Coalition served as the architects behind the criteria used by Chrome to determine which ad formats will get filtered out. The critical first step for every publisher and advertiser is to understand the Coalition's Better Ads Standards.
​
Admiral hosted an in-depth webinar alongside the Coalition and a number of its key publishing partners entitled "10 Things Top Publishers Are Doing to Prepare For Chrome's Adblocker". The webinar deck with links, video, and transcript are below:
​

Click for transcript of "10 Things Top Publishers Are Doing to Prepare For Chrome's Adblocker".

Want to find out if Admiral Anti-Adblock makes sense for your website?

Let's talk. Request a demo today:




Now that Chrome's adblocker is live in the wild, Admiral will continue to closely monitor developments, effects, and changes for publishers, users and advertisers.
Here's what the press had to say about the Chrome adblocker:

Android Central: "How Google Chrome's new ad-blocker works"
The Guardian: "Google turns on default adblocker within Chrome"
Marketing Land: "FAQ: Google Chrome ad blocking is here."
The Guardian: "Can we really trust Google as judge, jury and executioner of online ads?"
CTRL Blog: "Here's how Google Chrome's new ad blocker works"
The Wall Street Journal: "Google Will Block Spammy Ads"
Digital Marketing News: "Google's Ad Block Update Is Live. We Asked Marketers What They Think"
The Wall Street Journal: "Publishers Warm to Google's Ad Blocker"
BBC: "Google Chrome launches default ad-blocker"
GQ: "The Google Chrome Ad Blocker Has Already Changed The Web"
AdExchanger: "Day One: Chrome Switches On Its Ad Blocker"
AdExchanger: "The Real Story Behind Chrome's Ad Blocker"
ARS Technica: "Good news: Chrome debuts automatic blocking of annoying ads"
BetaNews: "Google explains how Chrome's new ad filtering feature works -- and why it's not your new ad blocker"
Designmodo: "14 Bad Ad Policies That Will Get You Blacklisted in Chrome"
Digital Content Next: "The Google Chrome ad filter is live. Here's what to do if your ads are deemed bad"
Mashable: "Here's how Chrome will filter annoying ads"
Medium: "One ring to rule them all — Google Chrome the biggest AdBlocker of them all"
Quartz: "Google Chrome has begun ridding the internet of crappy ads"
TechCrunch: "How Chrome's built-in ad blocker will work when it goes live tomorrow"
Axios: "Google's long-awaited Chrome ad blocker coming February 2018"
Business 2 Community: "Google Deploys Built-In Ad Blocker for Chrome. What Does It Mean For You?"
Conductor: "How to Stay Ahead of the Google Chrome Ad Blocker"
Engadget: "Google explains how its Chrome ad filter will work"
Forbes: "10 Ways Google Chrome's Proposed Ad Blocker Could Impact Advertisers"
Forbes: "Google Is Making Chrome A Fierce Player In The Fight Against Annoying Ads"
MediaPost: "What Google Chrome's Ad Block Feature Will Block"
PMG: "What advertisers need to know about the Google Chrome ad-blocker"
TechMalak: "You Will Now Be Seeing Less Ads Thanks To The Chrome Ad blocker"
The Globe and Mail: "Google launching ad filter in Chrome to raise bar on browsing experience"
The Parallax: "Web's most annoying ads no longer welcome in Chrome"
The Star: "Google launches its own built-in adblocker for Chrome browser"
Wired: "Google's new ad blocker changed the web before it even switched on"


Here's what Google had to say about the Chrome adblocker:
About Chrome ad filtering
Under the hood: How Chrome's ad filtering works
​
Here's Chrome code related to the Chrome adblocker:
Leveraging EasyList & EasyPrivacy
Better_Ads filter type
​​
Along with some examples of use in the wild by G-Squared Interactive.

Here's what Google had to say about their Ad Experience Report for publishers:
Introduction to the Google Ad Experience Report
How do I access the Ad Experience Report?
What is an ad experience?
Which ad experiences annoy my visitors?
Why is Google doing this?
How does the Ad Experience Report work?
How do I fix the issues?
More stats and analysis covered in our
Ultimate Adblock Revenue Recovery Guide for Publishers.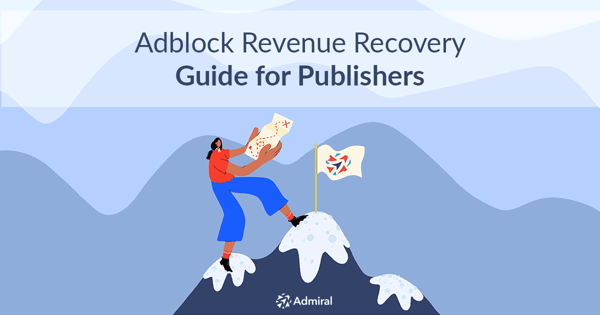 Here are what some industry players speculate the impact of Chrome's adblocker will be"
New York Times: "Google Chrome Now Blocks Irksome Ads. That's a Good Thing, Right?"
Popular Mechanics: "What Is Google Really Up To?"
Tech Times: "Google Chrome Now Has A Built-In Ad Blocker, But Not Everyone Is Happy"
Digiday: "A guide to the Google ad-blocking conspiracy theories"
Android Headlines: "Exclusive: Industry Experts On The Impact Of Google Chrome's Ad Blocker"
CNBC: "Google flexed its muscles with new ad-blocking rules, and some smaller players are concerned about its power"
Electronic Frontier Foundation: "The False Teeth of Chrome's Ad Filter"
MediaPost: "Google's Chrome Ad Filter Has Hidden Power"
NewsBytes: "Is Google's new Chrome adblocking feature too self-serving?"
Wired: "Chrome now blocks dodgy ads by default. Which is great for Google"
Alternative To: "My thoughts as a publisher on the built in Ad Blocker in Google Chrome"
Venture Beat: "How Google's Chrome plans will impact publishers, ad blockers, and the web"
Kotaku: "Why You Should Be Worried About Chrome Blocking Autoplay Videos With Sound"

Here are the ad types that Google's adblocker will target:
Desktop
Pop Up Ad
Auto-Playing Video with Sound
Prestitial Ad with Countdown
Large Sticky Ad
Intrusive Video Ads that are too long, take up too much space, or interrupt short videos
Mobile
Pop Up Ad
Presitial Ad
Ad Density Higher Than 30%
Flashing Animated Ad
Auto Playing Video Ad with Sound
Postitial Ad with Countdown
Full Screen Scrollover Ad
Large Sticky Ad
Intrusive Video Ads that are too long, take up too much space, or interrupt short videos
Also see our latest post on Chrome ad blocking rules for short video, what publishers need to know about Chrome's ad filter, key ad blocking features, as well as our comprehensive guide for: Adblock Revenue Recovery
​
Once a publisher does all that work, what's the quickest way to generate new revenue from Coalition for Better Ads adherence -- not just protect existing revenue from the Google adblocker?
Don't keep it a secret -- Engage visitors to whitelist your CBA-compliant site: In a survey of over 1,000 adblock users, 3 out of 4 adblockers said they're more likely to whitelist a site once they know it meets the Coalition's Better Ads standards.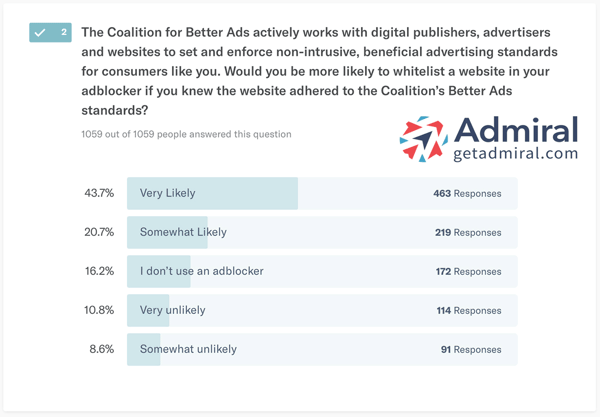 ​Admiral's anti-adblock detection, analytics, and adblock recovery solution can be installed in minutes, and is a guaranteed positive net revenue to publishers. Contact Admiral for a demo today.