2022 turned the tables on digital publishers in many respects but also was something of a return to normalcy post-pandemic. Hang onto your hats because the 2023 media industry trends include fast-growing disruptors, a merry-go-round of post-cookie alternatives, and new players launching retail media networks.
Check out this list of trends to watch for, including super-charged AI visitor engagement, vertical video growth, retail media networks gold rush, micro-influencers, and more.
Jump to:
Advertising Trends for 2023
How you target your audience, regulatory hurdles, and experiments at new targeting opti will almost certainly change this year.
Moving Beyond Cookies
Google may have postponed its full-scale deprecation of cookie use until 2024, but that's no excuse for thoughtlessly following the same old cookie trail. Private browsing options and other cookie-hostile changes in the digital landscape have already undercut this targeting method by up to 60 percent. Cookies won't go away completely for a while yet, but digital publishers need to go ahead and prepare for a cookie-less 2024 right now, in 2023.
How do you make the leap? For many digital publishers, the answers will lie in an increased emphasis on contextual targeting, first-party data collection, and walled-garden content. Publishers that develop zero- and first-party data strategies now will have advantages and options through an uncertain future for targeting.
Publishers can use Admiral's visitor engagement engine to collect valuable 1pd and 0pd across the visitor journey, via custom value exchanges, email signup tools, consent management, paywall and registration walls, and more.
Contextual Targeting to Grow
Contextual targeting looks especially promising in the shift away from cookie-based targeting. By focusing on keywords and keyword/value pairings, this technique follows users' current search behaviors rather than their past search history. Additionally, surveys find that 79% of consumers prefer contextual ads to behavior ads.
GumGum reports that contextual targeting is widely adopted by US companies, and budgets for contextual have been increasing. By 2027, this market is predicted to be worth $376.2 billion worldwide -- so don't sleep on this opportunity.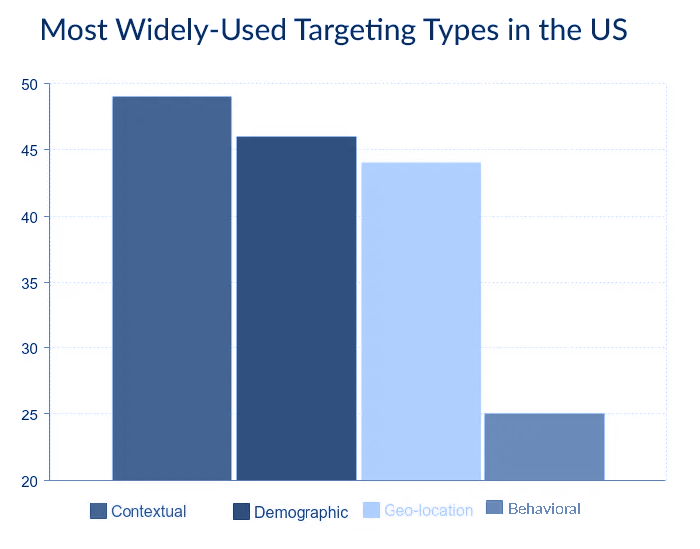 New Ad Formats Will Emerge
The emergence of new ad formats: With the growth of new technologies such as augmented reality and virtual reality, new ad formats are likely to emerge in 2023. Website publishers and advertisers will need to adapt to these new formats to stay relevant.
Some ad formats to consider or keep an eye on include:
2023 Content Trends for Publishers
Content has always been king, and it will continue to hang onto its crown in 2023. But how you choose to implement that content could make a major difference in your ability to maintain your own digital marketing kingdom throughout the coming year.
Content Personalization will Accelerate
With the abundance of data available, website publishers and advertisers will be able to create more personalized content and ads tailored to individual users' preferences and behaviors.
According to an IndustryARC report, the content recommendation engine market is expected to exceed $12 billion, by 2026, a 10X growth compared to 2018. Insider Intelligence reports 88% of consumers feel their experience is as valuable as a brand product itself.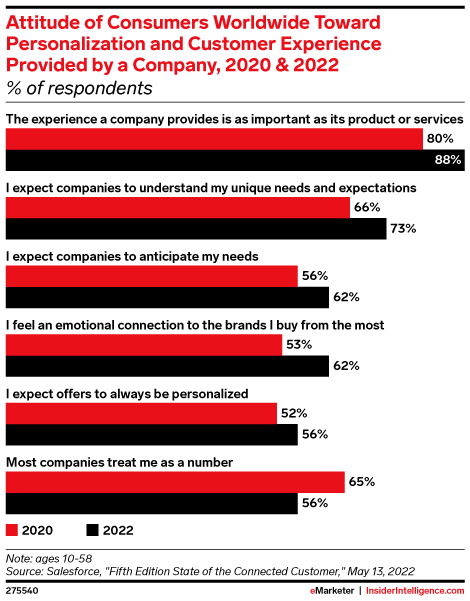 Advancements in personalization will include:
More personalized mobile experiences

AI-driven personalization

More use of image, pattern, color, and facial recognition

Personalization across longer customer journeys and timelines

Personalized rewards and loyalty programs
Short Form Video
Digital video should dominate other media in 2023 as the preferred content form among social media users. In fact, 78 percent of organizations that use marketing content expect to keep riding the video content train this year.
Short-form, mobile-first video clips that entertain and entice can draw a mountain of likes, follows, and other desirable responses in a big hurry. The most profitable short-form videos will limit their running length to 30 seconds, are digestible, good for SEO, and drive good ROI.
According to a report by Vidyard, sixty-eight percent of users will watch a business video all the way through if it is less than 60 seconds.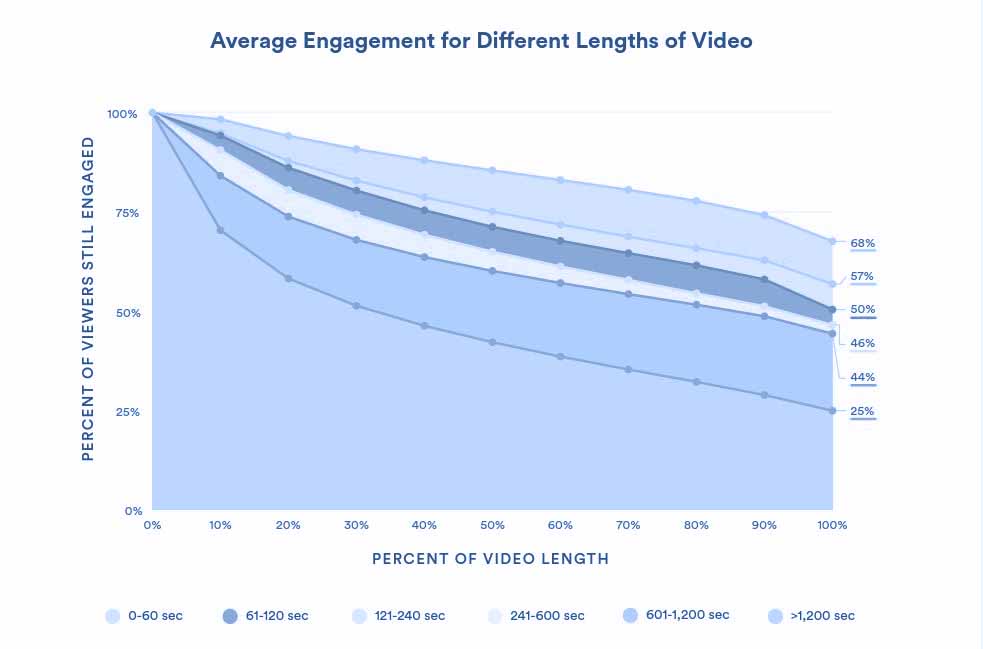 Some trends within the short-form format include:
soundless optimization
user-generated and influencer video
vertical video adoption
micro-learning
product teasers
Vertical Video is Coming in Hot
Vertical video is growing, driven by the compatibility with mobile device screens, and the success of TikTok, Instagram Reels, and YouTube Shorts.
Wibbitz reports that vertical video delivers 4 times more engagement on Facebook then horizontal video, and 2.5 more engagement on Twitter. They record improvements for vertical video getting 13.9% more reach than horizontal, and 90% more reach than posts with an image embedded.
MediaBrix reports there is a 90% higher completion rate for vertical video, compared to horizontal videos. A key factor driving adoption is that 57% of user-generated videos are shot vertically, on mobile devices, according to Yans Media.
Digital Technology Trends for 2023
No discussion of digital marketing trends for 2023 would be complete without an examination of the new technologies grabbing today's headlines. From AI engines and applications to publisher marketing automation tools, we're entering a brave new world.
Will ChatGPT Rule 2023?
By now, just about everyone has read or read something about ChatGPT, even if they haven't yet used this revolutionary AI platform themselves. GPT stands for Generative Pre-Training Transformer. The latest version of OpenAi's large language model chatbot, ChatGPT4, has been "pre-educated" with an astonishing 570 Gigabytes of written content.
This version can not only predict and complete sentences and paragraphs, but it can actually perform many tasks it wasn't originally trained for, such as translations from one language to another. Users can even train it to compose articles, ads, and tag lines among other valuable types of marketing content.
Some have wondered whether ChatGPT will usurp Google and other traditional search engine options someday. After all, a chatbot trained to recognize a user's needs and intent can easily fetch relevant information, including information on products and services for sale.
Generative AI to Generate Revenue
™
Admiral's integration of OpenAI's ChatGPT into their visitor engagement platform makes it mouse-click-easy for generative AI to directly drive revenue. With Admiral's AI-Powered offers and CTA's, publishers can have the AI riff through offer copy along sentiment guidelines, and with awareness of the publisher's objective, the visitor's behavior, and the content topic.
By combining that with automated A/B testing, the system can vet and promote the best-performing offer for subscriptions, email signups, and more. The result: ever-optimizing visitor relationships and revenue for media publishers.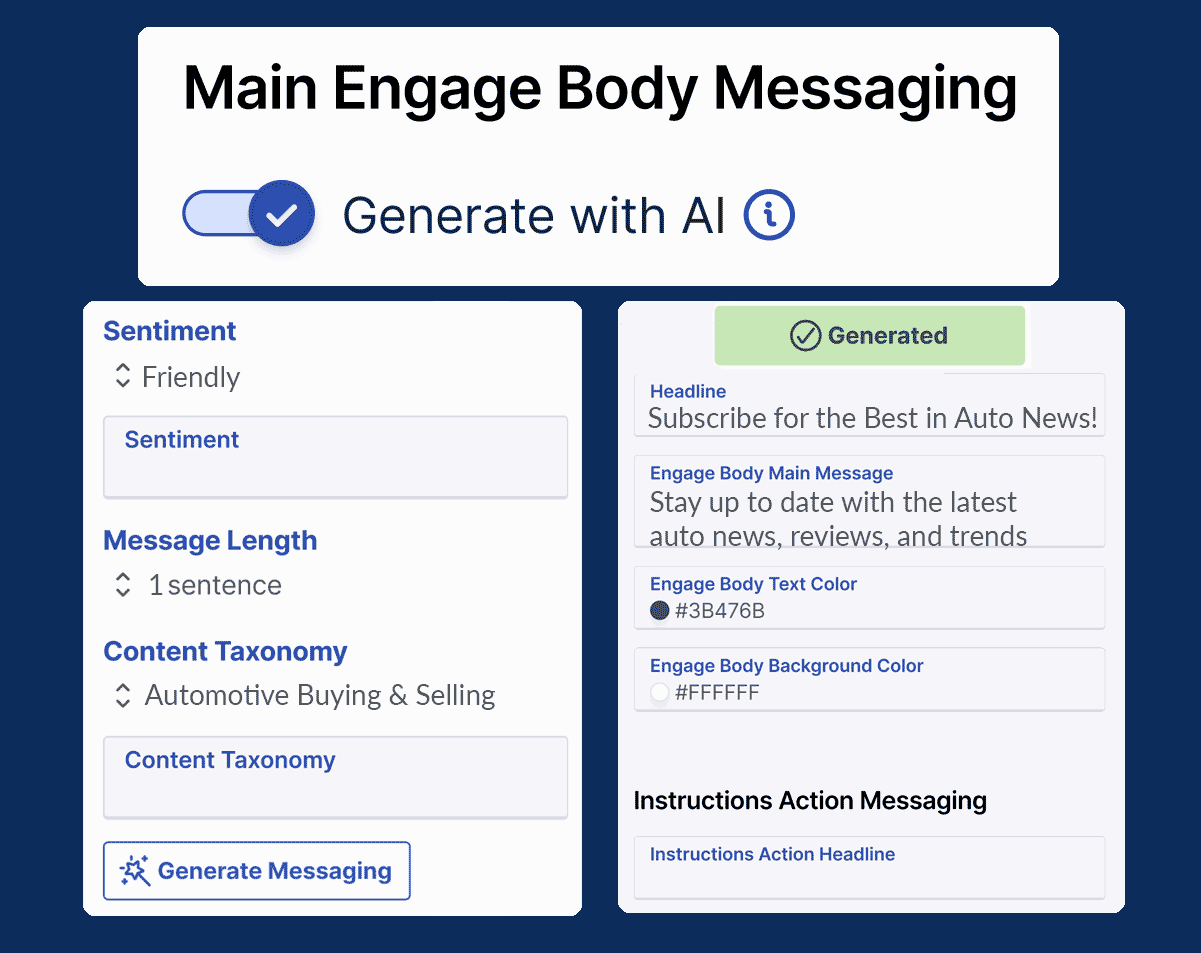 With advancements in technology, publishers and advertisers will increasingly turn to AI and machine learning to optimize their content and ads. This could include using AI to personalize content for individual users or using machine learning to better target ads based on user behavior.
Marketing Automation and Human Communications
The same kind of smart technology that helps your customers find what they want can also help you automate your marketing outreach and interactions across multiple channels. Push notifications will continue to help businesses reach customers directly, free from all the background noise of the Internet.
Chatbots can help you establish and maintain two-way conversations with your customers. By combining these automated communications with real in-person conversations, you can encourage those customers to interact with your brand more readily and make greater use of your website in 2023.
Machine Language + Marketing Automation
Machine Language powered marketing automation can monitor and iterate on 'everything, everywhere, all at once", so to speak. Admiral's Surge Targeting ever watches a publisher's content traffic for spikes. It could be a story has gone viral, breaking news, a big announcement, or a sports score.
When Admiral's Surge Targeting spots a spike, it can trigger unique offers to that audience, lifting conversions for subscriptions, donations, adblock removal, site registration, and more.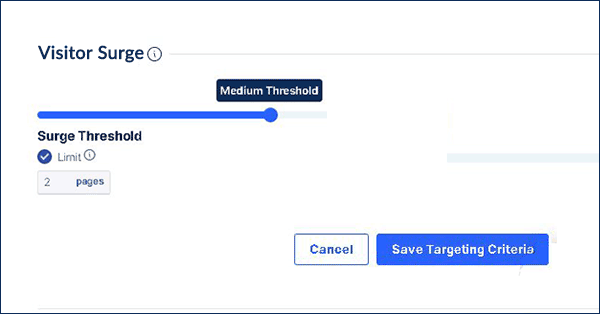 See also: 6 Ways AI is Helping Digital Publishers to Grow
Consumers Rely Heavily on Voice Search
With the increasing popularity of smart speakers and voice assistants, voice search is expected to become a more significant factor in your content being found. Voice search has implications for traffic objectives, SEO, and content strategy. Website publishers will need to optimize their content for voice search queries to stay relevant.

Social Media Trends for 2023
Social media continues to serve as a cornerstone of modern digital marketing, but the ground is shifting under the feet of the major players -- a development that may also shake things up for publishers accustomed to a more stable playing field.
Social Media in Turmoil
Twitter was bleeding ad sales even before Elon Musk took it over; the subsequent chaos over mass layoffs and controversial content has made things even worse. Insider Intelligence now predicts global ad revenue growth of only 4.9 percent in 2023, instead of the rosy 25.1 percent growth they'd originally predicted in the first quarter alone. Companies no longer trust their brands' safety, and who can blame them?
Meta has also lost its luster. Mark Zuckerberg's all-in investment in his virtual platform has led to massive layoffs and losses of billions in revenue for Facebooks' parent company. Look for competing social media platforms to snap up both advertisers concerned about their brand reputation and users worried about their privacy and security.
The Increasing Reach of Influencers
Approximately 25 percent of today's marketers already rely on influencer marketing. Research indicates that the number of first-time users will grow 17 percent this year, with the outstanding majority of current users planning to maintain or expand their current investment in this form of social media marketing. Read: Benefits of Influencer Marketing for Publishers.
While influencer marketing will continue to be popular, there may be a shift towards working with micro-influencers rather than mega-influencers. Micro-influencers may be seen as more authentic and relatable to their followers, making them an attractive option for brands. They typically have between 1000-10,000 followers. Trend.io has compiled stats on the impact and adoption of micro-influencers.

Brands will increasingly collaborate with influencers to promote their products and services, and website publishers may need to adapt to this trend by creating content that can be easily shared on social media.


Audience Trends for 2023
Audiences evolve just as marketing and advertising tools and techniques do, creating a moving target that can be hard to keep in your sights. Watch for these trends in 2023.
Earning Trust
The more data businesses collect from their customers, the less their customers seem to like it. Even as 70 percent of organizations ramped up their data collection the previous year, a stunning 86 percent of the general public expressed concerns about the privacy of their data.
Meanwhile, new data privacy laws are forcing publishers to rethink their existing systems and processes, as well as growing compliance costs to keep up with regulations from multiple regions and authorities. As data breaches and privacy concerns continue to make headlines, website publishers and advertisers will need to prioritize user privacy and data security. This could include implementing stricter data protection measures or adopting privacy-focused advertising strategies.
"Consent is the new currency," writes Lynne d Johnson for AdMonsters. For Admiral's Visitor Relationship Platform, visitor consent is a foundation to engage in conversation. From consent flows a conversation and value exchange between the publisher and visitor. It can lead to retention and advocacy, or to newsletter signups, paid subscriptions, or adblocker allowlisting. But the visitor would like transparency, and the ability to consent to the relationship.
Digital publishers will need to address the "trust gap" in 2023 if they want to retain their audiences into 2024 and beyond. Transparency will prove crucial to these efforts. You'll want to demonstrate your company's dedication to user privacy by showing the steps you take to anonymize data where possible, and by giving content consumers more autonomy over how much data they share.
Studies show that consumers like publishers to tell them how and why they use consumers' data. Use that insight to gain trust and grow your audience.
Changing Channels
The cord-cutters are now officially dictating the modern state of programmatic advertising. Approximately 67.8 percent of the U.S. population will get their TV enjoyment through connected TV instead of traditional broadcast or cable platforms. In fact, streaming-based TV is expected to overtake the pay-based TV model by 2026, with many major streaming platforms partnering up to offer compelling new digital TV advertising opportunities.
A variety of new vistas expands digital publishers' options further. For instance, consumers are spending more time listening to podcasts and streaming audio channels than before.
Retail Media Networks are Surging
Retail media networks or RMNs, are one of the fastest-growing ad-supported channels. Amazon offers the shining success story here, with its networks of online partners, its mountain of first-party user data, and its ability to target individual buyers turning it into a serious rival for traditional programmatic advertising.
Many diverse retail brands have recently launched media networks or laid the foundation for them, such as Walgreens, CVS, Target, Home Depot, Marriott, Best Buy, Krogers, Michaels, and Nordstrom.
Group M estimates that RMN ad revenues will exceed $100 billion in 2023. That would represent an 18% share of all global digital advertising. Additionally, Forrester predicts the revenue growth of retail media networks will double for the next four years.


Innovations Lead to Greater ARPV
Within the challenges presented by post-cookie targeting, AI disruption, ad innovation, and privacy consent, lie opportunities for competitive advantage. Publishers continue to have better tools for growing average revenue per visitor.
Admiral helps publishers leverage myriad touchpoints across the visitor journey. Put the right tools in place to engage and guide visitors. Admiral can automate relationships from the first handshake to gather consent or detect an adblocker, to guide fans to newsletter signups, and social follows, and eventually to authenticate visitors or grow paid subscriptions.
Schedule time to talk with a visitor relationship management expert today: