Digital advertising spending in the US grew more than 35% in 2021 — an increase of more than $50 billion in a single year. A newly released report from the Interactive Advertising Bureau (IAB) and PricewaterhouseCoopers (PwC) showed digital ad revenue amounting to $189 billion last year.
Study authors attribute the continued growth in online usage and services coupled with increased marketing efforts by small and mid-sized businesses (SMBs). Other findings include:
Programmatic ad spending grew 39% YoY, accounting for 521.3% of all ad spend.

Search revenue grew 32.8%.

Digital video grew 50.8%.

Digital ad revenues grew by $10 billion in Q4 2021 alone.
Mobile ad spending also grew by 37.4%. Compared to desktop ads, mobile advertising now makes up $7 out of every $10 ad dollars or 71.3% of overall revenue.


Internet Economy Growing 7X Faster than the US GDP
Another study commissioned by IAB and conducted by the Harvard Business School showed the internet economy is growing at a rate seven times faster than the US economy over the past four years. While GDP in the US has averaged around 3%, the internet economy has averaged a 22% growth rate.
In 2021, the US saw the greatest business growth in history, according to the Census Bureau. 5.4 million new businesses were created. The majority of these are small businesses that rely on digital advertising to attract customers.
"We believe the small business growth engine will be a key contributor to fueling ongoing digital media and marketing ecosystem acceleration," said David Cohen, Chief Executive Officer at IAB via a press release.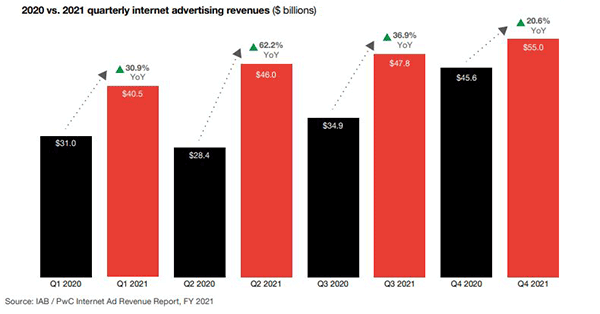 Forecasts for Digital Ad Revenue in 2022
The IAB/PwC report offers a positive forecast for 2022. Besides continued growth, new areas such as gaming, esports, augmented reality, virtual reality, connected TV, and the metaverse offer growth opportunities.
IAB also expects continued growth in every area, including digital audio and podcasting, which reported the highest growth rate for platforms at 57.9% in 2021 vs. 2020. Digital audio ad revenues topped $4.9 billion, capturing a 2.6% share.


Publisher Industry Trends
The IAB/PwC report also focuses on four key publisher industry trends that are impacting the ad market.
Dollars flowing into digital: As consumer time on digital media continues to grow, new ad monetization opportunities are growing as well. Leveraging first-party data and closed-loop reporting, eCommerce is poised to generate even greater revenue streams.
Privacy and addressability: Privacy changes from iOS and deprecation of the cookie and other trackers will reduce available data and threaten sell-side annual revenue.
Trust and transparency: Verifying ad sellers, human traffic, viewable impressions, and safe brand environments will become more important, potentially benefiting premium publishers with robust first-party data.
DEI: Consumers are increasingly expecting brands to embrace diversity, equity, and inclusion (DEI) and seeking DEI-inspired messaging as part of their decision-making process.
Publishers looking to leverage the expanding digital ad marketing have significant opportunities ahead, but they also face some challenges.
"Despite 2021's impressive growth and expansion, the industry continues to face headwinds in the form of tension and uncertainty surrounding privacy regulation, the deprecation of third-party cookies and identifiers, measurement, and supply chain transparency," according to the IAB/PwC report.


Adblocking Software Adoption Continues to Grow
At the same, the growing adoption of adblocking software continues. 44% of those age 55 and older now report active use of adblockers. Adoption is even higher with younger users with 47% of those aged 25 to 34 using adblocker technology, according to Statista Research. As more consumers use adblockers, it significantly cuts into publisher revenue. According to some estimates, more than $35 billion in advertising revenue is lost annually.
It's also decreasing the amount of data that's available. "There's a clear trend where less data is available to deliver personalized ads," said Facebook's Mark Zuckerberg in a recent earnings call. Citing privacy regulations and adblockers, Zuckerberg acknowledged a new approach is required for ad infrastructure.

See the full report: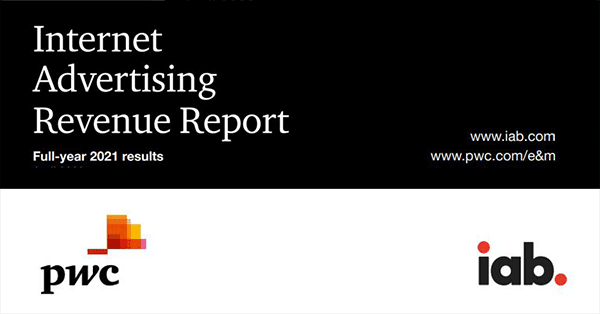 Publishers Deploy Adblock Recovery Tools
Digital publishers need new tools to capture ad dollars lost to adblockers and privacy concerns. By investing in adblock recovery, online publishers are compensating for these losses. If a visitor is using an adblocker, this software solution politely asks them to turn off their adblocker to continue to the site. It also allows for ad reinsertion using vetted ads, proving a combination that is proven to optimize adblock recovery revenue.
This provides several benefits for publishers, including:
Monetization of ads that would otherwise be blocked

Higher CPMs than alternative ads

Deeper and sustainable relationships with engaged visitors
At the same time, acknowledging adblockers and consumer privacy rights are helping to provide the trust and transparency users and advertisers demand. Visitor relationship management tools offer visitors a choice about how to use publisher sites.
"The need for trust and transparency across the digital ad supply chain has never been more important," according to the IAB/PwC report. "With trust and transparency efforts becoming increasingly complex in the face of privacy-driven requirements and regulations, publishers will need to stay ahead of the curve and stay compliant to not run the risk of losing advertiser dollars."
With today's growing digital ad economy, publishers need to optimize their efforts to capture their share of the available dollars. Request a demo of Admiral's Visitor Relationship Management platform, including solutions for paywalls/subscriptions, adblock recovery, donation campaigns, site registration/membership, email newsletter signups, and more.